Vasubandhu's "Three Natures": A Practitioner's Guide for Liberation (Paperback)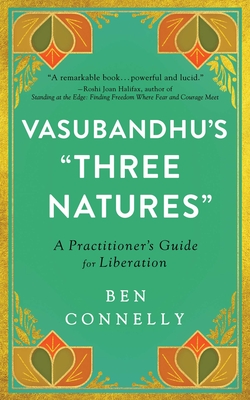 $18.95

Not Available In-Store - Usually Ships from Warehouse in 1-5 Days
Description
---
A plain-English commentary on Vasubandhu's classic Treatise on the Three Natures that shows us an integrative path of personal and social healing and liberation.

In this book, Ben Connelly shows the power of integrating early Buddhist psychology with the Mahayana emphasis on collective liberation. You'll discover how wisdom from fourth-century India can be harnessed to heal and transform systems of harm within ourselves and our communities.

The three natures (svabhavas)—the imaginary, dependent, and complete, realized natures—are inherent aspects of all phenomena. The imaginary nature of things is what we think they are. Their dependent nature is that they appear to arise from countless conditions. The complete, realized nature is that they aren't as we imagine them to be: things that can be grasped or pushed away. The three natures form the backbone of Yogacara philosophy, and by showing us how to see beyond our preconceived notions of ourselves and others, beyond the things that we're convinced are "true," they open up a path to personal and communal healing.

Dive into this empowering approach to freedom from suffering, from harmful personal and social patterns, and to finding peace and joyfulness in the present.
About the Author
---
Ben Connelly is a Soto Zen teacher and Dharma heir in the Katagiri lineage. He also teaches mindfulness in a wide variety of secular contexts, including police and corporate training, correctional facilities, and addiction-recovery and wellness groups. Ben is based at Minnesota Zen Meditation Center and travels to teach across the United States. He's the author of Inside the Grass Hut: Living Shitou's Classic Zen Poem, Inside Vasubandhu's Yogacara: A Practitioner's Guide, and Mindfulness and Intimacy.

Weijen Teng, translator of Vasubandhu's classic Treatise on the Three Natures, is an assistant professor at Dharma Drum University in Taiwan. He has a BA in Pali and Buddhist studies (Kelaniya, Sri Lanka), an MA in Sanskrit (Pune, India), and a PhD in religious studies (Harvard University). His particular areas of research include Abhidharma and Yogacara meditation theories, Chinese translations of Sanskrit texts, and the development of contemporary Chinese Buddhism.
Praise For…
---
"It is a pleasure to read this subtle, contemporary exposition of a great Buddhist classic. Connelly's insightful and often-moving commentary displays the profound relevance of Vasubandhu's Yogacara philosophy both to personal practice and to the wider social world."
— Jonathan C. Gold, professor of religion, Princeton University, and author of Paving the Great Way: Vasubandhu's Unifying Buddhist Philosophy

"Ben Connelly's extraordinary new book is almost impossible to classify. Framed as a fresh translation of and commentary on the 'Treatise on Three Natures' by the great Indian Buddhist master Vasubandhu, it is that and very much more. It is also a memoir, a psychological study, an exploration of social and political concerns, and an exercise in interreligious inquiry. Beautifully written, it fuses lucid explanations of often-difficult Yogacara ideas with attention to everyday concerns in a way that can help all of us apply Buddhist wisdom to the lives we live in the twenty-first century. Through such a fusion, Connelly points the way toward a new and distinctive form of Buddhist commentary uniquely suited to our complex and contentious era."
— Roger R. Jackson, emeritus professor of religion, Carleton College, and author of Mind Seeing Mind: Mahamudra and the Geluk Tradition of Tibetan Buddhism and Rebirth: A Guide to Mind, Karma, and Cosmos in the Buddhist World

"Vasubandhu's "Three Natures": A Practitioner's Guide for Liberation is a remarkable book, a powerful and lucid exploration, and a beautiful new translation of the 'Treatise on Three Natures.' One of the great virtues of this important work by scholar and practitioner Ben Connelly is its focus on the practical application of the Yogacara view."
— Roshi Joan Halifax, founding abbot, Upaya Zen Center, and author of Standing at the Edge: Finding Freedom Where Fear and Courage Meet

"The practical application of Vasubandhu's ancient wisdom to contemporary oppressive challenges is no small task, yet Ben Connelly, through his own wounded-healer imagination, lived experiences in diverse relationships, and appreciation for freedom fighters, shows us how to understand and embody the mystery of Vasubandhu's teachings without getting lost in esoterica and spiritual bypassing."
— Pamela Ayo Yetunde, co-editor, Black and Buddhist: What Buddhism Can Teach Us About Race, Resilience, Transformation and Freedom

"I am deeply delighted by Ben's contribution. This book is an enlightening example of applied Buddhism. Ben has integrated and innovated a rich weave of practice, scholarship, and contemporary issues. Offering wisdom based on the rich teachings of Vasubandhu on the three natures, this book is an inspiring model of the new face of Buddhism; it opens many doors to personal and social transformation, sorely needed. This is a wonderful read that made both my heart and mind sing with fresh, meaningful possibilities."
— Dr. Larry Ward, author of America's Racial Karma: An Invitation to Heal

"Connelly's commentary on Vasubandhu's 'Treatise on Three Natures' offers a rare and welcome combination of scholarship and insight born of deep study and practice. The goal of human flourishing and freedom from suffering is at the center of his exposition of every verse. Connelly offers the wisdom of Yogacara that is simultaneously a path of transformation."
— Anantanand Rambachan, emeritus professor of religion, Saint Olaf College, and author of A Hindu Theology of Liberation: Not-Two is Not One