Civic Fusion: Mediating Polarized Public Disputes (Paperback)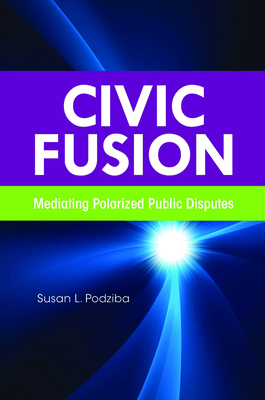 $59.95
Email or call for price.
Description
---
Bringing together the forces of political debate, this book outlines civic fusion and the process of successful public policy mediation. To help mediators understand how powerful the tool of mediation is and help them reach their full potential, this guide outlines what civic fusion is and provides real world examples of cases with positive outcomes. The book examines what mediators aspire to do, what they actually do, and outlines what needs to be done to bring disparate groups of people together to reach agreements on complicated public policy questions. To help you understand, achieve and sustain civic fusion, this guide will help you construct the metaphor of civic fusion and describe how passion, power, and conflict provide the energy for it; discusses three projects: the Chelsea charter consensus process; the construction cranes and derricks negotiated rulemaking; and abortion talks; describes what it takes to build a foundation for civic fusion; and much more.
About the Author
---
Susan L. Podziba has been a Public Policy Mediator for twenty-five years. Her clients have included the U.S. Departments of Commerce, Defense, Education, Energy, Health and Human Services, Housing and Urban Development, Interior, Labor, and Transportation, U.S. Environmental Protection Agency, and U.S. Institute of Peace. She is listed on the United Nations Mediation Roster and has provided mediation training for the U.N. Department of Political Affairs. Ms. Podziba served as Fulbright Senior Specialist in Peace and Conflict Resolution at the Amsterdam Center for Conflict Studies at the University of Amsterdam, Netherlands, and has taught graduate seminars at the Massachusetts Institute of Technology and the Program on Negotiation at Harvard Law School. She currently lectures and consults internationally