Hello I Want to Die Please Fix Me: Depression in the First Person (Paperback)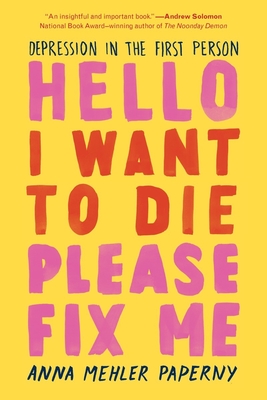 $17.95

Not Available In-Store - Usually Ships from Warehouse in 1-5 Days
Description
---
An engrossing memoir-meets-investigative report that takes a fresh, frank look at how we treat depression. 

Depression is a havoc-wreaking illness that masquerades as personal failing and hijacks your life. After a major suicide attempt in her early twenties, Anna Mehler Paperny resolved to put her reporter's skills to use to get to know her enemy, setting off on a journey to understand her condition, the dizzying array of medical treatments on offer, and a medical profession in search of answers. Charting the way depression wrecks so many lives, she maps competing schools of therapy, pharmacology, cutting-edge medicine, the pill-popping pitfalls of long-term treatment, the glaring unknowns and the institutional shortcomings that both patients and practitioners are up against. She interviews leading medical experts across the US and Canada, from psychiatrists to neurologists, brain-mapping pioneers to family practitioners, and others dabbling in strange hypotheses—and shares compassionate conversations with fellow sufferers.

Hello I Want to Die Please Fix Me tracks Anna's quest for knowledge and her desire to get well. Impeccably reported, it is a profoundly compelling story about the human spirit and the myriad ways we treat (and fail to treat) the disease that accounts for more years swallowed up by disability than any other in the world.

If you or someone you know is struggling with suicidal thoughts, help is available. Contact the National Suicide Prevention Lifeline at 800-273-8255.
About the Author
---
Anna Mehler Paperny is a Toronto-based reporter for Reuters. She's chased down stories ranging from the opioid crisis to migration, from post-quake Haiti to Guantanamo Bay. She has also been a staff reporter at The Globe and Mail and a reporter-editor for Global News, where she developed globalnews.ca's award-winning Investigative Data Desk. Her work on Canadian prison deaths won the RTDNA Dan McArthur Award for investigative journalism.
Praise For…
---
An International Bestseller
Finalist For The 2019 Hilary Weston Writers' Trust Prize For Nonfiction

"As gripping a memoir as it is a commanding work of journalism. With a scope that ranges from intimate to panoramic, Anna Mehler Paperny expands outward from her own struggles with suicidal thoughts to explore the dizzying array of medical anti-depression treatments that are available around the world. Personable and passionate—and full of raucous, life-affirming humor—the book casts much-needed light on one of the most persistent and mystifying diseases of our time. This is an urgent read in societies such as ours, where, directly or otherwise, everyone's life is increasingly affected by depression."—2019 Hilary Weston Writers' Trust Prize for Nonfiction Jury (Ivan Coyote, Trevor Herriot, and Manjushree Thapa)

"I learned so much from [Hello I Want to Die Please Fix Me] about depression, its history, its treatment, and avenues for solutions. You'll learn a great deal too from her engaging, and funny, and courageous book."—Jackie Wolf, NPR's Lifespan podcast

"Journalist Mehler Paperny offers a startling and intimate portrait of her multiple attempts at suicide and digs into the disturbingly inadequate 'toolbox' available to individuals suffering from acute depression. . . .This earnest and informative volume serves as a frank guide for those dealing with depression."—Publishers Weekly, starred review

"Told with intimate understanding and heartwrenching humor, the book sheds some much-needed light on the far-reaching impacts of this unpredictable mental illness."—Book Riot

"Well-researched, engaging, and highly readable. . . . An eye-opening and humane book treatment of a difficult subject."—Kirkus Reviews

"This book documents [Paperny's] effort to become acquainted with depression, for the sake of herself and others. She is a fine tour guide, with a reporter's rigour, strong narrative skills and self-deprecating humour."—Toronto Star

"Raw, frank and dark-humored. It's not a story of redemption or triumph. . . . But, in its unpretentiousness, the book is a must-read for those who want to understand what goes on in the heads of those who take their own lives each year . . . and the multiples more who, like the author, come perilously close. Ms. Mehler Paperny does a masterful job of delving into the complexities of living with depression, the challenges of getting the help you need and why it's so difficult to prevent suicide." —The Globe and Mail
 
"In this courageous and honest book, Anna Mehler Paperny plumbs the depths of her own acute depression, and also investigates the cultural, social, and historical discourse around despair. She writes with a stunning fluency that belies the narrative's underlying pain. This is an insightful and important book."—Andrew Solomon, author of The Noonday Demon
 
"This is such an important book. . . . Paperny writes with urgency and intensity because she's tapping into an essential truth: Everyone deserves dignified mental health care, but systemic injustices create huge discrepancies in how people are treated. I learned so much from this engaging, well-researched, courageous book. It belongs in the canon of 'must-reads' to understand mental health treatment today."—Mark Lukach, author of My Lovely Wife in the Psych Ward

"[Paperny's] skill as a journalist is evident both in the seamless ease with which she moves from one topic to another and in her ability to break down complex ideas into accessible and engaging prose. . . . It's hard to imagine any group of people who wouldn't benefit in some way from reading this book. Those who have been through the system will feel less alone in their experiences, and those who haven't will gain necessary insight into what it's like. Paperny ends not with the story of a triumphant recovery or a miraculous cure, but a call to arms: let's fix this broken system. Her work will go a long way toward helping readers understand just how vital that need is." —Quill and Quire
 
"The world needs more Anna Mehler Papernys, not fewer. Brave, compassionate, insightful, and wincingly self-aware. Ready to challenge convention, hold feet to the fire, to 'punch in the face with words,' as she puts it in her book . . . Anna has announced herself as one of the most tenaciously curious working journalists, working minds, that we have."—Ian Gill, The Tyee

"Anna Mehler Paperny illuminates the dark corners of suicide and depression with wit and tenacity. Both an extraordinary  work of journalism and a poignant, harrowing—and occasionally funny—memoir. Hello I Want to Die Please Fix Me is fearless and necessary."—Don Gillmor, author of To the River: Losing My Brother

"Compelling . . . a very good book. People coping with depression will find it supportive as well as entertaining—Anna has a great sense of humor. I also think it will help educate the public."—Dr. Marcia Valenstein, MD, MSc, psychiatrist at University of Michigan Hospitals and Veterans Affairs Ann Arbor Healthcare System

"A remarkable book. . . . I am just so impressed by Anna's honesty and rigor, her courage, her thorough research, her insight, her wisdom and her sense of humor. I hugely admire what she has achieved. I am sure it will be a great help to many people, and I have come away with new understanding after reading her book."—Dr. Irfan Dhalla, MD, MSc, vice president of Health Quality Ontario, St. Michael's Hospital
 
"Anna's the best journalist I know. Her story about the mental health care–system, as seen through her own experience, is an act of monumental bravery. This is a book that will save lives."—Omar El Akkad, author of American War
 
"Clear-eyed without being dispassionate, this book has so much to offer even the most well-versed in mental health issues. Anna Mehler Paperny goes far deeper than the surface conversations we usually have about depression, giving us the unvarnished reality of what it means to live with the feeling you want to die. Brave and brilliantly researched, this powerful book is poised to create real change, and is an absolute must read for those who have had their lives touched by depression—which is everyone."—Stacey May Fowles, author of Be Good and Baseball Life Advice