The Essential Guide to Bullying: Prevention And Intervention (Paperback)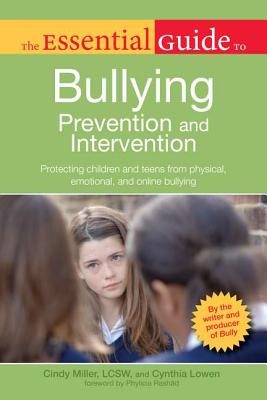 $15.95
Email or call for price.
Description
---
Headlines are filled with tragic stories of senseless murders and suicides that have resulted from child and teen bullying. As social networking and technology add to the ways that kids can be bullied, parents feel powerless against this insidious force that compels even "good" kids to participate in or enable bullying in schools, in extracurricular activities, online, and at home.
The Essential Guide to Bullying Prevention and Intervention brings together the wisdom and experience of two people who have witnessed bullying's causes and tragic effects. School social worker Cindy Miller teams with Cynthia Lowen, the co-creator of Bully, to arm parents and teachers with the knowledge they need to:
   • Understand the societal and human forces that are causing bullying to escalate.
   • Discover who is most at risk for being bullied, being a bully, or not helping a bullying victim.
   • Target-proof their kids and teach them coping skills.
   • Identify even the most covert bullying situations.
   • Infiltrate the world of cyberbullying and head off its disastrous effects.
   • Intervene to stop a bullying situation.
   • Know what legal recourse they have to back up other anti-bullying efforts.
About the Author
---
Cindy Miller, LCSW, is a psychotherapist, school social worker, educator, and parent consultant. In addition to her private practice, she counsels children, adolescents, and families for the Paramus, New Jersey, Public School District and consults with administrators and faculty on multiple issues. She is an adjunct instructor in sociology at Bergen Community College. She received her Master's degree in social work from Columbia University.

Cynthia Lowen is the cocreator, producer, and writer of Bully, a feature documentary film following five kids and families through "a year in the life" of America's bullying crisis. Following the film's 2011 premiere at the Tribeca Film Festival, it was acquired by the Weinstein Company and was released in theaters nationwide in 2012. Bully has been received with acclaim at numerous festivals: it won the Brizzolara Family Foundation Award for films about conflict and resolution at the Hamptons Film Festival, and at the Bergen Film Festival it was awarded the Youth Jury Award. In addition, Lowen has presented the film in panels at the World Wide Conference on Human Values featuring the Dalai Lama, Silverdocs, and the Tribeca Film Festival. Lowen is also an award-winning writer and the recipient of the Discovery Prize. Her work has been selected for inclusion in Best New Poets 2008, and she has been awarded a fellowship to the Fine Arts Work Center in Provincetown, Massachusetts; the Campbell Corner Prize; and the Tin House/Summer Literary Seminars Kenya Prize, among other honors. Her work has been published widely in journals, including A Public Space, Boston Review, Inkwell, Provincetown Arts, and Tin House. From 2001 to 2006 she served as an editor at Four Way Books.