The Snark Handbook: Insult Edition: Comebacks, Taunts, and Effronteries (Snark Series) (Paperback)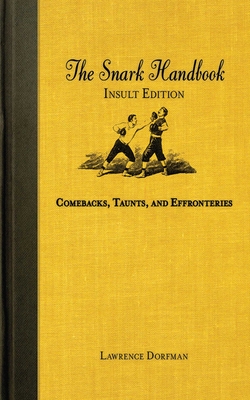 $12.95
Email or call for price.
Description
---
Author Lawrence Dorfman says: "I love it when someone insults me. That means that I don't have to be nice anymore." So, if you love a good insult, or find yourself the snarkiest wit in the room, then his book is for you. Don't Worry! Be Snarky!
Here Dorfman is in delicious form, dishing it out without any real consequences. Readers will find material to actually use in day-to-day life, including:
Streamlined instructions on when and how to mock your peers
How to use retorts with your spouse and children
How our late, great ancestors used insults throughout history.
And much more!
This is not a mere collection of quotations. Dorfman speaks directly to his audience, serving as teacher, ringleader, and historian. After all, not all insults are snarky, and not all snark is insulting. It takes a certain genius to define and navigate the fine line between idiotic commentary and intelligent snark, a genius that has been isolated and packaged with aplomb in the S
nark Handbook: Insult Edition
.
About the Author
---
Lawrence Dorfman has more than thirty years of experience in the bookselling world, including stints at Simon and Schuster, Penguin, and Harry N. Abrams. He is the author of the Snark Handbook series including The Snark Handbook: Politics and Government Edition, The Snark Handbook: Insult Edition; The Snark Handbook: Sex Edition, Snark! The Herald Angels Sing, and The Snark Handbook: Clichés Edition. He lives in Connecticut.