The Snark Handbook: Politics and Government Edition: Gridlock, Red Tape, and Other Insults to We the People (Snark Series) (Paperback)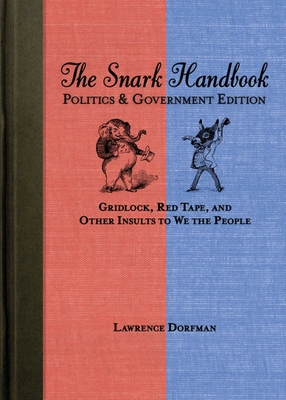 $12.95

Special Order - Subject to Availability
Description
---
Another political year is upon us . . . a year in which we elect another useless figurehead to piss off the masses, confuse the classes, and, above all, reward the jackasses. It will be a time of fear, angst, and anger, the perfect moment for The Snark Handbook: Politics and Government Edition. Filled with quotes, jokes, and timeless snarks, this brave foray into the political theater, old and new, will serve as a priceless source of sanity as you navigate the asylum. 
In the same inimitable style as the previous bestselling Snark titles, this timely entry is guaranteed to amuse and entertain. The wit and humor of Lawrence Dorfman shines in this collection, where he highlights the ineptitude and malice that is American democracy. You'll see first-hand the shenanigans that started with our Founding Fathers and still continue bravely on today. Hail to the Chief!
About the Author
---
Lawrence Dorfman has more than thirty years of experience in the bookselling world, including stints at Simon and Schuster, Penguin, and Harry N. Abrams. He is the author of the Snark Handbook series including The Snark Handbook: Politics and Government Edition, The Snark Handbook: Insult Edition; The Snark Handbook: Sex Edition, Snark! The Herald Angels Sing, and The Snark Handbook: Clichés Edition. He lives in Connecticut.