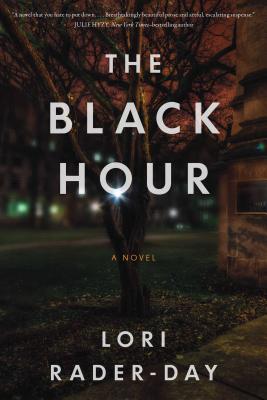 $18.95

Not Available In-Store - Usually Ships from Warehouse in 1-5 Days
Staff Reviews
---
When a student at an esteemed university shoots a respected and tenured sociology professor and then takes his own life, the question on everybody's mind is, why?  If you're anything like me, you won't be able to put this book down until you find out the answer.  With an understated but powerful sense of suspense, this refreshingly original psychological mystery had me reeled in before I even realized that I had swallowed the hook.  Every bit as dark as its title implies, The Black Hour is driven by tortured characters who are truly alive and genuinely human.  Debut novelist Lori Rader-Day explores these characters with the diligence of a research scientist and the flair of an artist, and through them, she is able to weave a unique and compelling plot that will keep you reading well into the darkest hours of the night.   
— JASON'S STAFF PICKS
Description
---
For Chicago sociology professor Amelia Emmet, violence was a research topic--until a student she'd never met shot her. He also shot himself. Now he's dead and she's back on campus, trying to keep up with her class schedule, a growing problem with painkillers, and a question she can't let go: Why? All she wants is for life to get back to normal, but normal is looking hard to come by. She's thirty-eight and hobbles with a cane. Her first student interaction ends in tears (hers). Her fellow faculty members seem uncomfortable with her, and her ex--whom she may or may not still love--has moved on. Enter Nathaniel Barber, a graduate student obsessed with Chicago's violent history. Nath is a serious scholar, but also a serious mess about his first heartbreak, his mother's death, and his father's disapproval. Assigned as Amelia's teaching assistant, Nath also takes on the investigative legwork that Amelia can't do. And meanwhile, he's hoping she'll approve his dissertation topic, the reason he came to grad school in the first place: the student attack on Amelia Emmet. Together and at cross-purposes, Amelia and Nathaniel stumble toward a truth that will explain the attack and take them both through the darkest hours of their lives.
About the Author
---
Lori Rader-Day, author of The Black Hour and Little Pretty Things, is a two-time Mary Higgins Clark Award nominee and the recipient of the 2014 Anthony Award for Best First Novel. Lori's short fiction has appeared in Ellery Queen Mystery Magazine, Time Out Chicago, Good Housekeeping, and others. She lives in Chicago, where she teaches mystery writing at StoryStudio Chicago and serves as the president of the Mystery Writers of America Midwest Chapter. Her third novel will be released by Harper Collins William Morrow in spring 2017.
Praise For…
---
WINNER! Anthony Award: BEST FIRST NOVEL 
WINNER! 2015 Lovey Award, BEST FIRST NOVEL
WINNER! 2015 Silver Falchion: BEST FIRST NOVEL, Mystery/Thriller

Mary Higgins Clark Award Finalist
Left Coast Crime Rosebud Award Finalist - Best Debut Mystery
Barry Award Finalist – Best Paperback Original
Macavity Award Finalist: Best First Mystery Novel

"An exceptional debut.... An irresistible combination of menace, betrayal, and self-discovery."
—Publishers Weekly STARRED REVIEW

"An unputdownable read."
—Booklist STARRED REVIEW

"Captivates from page one.... This reviewer was bowled over by the novel's alternating points of view, superb storytelling, and pitch-perfect take on academia."
—Library Journal STARRED REVIEW

"This first novel about two broken people is a psychological thriller like the best of Alfred Hitchcock. Amelia Emmet is a professor desperately trying to recover from a gunshot wound, and Nathaniel Barber is a student struggling to come to grips with his mother's death and a lost love. Their journey, told in alternating chapters, is riveting and full of surprising discoveries. Highly recommended."
—#3 LibraryReads Pick, July 2014

"Rader-Day's addictive prose is atmospheric and laced with dread. Rothbert's lakeshore campus in the shadow of Chicago drips with dark secrets, and as in all good mysteries, every character is enigmatic and fascinating. A perfect thriller for the summer, THE BLACK HOUR transcends the tropes and formulas of the mystery genre while deftly portraying academia and the city of Chicago as characters in their own right."
—BookPage

"An unusual protagonist, a timely crime, and outstanding writing make The Black Hour a stand-out debut."
—SARA PARETSKY

"You know how wonderful it is to find a novel that you hate to put down? . . . The Black Hour kept pulling me back for just one more page, one more chapter."
—JULIE HYZY
 
"A terrific whydunnit! This dark page-turner of a puzzle—well-written, with bite and style and edge and simmering conflict—will keep you riveted from page one."
—HANK PHILLIPPI RYAN

"A riveting, ingenious first novel. . . . The Black Hour will linger with you weeks after you've read it."
—SCOTT BLACKWOOD

"Utterly compelling. The question at the heart of The Black Hour is original and engrossing, and I defy anyone not to devour the book to get to the answer. . . . A triumph."
—CATRIONA McPHERSON

"The Black Hour is the rarest of mysteries: one that wants to keep you turning pages in a cold sweat, suspecting every character you meet of both the best and the worst motives; and also one that has something complicated and important to say about the forces that impel us toward death . . . and life. It's an extraordinary debut, marking the arrival of a major new voice in literary suspense."
—CHRISTOPHER COAKE
 
 "The perfect thriller—smart, tense, and foreboding. Every page left me hungry for the next."
—CLARE O'DONOHUE