The Future for Curious People: A Novel (Paperback)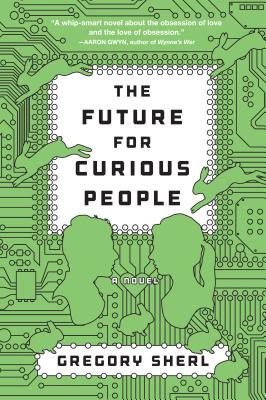 $14.95
Not Available In-Store - Usually Ships from Warehouse in 1-5 Days
Staff Reviews
---
In the future, why wonder about "meant to be"? All it takes is a visit to your local envisioning center, where (for a $30 co-pay) you can see what life holds for you and your loved one in fifteen, twenty, or thirty years. Evelyn (a pseudo grown-up) has just dumped her boyfriend after a revealing envisioning session proves their future unsatisfactory. She feels more in control with every potential future she rules out--but is she becoming an addict? Godfrey (a classic romantic) thinks envisioning is a scam, but his girlfriend insists they try couples envisioning before she'll accept his engagement ring. So what does it mean when a pretty stranger keeps popping up in all of his sessions? For anyone who's ever felt overwhelmed by the constant unknowns of adult life, or eager to define the future--but especially those who are ever-optimistic in the search for love, this humorous, light read is a perfect palette cleanser if you're between bestsellers!
—
EMMY'S STAFF PICKS
Description
---
"Comic and Exuberant . . . A fine and tender tale for anyone who has tried to let go of the past and envision the future while falling in love." —Rhonda Riley, author of The Enchanted Life of Adam Hope

What if you could know your romantic future? What if an envisionist could enter the name of your prospective mate into a computer that would show you a film of your future life together?

In The Future for Curious People, a young librarian named Evelyn becomes obsessed with this new technology: she can't stop visiting Dr. Chin's office because she needs to know that she'll meet someone and be happy one day. Godfrey, another client, ends up at the envisionist's office only because his fiancée insisted they know their fate before taking the plunge. But when Godfrey meets Evelyn in the waiting room, true love may be right in front of them, but they are too preoccupied—and too burdened by their pasts—to recognize it.

This smart, fresh love story, with its quirky twists and turns, ponders life's big questions—about happiness, fate, and our very existence—as it follows Evelyn and Godfrey's quest for the elusive answers.

"A love story about love stories . . . The pages burst with laugh-out-loud scenes and crisply original set-ups. I loved it!" —Lydia Netzer, author of Shine Shine Shine

"Somewhere between Jorge Luis Borge's 'The Garden of Forking Paths' and The Eternal Sunshine of the Spotless Mind you will find Gregory Sherl's warm, intelligent debut novel." —Roxane Gay, author of An Untamed State

"Enormously appealing . . . Evelyn and Godfrey are two unforgettable characters you'll root for and remember long after you've read the last page of this wildly  original, deeply moving novel." —Mindy Friddle, author of Secret Keepers
About the Author
---
Gregory Sherl is the author of three collections of poetry, including The Oregon Trail Is the Oregon Trail, shortlisted for the Believer magazine's 2012 poetry award. He currently lives in Oxford, Mississippi. Find him at www.gregorysherl.net.
Praise For…
---
"A love story about love stories . . . The pages burst with laugh-out-loud scenes and crisply original set-ups. I loved it!" —Lydia Netzer, author of Shine Shine Shine

"This sci-fi meets romance novel has the perfect balance of quirky and feel-good . . . Smart, sweet, and funny." —First for Women

"Offbeat . . .  [The Future for Curious People] ponders life's complexity with wide-eyed, youthful earnestness." —The Washington Post

"[Sherl's novel] plays with our idea of true love, remixing it and even slightly mocking it, but always with a nostalgia that makes the story more sweet than sour. It gently reminds us that knowing the future isn't the answer, but never judges us for wishing we knew more. Is destiny real? Do soul mates exist? The Future for Curious People toys with these questions without drawing crystal-clear conclusions. In that way, it's a lot like love itself." —BookPage

"The novel has the feel of an indie rom-com . . . [and] reveals some absurd truths about relationships in a society fully geared toward self-improvement and couples therapy . . . Entertaining." —Kirkus Reviews

"Somewhere between Jorge Luis Borges's 'The Garden of Forking Paths' and Eternal Sunshine of the Spotless Mind, you will find Gregory Sherl's warm, intelligent debut novel . . . The Future for Curious People is as charming as it is wise and Sherl's words will find their way into the hearts of many." —Roxane Gay, author of An Untamed State

"Comic and exuberant . . . A fine and tender tale for anyone who has tried to let go of the past and envision the future while falling in love." —Rhonda Riley, author of The Enchanted Life of Adam Hope

"A whip-smart novel about the obsession of love and the love of obsession. Sherl writes prose with a poet's grace; his future could not be brighter." —Aaron Gwyn, author of Wynne's War
— Review quotes