The Explanation for Everything: A Novel (Paperback)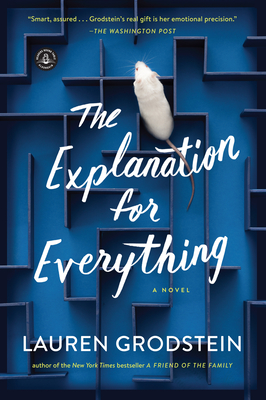 $14.95
Not Available In-Store - Usually Ships from Warehouse in 1-5 Days
Staff Reviews
---
Lauren Grodstein writes beautifully and manages to tell a story of heartbreak, conviction and spiritual love and loss while towing the fragile line between Darwinism and Evangelism. Humans are flawed and this novel beautifully explores the path that a teacher and father, his daughters and friends and neighbors must take to move forward.
—
Cindy's Staff Picks
Description
---
As she did in the bestselling novel A Friend of the Family, Lauren Grodstein has written another provocative morality tale, this time dissecting the permeable line between faith and doubt.

College professor Andy Waite is picking up the pieces of a shattered life. Between his research in evolutionary biology and caring for his young daughters, his days are reassuringly safe, if a bit lonely. But when Melissa Potter—charismatic, unpredictable, and devout—asks him to advise her study of intelligent design, he agrees. Suddenly, the world that Andy has fought to rebuild is rocked to its foundations.

"A well-crafted story of wayward souls searching for forgiveness,  healing and personal truth." —Family Circle

"Grodstein handles everything with a subtle wit, managing to skewer both  the ultraconservative and the ultraliberal without making either seem  absolutely wrong . . . Reminiscent of Carolyn Parkhurst's Dogs of Babel." —Booklist

"Finding or losing God proves to be an equally destabilizing tectonic shift,  and this novel is full of them . . . Their cumulative force will leave you happily unsteady, and moved." —The Washington Post

"A master storyteller . . . Tackles the tough topics: healing after loss, the relevance and possibility of the  divine in our lives, the gilded shackles of academic life, and life in Southern New Jersey—all while always being terrifically entertaining." —Ben Schrank, author of Love Is a Canoe

"Engrossing . . . You'll likely close the book with a new perspective on faith, justice, mercy, and the difficulty of holding a moral high ground." —Bust

"A novel of ideas and a deeply felt story of love, loss, hope, and the healing powers  of forgiveness . . . A provocative, moving story, and a beautifully written one." —Dani Shapiro, author of Devotion
About the Author
---
LAUREN GRODSTEIN is the author of four previous works of fiction, including the New York Times bestselling novel A Friend of the Family, which was a Washington Post Best Book Pick, a New York Times Editor's Pick, a BookPage Best Book, and an Indie Next Pick. She teaches creative writing at Rutgers University. Her website is www.laurengrodstein.com.
Praise For…
---
"[Grodstein has] fashioned in her smart, assured third novel, The Explanation for Everything, . . . a gripping tale of a biologist who finds himself approaching midlife and suddenly finding faith . . . Grodstein's real gift is her emotional precision . . . Finding or losing God proves to be an equally destabilizing tectonic shift, and this novel is full of them . . . Their cumulative force will leave you happily unsteady, and moved." —The Washington Post

"Very smart and touching and unexpected." —Tom Perrotta, author of The Leftovers and Little Children

"At once a novel of ideas and a deeply felt story of love, loss, hope, and the healing powers of forgiveness, The Explanation for Everything is a provocative, moving story, and a beautifully written one." —Dani Shapiro, author of Devotion

"Engrossing . . . You'll likely close the book with a new perspective on faith, justice, mercy, and the difficulty of holding a moral high ground." —Bust

"Why do any of us act the way we do? Is it our beliefs or our biology that shapes us? Lauren Grodstein considers this eternal question through the story of Andrew Waite, scientist, father, widower, struggling to raise two daughters, living with the ghost of his wife, facing a test of his faith in science. There are no easy answers here, just the honest complexity of human beings trying their best to be good people. The Explanation for Everything is moving, beautiful, and wonderfully funny." —Victor LaValle, author of The Devil in Silver

"Lauren Grodstein proves herself a master storyteller. The Explanation for Everything tackles the tough topics: healing after loss, the relevance and possibility of the divine in our lives, the gilded shackles of academic life, and life in Southern New Jersey—all while always being terrifically entertaining. I want everyone I love to read it." —Ben Schrank, author of Love is a Canoe

"A well-crafted story of wayward souls searching for forgiveness, healing and personal truth." —Family Circle

"Grodstein handles everything with a subtle wit, managing to skewer both the ultraconservative and the ultraliberal without making either seem absolutely wrong. Both the tone and the plot of the grieving professor finding answers in science are reminiscent of Carolyn Parkhurst's Dogs of Babel." —Booklist

"Her narrative sparkles with irony and wry observation . . . Grodstein's portrait of Andy is spot-on, as is that of the evangelical student, Sheila, Rosenblum and the minor characters. A rumination on love and loss, faith in reason and faith in the divine." —Kirkus Reviews


Praise for A Friend of the Family:

"Unfolds with suspense worthy of Hitchcock . . . [Grodstein] is a terrific storyteller." —The New York Times Book Review

"Gripping . . . [Grodstein] has succeeded in shattering the image of surburban happiness." —Chicago Tribune

"Horrifyingly plausible and deeply poignant, A Friend of the Family will leave you shaken and chastened--and grateful for the warning." —The Washington Post Book World

"Involving at every level: character, plot, language. one of the more complicated portraits of a father's love for his son we've ever read . . . highly recommended." —McSweeney's

"Grodstein's harsh, honest prose makes this haunting tale worthwhile." —People

— Review quotes