And West Is West (Hardcover)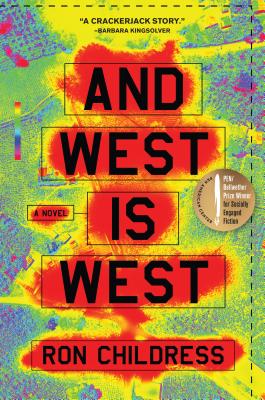 Description
---
Winner of the prestigious PEN/Bellwether Prize for Socially Engaged Fiction, And West Is West is an inspired novel about two young people who learn, the hard way, about the devastating power of new technology to isolate us from the consequences of our actions.

When Jessica, a young Air Force drone pilot in Nevada, is tasked with launching a missile against a suspected terrorist halfway across the world, she realizes that though women and children are in the crosshairs of her screen, she has no choice but to follow orders. Ethan, a young Wall Street quant, is involved in a more bloodless connection to war when he develops an algorithm that enables his company's clients to profit by exploiting the international financial instability caused by exactly this kind of antiterrorist strike. These two are only minor players, but their actions have global implications that tear lives apart--including their own. When Jessica finds herself discharged from the service and Ethan makes an error that costs him his job, both find themselves adrift, cast out by a corrupt system and forced to take the blame for decisions they did not make.

In And West Is West, Ron Childress has crafted a powerful, politically charged, and terrifyingly real scenario that takes readers into the lives of characters living in different worlds yet bound together by forces beyond their control.
About the Author
---
Ron Childress started his work life in boatyards up and down the New England coast, but at nineteen, he enrolled in community college and went on to earn his BA, MA, and PhD in literature. Childress worked for several years as a communications manager for a professional association near Washington, DC, before joining his wife in her tech marketing agency. In 2000, he left the business to pursue fiction writing full time. And West Is West, winner of the 2014 PEN/Bellwether Prize for Socially Engaged Fiction, is his first novel. 
Praise For…
---
"[A] gritty debut. . . It's a master study in how people can emotionally detach themselves from the damage they cause in our computer-driven world." —The Washington Post

"This compelling debut novel, which won the PEN/Bellwether Prize for Socially Engaged Fiction, dramatically examines the insidious role unrestrained technology plays in the moral and ethical corruption of people, institutions, and government . . . This is an excellent story, well told, suspenseful, and tragic." —Publishers Weekly

"[E]xtraordinary. . . Through graceful and controlled writing, the novel shows that whether we're operating by proxy or directly and tangibly affecting someone, we're all not only responsible for one another, but absolutely must assume responsibility for ourselves." —Kansas City Star

"[C]ombines elements of technological sophistication in both drone warfare and financial manipulation with the hip social whirl of New York and Washington." —Booklist 

"[A] strong first novel . . . This powerful and morally chilling tale depicts the chasm modern technology can create between actions and consequences--and the effects that has on the individuals carrying out the actions." —Library Journal

"Impressive and keenly relevant to our time, And West Is West  weaves seamlessly between drone strikes and high-speed trading on Wall Street. I devoured it in forty-eight hours, and during the hours I wasn't reading it, I was thinking about it. I still am." —Barbara Kingsolver

"I'm impressed by the power of Ron Childress's voice and the accuracy with which he describes human behavior. He's an intelligent and gifted writer who doesn't show off--he knows how to tell a story that you won't forget." —Terry McMillan

"Their stories intersect in startling ways, proving that despite the artificial moral distance created by the technology each of them used in their professions, the world remains filled with human connections. Centered on ethical questions but never preachy, Childress's narrative ponders the meaning of conscience in a technocentric world." —Shelf Awareness 

  "Do yourself a favor, dear reader: pick this book up. . . With sharp writing and likeable characters, Ron Childress has woven a very human story out of the tangle of conflicts—military, political, financial—that bind us together." —Washington Independent Review of Books
"This is one of those keeps-you-up-at-night, miss-your-subway-stop kinds of books that you'll pass around to friends. It's one to take to your book club. " —Rushville Republican