The Madonna and the Starship (Paperback)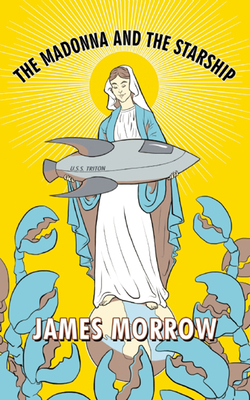 $14.95

Special Order - Subject to Availability
Staff Reviews
---
Science fiction and religion collide when the viewers of a popular Christian television program are threatened by the sinister plot of the giant purple alien lobsters from Planet Qualimosa, whose secular sensibilities are offended by the program's superstitious content. Sound ridiculous? Good, because it is – in the best way possible. The Madonna and the Starship is unpredictable, delightful, and hilarious, and on more than one occasion it reduced me to a giggling mess. But don't underestimate it: James Morrow's playful and lighthearted romp through philosophy has a lot more depth than you might expect. In the tradition of great satire, this charming little oddball of a novel made me think almost as much as it made me laugh. When I wasn't too caught up in my uncontrollable fits of hysteria, I was struck by surprisingly potent ideas and unexpectedly touching morals that genuinely made me feel better about the world I live in. Also, have I mentioned that it features giant purple alien lobsters?
—
JASON'S STAFF PICKS
Description
---
Only Uncle Wonder can save us from the death beam of...
THE DIABOLICAL LOBSTERS FROM OUTER SPACE New York City, 1953. The golden age of television, when most programs were broadcast live. Young Kurt Jastrow, a full-time TV writer and occasional actor, is about to have a close encounter of the apocalyptic kind. Kurt's most beloved character (and alter ego) is Uncle Wonder, an eccentric tinkerer whose pyrotechnically spectacular science experiments delight children across the nation. Uncle Wonder also has a more distant following: the inhabitants of Planet Qualimosa. When a pair of his extraterrestrial fans arrives to present him with an award, Kurt is naturally pleased?until it develops that, come next Sunday morning, these same aliens intend to perpetrate a massacre. Will Kurt and his colleagues manage to convince the Qualimosans that Earth is essentially a secular and rationalist world? Or will the two million devotees of NBC's most popular religious program suffer unthinkable consequences for their TV-viewing tastes? Stay tuned for The Madonna and the Starship

About the Author
---
James Morrow is the author of the World Fantasy Award-winning novel Towing Jehovah, the Nebula Award-winning novella Shambling Towards Hiroshima, and the New York Times Notable Book Blameless in Abaddon. His recent novels include The Last Witchfinder, hailed by the Washington Post as ?literary magic," and The Philosopher's Apprentice, which received a rave review from Entertainment Weekly. He is a master of the satiric and the surreal who has enjoyed comparison with Twain, Vonnegut, and Updike. Morrow lives in State College, Pennsylvania.