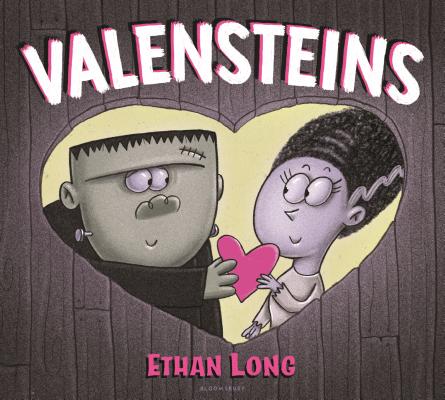 $16.99
Not Available In-Store - Usually Ships from Warehouse in 1-5 Days
Description
---
Something strange is in the air on this dark, cold night.
The members of Fright Club are always ready to scare, but tonight Fran K. Stein has something else on his mind. He's busy making something, and the other monsters want to know what it is.
Could it be a mask with fangs? A big pink nose? Or maybe a paper butt? No . . . it's a Valentine!
That means one thing . . . EEEEK!! Is Fran in love? What could be scarier than falling in love?!?
In this hilariously spooky story by Geisel Award-winning author and illustrator Ethan Long, even the scariest of monsters have true feelings.
About the Author
---
Ethan Long is the Geisel Award-winning author and illustrator of Up, Tall and High!, as well as many other picture books, including Fright Club, Scribbles and Ink, and Chamelia and the New Kid in Class. He also created Tasty Time with ZeFronk on the Disney Channel. Ethan lives in Orlando, Florida.
www.ethanlong.com
Praise For…
---
"Long's dark, ghostly palette sets an appropriately eerie mood, and he has a lot of fun with the cuddly animals' reign of terror. . . Don't worry about what goes bump in the night, Long seems to suggest--daylight can be plenty scary, too." - Publishers Weekly on FRIGHT CLUB
"Long delivers an original story full of droll humor while also introducing the concept of questioning stereotypes and rules. . . Long ably proves that 'when it comes to scaring, the more the merrier.'" - Kirkus Reviews on FRIGHT CLUB
"Silly but entertaining." - School Library Journal on FRIGHT CLUB
"It's a funny Halloween concept that delivers." - The Horn Book on FRIGHT CLUB
"The lighthearted tone makes this Halloween tale a perfect pick for younger children. Monster names such as Virginia Wolf and Mumford N. Suns will entertain the adults as well." - Booklist on FRIGHT CLUB
"Doubling as a baby book and an early reader, this book about the ups and downs of avian rivalry succeeds abundantly on both fronts." - The New York Times on UP! TALL! AND HIGH!