Princess Academy: The Forgotten Sisters (Hardcover)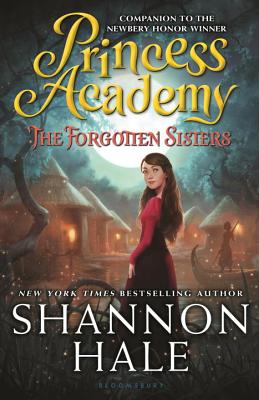 $17.99
Not Available In-Store - Usually Ships from Warehouse in 1-5 Days
Other Books in Series
This is book number 3 in the Princess Academy series.
Staff Reviews
---
As soon as I started this last book of the Princess Academy series, I fell right in. I love how Shannon Hale makes her characters tough in the way of brains—beat the bad guys with economics and historical texts! Miri and the princesses she's tutoring are such likable characters, I was sad to say a final goodbye. But nevertheless, in this book we get some closure for the original Princess Academy graduates, and plenty of quarry-speak. Hale reminds us once again that using your words and intellect is just as powerful as the sword, to win the war.
—
Leah
Description
---
After a year at the king's palace, Miri has learned all about being a proper princess. But the tables turn when the student must become the teacher!
Instead of returning to her beloved Mount Eskel, Miri is ordered to journey to a distant swamp and start a princess academy for three sisters, cousins of the royal family. Unfortunately, Astrid, Felissa, and Sus are more interested in hunting and fishing than becoming princesses.
As Miri spends more time with the sisters, she realizes the king and queen's interest in them hides a long-buried secret. She must rely on her own strength and intelligence to unravel the mystery, protect the girls, complete her assignment, and finally make her way home.
Fans of Shannon Hale won't want to miss this gorgeously woven return to this best-selling, Newbery Honor-winning series.
About the Author
---
Shannon Hale's mother says she was a storyteller from birth, jabbering endlessly in her carriage as the two strolled through the neighborhood; once she could form complete sentences, she made up stories, bribing her younger siblings to perform them in mini plays. When she was ten, she began writing books, mostly fantasy stories where she was the heroine, and she continued writing secretly for years while pursuing acting in stage and improv comedy. After detours studying in Mexico, the U. K., and Paraguay, Shannon earned a bachelor's degree in English from the University of Utah and a Masters in Creative Writing from the University of Montana. In the interim, she submitted short stories and novels to magazines and publishers, saving all her rejection letters which she has since laminated into one continuous 60-foot roll which she proudly unfurls to audiences as a testament to her dedication and determination. Since the publication of her first book, The Goose Girl, in 2003, Shannon has become a beloved author to young readers as well as booksellers and educators. Her third novel, Princess Academy, earned her a Newbery Honor and is a New York Times, Book Sense, and Publishers Weekly bestseller. Shannon has also written books for adults, Austenland and The Actor and the Housewife. Shannon lives in Salt Lake City, Utah, with her husband, Dean, their children, and their pet, a small plastic pig.
Praise For…
---
"Action packed and wellpaced, the story's depth incorporates artful negotiation, the importance of education, and citizens' equality and rights. This final installment of The Princess Academy trilogy certainly leaves room for more books if Hale were so inclined. Won't she reconsider?" —starred review, Booklist
"Miri, as spunky and smart as ever, returns in the final book of the award-winning Princess Academy trilogy. . . . Hale maintains her high quality of storytelling, with lots of action, plot twists and lyrical writing. . . . A laudable conclusion to a popular series." —Kirkus Reviews
"Hale once again manages to create a cast of female characters diverse in their qualities and distinctly individual, offering an inclusive portrait of what girlhood and womanhood look like." —BCCB
"Hale keeps the action taut and the young women smart and savvy. . . A decade after the Newbery Honor-winning Princess Academy was published, this third and possibly final installment in the series will please old and new fans alike." —School Library Journal
"As always, Hale is a terrific storyteller: she deftly juggles plot, character, and setting; her prose is lyrical yet economical; and the themes of feminism and equality that run throughout the trilogy blossom in the resolution of this concluding volume. Readers will be sad to say goodbye, not just to Miri and company but also to Danland itself." —The Horn Book
"Powerful and deeply engaging." —Kirkus Reviews on PALACE OF STONE
"Palace of Stone . . . proves once again that with quick wit and brave words, one person really can change the world." —School Library Journal on PALACE OF STONE
"The book is a fresh approach to the traditional princess story with unexpected plot twists and great emotional resonance." —2006 Newbery Committee on PRINCESS ACADEMY
"This is not a fluffy, predictable fairy tale. . . . Instead Hale weaves an intricate, multilayered story about families, relationships, education, and the place we call home." —starred review, School Library Journal on PRINCESS ACADEMY