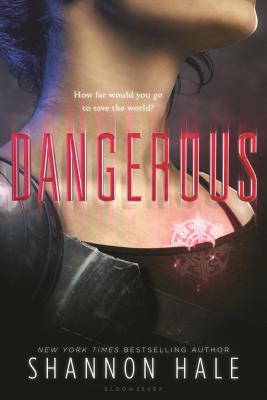 $9.99

Special Order - Subject to Availability
Staff Reviews
---
Maisie Danger Brown is not a girl to be trifled with--and you have to read her story. Dangerous is a book full of witty lines, scientific inventions, and aliens--and I can't recommend it enough. It seems that each Shannon Hale book I read is different from the last; she's always coming up with unique and engaging plots. One of my favorite features in this book (besides the protagonist being a one-armed homeschooler) is that Maisie's parents are very present and interactive. Upon hearing that she's been infected with some alien entity that's giving her superpowers, they're scientists and respond with a, "Well this will be a great learning experience!" which is pretty awesome. I've been seeing Dangerous mostly in the YA section, but I think it's readable to middle-graders and adults too, and boys and girls alike.
—
LEAH'S STAFF PICKS
Description
---
"Master storyteller Hale takes readers to dizzying new heights . . . A can't-miss adventure." --Kiersten White, New York Timesbestselling author of And I Darken

In this thrilling sci-fi adventure, New York Times bestselling author Shannon Hale asks the question: How far would you go to save the world?
When Maisie Danger Brown nabbed a spot at a NASA-like summer boot camp, she never expected to uncover a conspiracy that would change her life forever.
And she definitely didn't plan to fall in love.
But now there's no going back--Maisie's the only thing standing between the Earth and annihilation. She must become the hero the world needs. The only problem is: how does a regular girl from Salt Lake City do that, exactly? It's not as though there's a handbook for this sort of thing. It's up to Maisie to come up with a plan--and find the courage to carry it out—before she loses her heart . . . and her life.
Equal parts romance and action-adventure, this explosive story is sure to leave both longtime Shannon Hale fans and avid science fiction readers completely breathless.
About the Author
---
Shannon Hale's mother says she was a storyteller from birth, jabbering endlessly in her carriage as the two strolled through the neighborhood; once she could form complete sentences, she made up stories, bribing her younger siblings to perform them in mini plays. When she was ten, she began writing books, mostly fantasy stories where she was the heroine, and she continued writing secretly for years while pursuing acting in stage and improv comedy. After detours studying in Mexico, the U. K., and Paraguay, Shannon earned a bachelor's degree in English from the University of Utah and a Masters in Creative Writing from the University of Montana. In the interim, she submitted short stories and novels to magazines and publishers, saving all her rejection letters which she has since laminated into one continuous 60-foot roll which she proudly unfurls to audiences as a testament to her dedication and determination. Since the publication of her first book, The Goose Girl, in 2003, Shannon has become a beloved author to young readers as well as booksellers and educators. Her third novel, Princess Academy, earned her a Newbery Honor and is a New York Times, Book Sense, and Publishers Weekly bestseller. Shannon has also written books for adults, Austenland and The Actor and the Housewife. Shannon lives in Salt Lake City, Utah, with her husband, Dean, their children, and their pet, a small plastic pig.
Praise For…
---
"Master storyteller Hale takes readers to dizzying new heights. Layered with gritty action and heartfelt characters, Dangerous is a can't-miss adventure." —Kiersten White, New York Times bestselling author of Paranormalcy
"Fast paced and action packed, bubbling over with ideas and full of heart, Dangerous is a dangerously addictive read." —Scott Westerfeld, New York Times bestselling author of the Leviathan and Uglies series
"Maisie Danger Brown is Danny Dunn and Nelly Bly rolled into one. Hale mashes up her science and her superheroes with aliens and a terrestrial villain or two, then stirs in just the right amount of wonder and delight. I loved this book." —Megan Whalen Turner, Newbery-Honor winning author of The Thief
"Dangerous is exactly that--you will not be able to put this book down, nor will you be able to get its fantastic heroine, Maisie Brown, out of your head." —Ally Condie, New York Times bestselling author of Matched
"Girl power abounds . . . A change of pace that largely succeeds, showing that Hale's range is wider than her readers might have expected." —Kirkus Reviews
"An action-packed SF thriller with plenty of surprises and an intriguing premise." —Publishers Weekly
"This fast-paced science fiction novel with echoes of the "Fantastic Four" comics doesn't let up for a moment . . . A must-read for fans of superhero adventures." —School Library Journal
"Maisie is an intelligent, self-aware hero, even when in the throes of romance." —Booklist
"This adventure, sci-fi, romance novel will keep readers engrossed. Hale's audience will likely extend with this new dimension in her writing." —Library Media Connection
"Hale fans will easily find much to appreciate in the well-developed setting and sturdy girl characters in this new genre for the author." —BCCB
"Hale writes her first suspenseful science fiction novel with great success. Maisie Danger Brown is a strong, smart, unique character. . . . Fans of Hale's previous work, as well as those with no prior knowledge, will enjoy this new addition to the growing young adult science fiction field." —VOYA
"Girl power abounds… A change of pace that largely succeeds, showing that Hale's range is wider than her readers might have expected." —Kirkus Reviews
"This fast-paced science fiction novel with echoes of the "Fantastic Four" comics doesn't let up for a moment… A must-read for fans of superhero adventures." —School Library Journal