What Matters in Jane Austen?: Twenty Crucial Puzzles Solved (Paperback)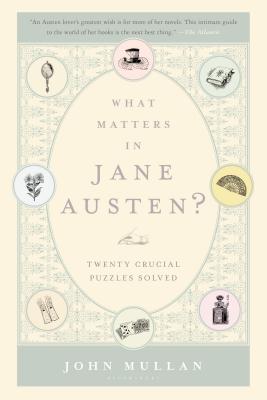 Description
---
Which important Austen characters never speak? Is there any sex in Austen? What do the characters call one another, and why? What are the right and wrong ways to propose marriage? In What Matters in Jane Austen? John Mullan shows that we can best appreciate Austen's brilliance by looking at the intriguing quirks and intricacies of her fiction. Asking and answering some very specific questions about what goes on in her novels, he reveals the inner workings of their greatness.

In twenty short chapters, each of which explores a question prompted by Austen's novels, Mullan illuminates the themes that matter most in her beloved fiction. Readers will discover when Austen's characters had their meals and what shops they went to; how vicars made good livings; and how wealth was inherited. What Matters in Jane Austen? illuminates the rituals and conventions of her fictional world in order to reveal her technical virtuosity and daring as a novelist. It uses telling passages from Austen's letters and details from her own life to explain episodes in her novels: readers will find out, for example, what novels she read, how much money she had to live on, and what she saw at the theater.

Written with flair and based on a lifetime's study, What Matters in Jane Austen? will allow readers to appreciate Jane Austen's work in greater depth than ever before.
About the Author
---
John Mullan is a professor in the English department at UCL. He writes the regular 'Guardian Book Club' column on fiction in the Guardian and frequently appears on the BBC's Review Show. He was a judge of the 'Best of the Booker Prize' in 2008 and a judge of the Man Booker Prize itself in 2009. He has lectured widely on Jane Austen in the UK and also in the US, and makes regular appearances at the UK literary festivals.
Praise For…
---
"[Mullan] brings fresh new and insights into the literary details and truths found within Jane Austen's fiction." —Shelf Awareness

"Substantial yet conversational, this is scholarship without pedantry . . . An Austen lover's greatest wish is for more of her novels. This intimate guide to the world of her books is the next best thing." —The Atlantic

"Delightful . . . Mullan's humorous guidebook encourages first-time Austen readers to pick up her novels and lovers of Austen to re-read for new details." —Publishers Weekly

"A box of 20 literary chocolates for Austen fans to savor." —Kirkus Reviews