A Meal in Winter: A Novel of World War II (Hardcover)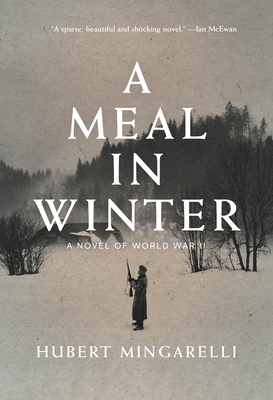 $19.95
Not Available In-Store - Usually Ships from Warehouse in 1-5 Days
Staff Reviews
---
This story about three German soldiers is drawn so vividly that you will feel their hunger, their fingers freezing as they light cigarettes in the Polish winter and their common hatred of their platoon leader. You'll also feel their ecstasy as they share slices of stolen salami or work out a problem facing one member of the threesome. It's a short, brilliant tale told from a view of WW II to which we're accustomed.
—
Bob
Description
---
One morning in the dead of winter, during the darkest years of World War II, three German soldiers head out into the frozen Polish countryside. They have been charged by their commanders with tracking down and bringing back for execution "one of them"--a Jew. Having flushed out a young man hiding in the woods, they decide to rest in an abandoned house before continuing their journey back to the camp. As they prepare food, they are joined by a passing Pole whose virulent anti-Semitism adds tension to an already charged atmosphere. Before long, the group's sympathies begin to splinter when each man is forced to confront his own conscience as the moral implications of their murderous mission become clear. Called "masterly and necessary" by the Times Literary Supplement, A Meal in Winter recalls the claustrophobia of Roman Polanski's The Pianist and Louis Begley's Wartime Lies. A sleeper hit in the United Kingdom, this is the first novel by the award-winning French novelist Hubert Mingarelli to be translated into English.
About the Author
---
Hubert Mingarelli's books include Quatre soldats (Four Soldiers), which won the Prix de Médicis. He lives in Grenoble. Sam Taylor is a translator, novelist, and journalist. His translated works include Laurent Binet's award-winning HHhH. His own novels have been translated into ten languages.