Unreasonable: Black Lives, Police Power, and the Fourth Amendment (Hardcover)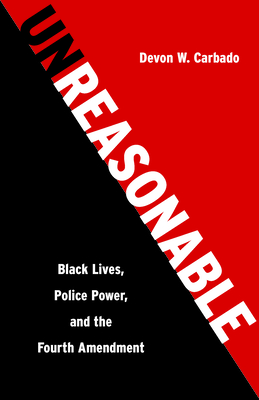 Description
---
How the Supreme Court's decision to treat unreasonable policing as reasonable under the Fourth Amendment has shortened the distance between life and death for Black people
The summer of 2020 will be remembered as an unprecedented, watershed moment in the struggle for racial equality. Published on the second anniversary of the global protests over the police killings of George Floyd and Breonna Taylor, Unreasonable is a groundbreaking investigation of the role that the law--and the U.S. Constitution--play in the epidemic of police violence against Black people.
In this crucially timely book, celebrated legal scholar Devon W. Carbado explains how the Fourth Amendment became ground zero for regulating police conduct--more important than Miranda warnings, the right to counsel, equal protection and due process. Fourth Amendment law determines when and how the police can make arrests, and it determines the precarious line between stopping Black people and killing Black people.
A leading light in the critical race studies movement, Carbado looks at how that text, in the last four decades, has been interpreted by the Supreme Court to protect police officers, not African Americans; how it sanctions search and seizure as well as profiling; and how it has become, ultimately, an amendment of life and death.
Accessible, radical, and essential reading, Unreasonable sheds light on a rarely understood dimension of today's most pressing issue.
About the Author
---
Devon Carbado is the Honorable Harry Pregerson Professor of Law at UCLA School of Law. The author of numerous articles and edited volumes, he is also the co-author of Acting White? Rethinking Race in "Post-Racial" America. He lives in Los Angeles.