Organized Money: How Progressives Can Leverage the Financial System to Work for Them, Not Against Them (Hardcover)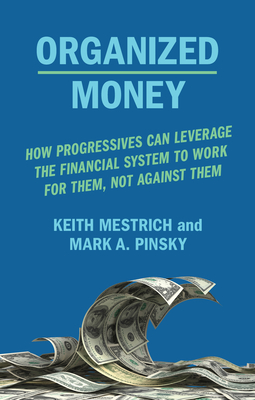 Description
---
Two leading figures from the world of finance show how progressives can take their money away from conservative financial institutions and put it to good, lasting social use
The U.S. financial system may be working for some people, but it isn't working for most of us who care about progressive causes. In fact, our financial system taps your money to pay for a conservative agenda. It's a heads-they-win, tails-you-lose game when the fees you pay to use your credit card finance fossil fuels even when you buy green products. Conservative "money muscle" shapes our culture, society, politics, and public policy.
In this bold call to action, two leaders from the world of progressive finance propose a strategy to challenge this conservative dominance of the financial sector: organized progressive money. It's a $10 trillion plan for a full- service, market-scale progressive financial system. Mestrich and Pinsky explain how progressives can take control with financial institutions of their own and products that align with progressive values.
Organized Money warns that until progressives organize their money, they will lose again and again while conservatives will keep winning. It's a crucial message for the next progressive era, starting with the make-or-break 2020 election cycle, where American voters will be presented with a choice between conservative market fundamentalism that leaves them out or inclusive restorative capitalism that is good for people as well as profits.
Written in clear, engaging prose for non- financial readers and finance leaders alike, Organized Money is required reading for everyone ready to confront the excesses of conservative power and influence.
About the Author
---
Keith Mestrich is the president and CEO of Amalgamated Bank, the nation's leading socially responsible bank. With twenty-five years of experience working in the labor movement and nonprofit organizations, Keith is a leader in the effort to build wealth for a purpose, not just for a profit. He is the co-author, with Mark Pinsky, of Organized Money: How Progressives Can Leverage the Financial System to Work for Them, Not Against Them (The New Press). Mark A. Pinsky led the $150 billion community development financial institution (CDFI) industry from 1995 to 2016. With a track record of aligning capital with social, economic, environmental, and political justice, he was the strategic leader for the industry's growth from $2 billion to $140 billion. He is the author and editor of several books and speaks regularly on finance and society. He lives in Philadelphia, where he runs Five/Four Advisors, a strategic advisory firm.