Out of the Ashes: Rebuilding American Culture (Hardcover)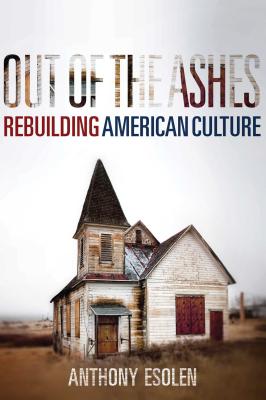 $27.99
Email or call for price.
Description
---
"Out of the Ashes is a full-throated, stout-hearted call to arms—soul-stirring,uncompromising, and irresistible." —ROD DREHER, author of The Benedict Option

"Out of the Ashes is an astonishing combination of energy, humor, insight, and exceptional erudition, topped off by a vivid personal style and a special gift for tweaking the nose of secularist nonsense-peddlers. If you're looking for a guide to our current cultural predicament (and how to fix it), one that's sobering and invigorating at the same time, start with this book." —CHARLES J. CHAPUT, O.F.M. Cap., Archbishop of Philadelphia

"Anthony Esolen is one of our nation's best writers because he's one of our best thinkers. Out of the Ashes is vintage Esolen: eloquent, bold, insightful, profound." — RYAN T. ANDERSON, Ph.D., Senior Research Fellow, The Heritage Foundation, and author of Truth Overruled: The Future of Marriage and ReligiousFreedom



What do you do when an entire civilization is crumbling around you?

You do everything. This is a book about how to get started.

The Left's culture war threatens America's foundation and its very civilization, warns Esolen in his brand new book, Out of the Ashes: Rebuilding American Culture. They will tell you that babies in the womb are fetuses, that gender is a social construct, and that the backbone of society is government not the community.

In Out of the Ashes, Esolen outlines his surprisingly simple plan to take back American culture— start at home. Esolen urges us to demand a return to values in our homes, our schools, our churches, and our communities, and to reject political correctness.

"We must become tellers of truth again—and people who are willing to hear truths, especially when it hurts to hear them."
About the Author
---
Anthony Esolen is the author of numerous books, including No Apologies, Nostalgia, and Out of the Ashes, and has published translations of Dante, Tasso, and Lucretius. He is Writer-in-Residence at Magdalen College of the Liberal Arts in New Hampshire.