Forging a Christian Order: South Carolina Baptists, Race, and Slavery, 1696–1860 (America's Baptists) (Hardcover)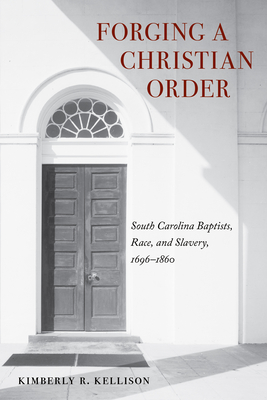 $50.00

Special Order - Subject to Availability
Description
---
A significant contribution to the historiography of religion in the U.S. south, Forging a Christian Order challenges and complicates the standard view that eighteenth-century evangelicals exerted both religious and social challenges to the traditional mainstream order, not maturing into middle-class denominations until the nineteenth century. Instead, Kimberly R. Kellison argues, eighteenth-century White Baptists in South Carolina used the Bible to fashion a Christian model of slavery that recognized the humanity of enslaved people while accentuating contrived racial differences. Over time
this model evolved from a Christian practice of slavery to one that expounded on slavery as morally right.

Elites who began the Baptist church in late-1600s Charleston closely valued hierarchy. It is not surprising, then, that from its formation the church advanced a Christian model of slavery. The American Revolution spurred the associational growth of the denomination, reinforcing the rigid order of the authoritative master and subservient enslaved person, given that the theme of liberty for all threatened slaveholders' way of life. In lowcountry South Carolina in the 1790s, where a White minority population lived in constant anxiety over control of the bodies of enslaved men and women, news of revolt in St. Domingue (Haiti) led to heightened fears of Black violence. Fearful of being associated with antislavery evangelicals and, in turn, of being labeled as an enemy of the planter and urban elite, White ministers orchestrated a major transformation in the Baptist construction of paternalism.

Forging a Christian Order provides a comprehensive examination of the Baptist movement in South Carolina from its founding to the eve of the Civil War and reveals that the growth of the Baptist church in South Carolina paralleled the growth and institutionalization of the American system of slavery—accommodating rather than challenging the prevailing social order of the economically stratified Lowcountry.
 
About the Author
---
KIMBERLY R. KELLISON is associate professor in the Department of History and associate dean of Arts and Sciences at Baylor University. Her articles have appeared in the Georgia Historical Quarterly, the South Carolina Historical Magazine, and American Baptist Quarterly.
 
Praise For…
---
"This is a well-researched and clearly written study that makes a significant contribution to the historiography of religion in the U.S. South. The author persuasively demonstrates that from the mid eighteenth century to the decades immediately preceding the outbreak of the American Civil War, South Carolina Baptists organized ecclesiastical institutions of increasing vigor and influence, with a wide-ranging Christian defense of slavery at their center, in order to extend their reach and strengthen their denomination."—Thomas J. Little, author of The Origins of Southern Evangelicalism: Religious Revivalism in the South Carolina Lowcountry, 1670–1760