Alex: The Commandant Camille Verhoeven Trilogy (Paperback)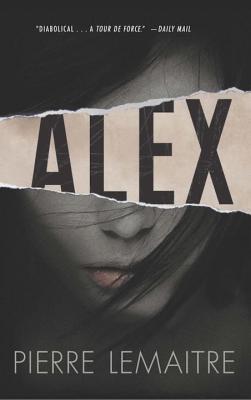 Other Books in Series
This is book number 1 in the The Commandant Camille Verhoeven Trilogy series.
Description
---
Upon winning the prestigious 2013 Crime Writers Association International Dagger Award, the judges praised Alex by saying, "An original and absorbing ability to leash incredulity in the name of the fictional contract between author and reader... A police procedural, a thriller against time, a race between hunted and hunter, and a whydunnit, written from multiple points of view that explore several apparently parallel stories which finally meet."

Alex Prevost--kidnapped, savagely beaten, suspended from the ceiling of an abandoned warehouse in a tiny wooden cage--is running out of time. Her abductor appears to want only to watch her die. Will hunger, thirst, or the rats get her first?

Apart from a shaky eyewitness report of the abduction, Police Commandant Camille Verhoeven has nothing to go on: no suspect, no leads, and no family or friends anxious to find a missing loved one. The diminutive and brilliant detective knows from bitter experience the urgency of finding the missing woman as quickly as possible--but first he must understand more about her.

As he uncovers the details of the young woman's singular history, Camille is forced to acknowledge that the person he seeks is no ordinary victim. She is beautiful, yes, but also extremely tough and resourceful. Before long, saving Alex's life will be the least of Commandant Verhoeven's considerable challenges.

A 2013 Financial Times Book of the Year
Shortlisted for the 2014 RUSA Reading List Horror Award

From the Hardcover edition.
About the Author
---
Pierre Lemaitre has worked for many years as a teacher of literature. His novels to date have earned him exceptional critical and public acclaim as a master of the crime novel and have won him the Prix du Premier Roman de Cognac 2006, the Prix du Meilleur Polar Francophone 2009, and the Prix du Polar Europeen du Point 2010. Alex is his first novel to be translated into English, and won the presitigious 2013 Crime Writers Association International Dagger Award. In 2013 Lemaitre was the recipient of the prestigious Prix Goncourt, the highest literary honor in France, for Au revoir la-haut.

Frank Wynne has translated works by Michel Houellebecq, Boualem Sansal, and many more. He won the Independent Foreign Fiction Prize in 2005 for his translation of Frederic Beigbeder's Windows on the World.

From the Hardcover edition.
Praise For…
---
"An auspicious English-language debut . . . With quiet virtuosity, Lemaitre moves the narrative through its various levels toward a concluding act of retribution that is both ingeniously conceived and immensely satisfying. Tricky, disturbing and ultimately affecting, Alex is a welcome addition to the rising tide of European crime fiction that has followed in the wake of Stieg Larsson's death. Larsson's many readers should take this book to their hearts and should find themselves waiting, with some degree of impatience, for the next Verhoeven novel to appear."—Bill Sheehan, The Washington Post Book World

"An eloquent thriller with a denouement that raises eyebrows as it speeds the pulse."—Kirkus Reviews (Starred Review)

"An original and absorbing ability to leash incredulity in the name of the fictional contract between author and reader... A police procedural, a thriller against time, a race between hunted and hunter, and a whydunnit, written from multiple points of view that explore several apparently parallel stories which finally meet."—CWA International Dagger Award Judges citation

"Before you can say Gone Girl, he discovers the crime is far from random and Alex anything but an ordinary victim. This gritty page-turner, Alex, is the first in a promised trilogy. Plus, s'il vous plait."—Thom Geier, Entertainment Weekly

"Fascinating . . . filled with many twists and turns of plot along with a huge surprise."—Connie Fletcher, Booklist

"Genuinely unpredictable in a way few suspense novels are."—Charles Finch, USA Today

"Will keep you turning pages until well past your bedtime--with all the lights on, of course."—Library Journal

"Lemaitre's impressive American debut . . . unexpected plot twists will keep readers turning the pages."—Publishers Weekly (Starred and Boxed Review)

"Lemaitre's plot is laid out with mathematical precision: a beautiful woman is kidnapped, stripped naked, thrown into a cage and subjected to the systematic torture of a brutal captor . . . Revenge narratives go all the way back to the Greeks, but it's the vagina dentate component that sets a specimen like Alex apart, as Lemaitre adapts Larsson's blueprint with moves of his own."—Marilyn Stasio, The New York Times Book Review

"Relentlessly gripping . . . Various subtle variations of the crime novel are handled with aplomb . . . By page 200 you may believe that you're moving to a pulse-raising conclusion. But you will be wrong; in some senses, the novel has only just begun."—Barry Forshaw, Independent


"The winner of countless French crime-writing prizes, Lemaitre is far too canny to join the ranks of thriller authors who merely revel in disturbing details and gory crimes. Where another novel would have finished, Alex is just beginning, and the book moves from read-as-fast-as-you-can horror to an intricately plotted race to a dark truth . . . There's humour here, and characters to return to, but really Alex is about thrills. And as the novel barrels triumphantly towards its unexpected but satisfying conclusion, it's in this respect that it deliver."—Alison Flood, The Observer

"What begins as a search for a missing person soon becomes a beguiling series of investigations linked only by Alex, a Parisian version of Lisbeth Salander. Camille, volatile, brilliant and just under 5 feet tall, is an equally riveting figure."—John Dugdale, The Sunday Times

"Hypnotic . . . [A] remarkably determined and dangerous young woman--a woman who admittedly makes Lisbeth Salander look like Mary Poppins."—Raven Crime Reads

"Alex had me gripped more than almost any book I can remember, with one shout-out-aloud, knockout twist after another."
—Peter James, #1 NYT-bestselling author of the DS Roy Grace novels