Irene: The Commandant Camille Verhoeven Trilogy (Hardcover)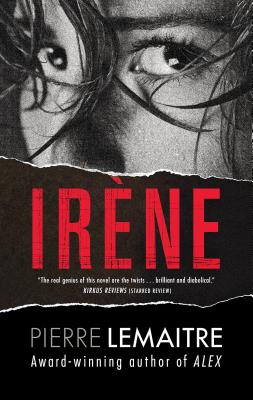 Other Books in Series
This is book number 1 in the The Commandant Camille Verhoeven Trilogy series.
Staff Reviews
---
Irene is the first book in Pierre Lemaitre's stunning Commandant Camille Verhoeven Trilogy, but it's actually the second book released in the U.S. The second book in the series, Alex, was released first. I'm not sure why, but I love these books nonetheless! They are twisty-turny mysteries that wheedle their way into your mind and haunt your dreams for weeks afterwards. Camille Verhoeven is a brilliant detective and the perfect nuanced character to support a trilogy. I can't say enough good things about Lemaitre's writing--give them a try and see for yourself!
—
LAUREN'S STAFF PICKS
December 2014 Indie Next List
---
"This extremely suspenseful, fast-paced crime novel is not for the fainthearted. Its graphic violence may turn some readers away, but those who stick through the opening scenes will be richly rewarded by following Commander Verhoeven's pursuit of a monstrous serial killer who models his gruesome crimes on scenes from classic crime novels. The intense action is enriched by scenes from Verhoeven's domestic life, as well as the interactions among the distinct personalities of his Paris detective squad."
— Joe Strebel, Anderson's Bookshop, Naperville, IL
Description
---
Pierre Lemaitre is known for writing crime fiction with an alchemical mix of white-knuckle intensity, fearlessly unconventional plotting, and psychologically intricate character development. In Irene Lemaitre ingeniously uses five contemporary and classic literary murder scenes--from William McIlvanney's Laidlaw to Bret Easton Ellis's American Psycho--as the framework on which to craft a diabolical prequel to his Crime Writers' Association International Dagger Award-winning novel Alex.
Camille Verhoeven, whose diminutive stature belies his fierce intensity, has reached an unusually content (for him) place in life. he is respected by his colleagues and he and his lovely wife, Irene, are expecting their first child.
But when a new murder case hits his desk--a double torture-homicide that's so extreme that even the most seasoned officers are horrified-Verhoeven is overcome with a sense of foreboding.
As links emerge between the bloody set-piece and at least one past unsolved murder, it becomes clear that a calculating serial killer is at work. The press has a field day, taking particular pleasure in putting Verhoeven under the media spotlight (and revealing uncomfortable details of his personal life).
Then Verhoeven makes a breakthrough discovery: the murders are modeled after the exploits of serial killers from classic works of crime fiction. The double murder was an exquisitely detailed replication of a scene from Bret Easton Ellis's American Psycho, and one of the linked cold cases was a faithful homage to James Ellroy's The Black Dahlia.
The media circus reaches a fever pitch when the modus operandi of the killer, dubbed "The Novelist," is revealed. Worse, the Novelist has taken to writing taunting letters to the police, emphasizing that he will stop leaving any clues behind unless Verhoeven remains on the case.
For reasons known only to the killer, the case has become personal. With more literature--inspired murders surfacing, Verhoeven enlists the help of an eccentric bookseller and a professor specializing in crime fiction to try to anticipate his adversary's next move. Then Irene is kidnapped.
With time running out, Verhoeven realizes that all along he's been the unwitting dupe in The Novelist's plans to create an original work of his own. Now, the only person in the world the commandant truly cares for is in danger, and a happy ending seems less and less likely as it becomes clear that the winner of this deadly game may be the man with the least to lose.
About the Author
---
Pierre Lemaitre worked for many years as a literature professor before become a full-time writer. He has won exceptional critical and public acclaim as a master of the crime novel and has won the Prix du Premier Roman de Cognac, the Prix du Meilleur Polar Francophone, and the Prix du Polar Europeen du Point. Alex was the co-recipient of the influential 2013 Crime Writers Association International Dagger Award. Also in 2013, Lemaitre won the prestigious Prix Goncourt, the highest literary honor in France, for Au Revoir La-Haut, a standalone novel about soldiers coping with the final days of World War I.
Praise For…
---
"In the imaginative, unsettling "Irène", readers will discover that French author Pierre Lemaitre has constructed a fine (if sometimes obscenely grisly) example of that genre--and then, in its last forty pages, they will begin to realize that they have followed the author deep down a disorienting rabbit hole . . . Lemaitre toys with the genre's tropes--the disparate police team, the suspicious-seeming civilian experts, the red herring as huge as Moby Dick--to his own unpredictable purposes. He succeeds in having his conceptual gateau and eating it, too. The bibliophilic villain doesn't hesitate to call his book--this book--"a triumph . . . a harrowing, true-to-life tale, a metafiction that recounts the murderous machinations of its own creation." But let the reader beware: Irène, with its dizzying final twist, may give you vertigo."—Tom Nolan, The Wall Street Journal

"Irène gets off to a fast start and races pell-mell to a
jaw-dropping conclusion . . . Mr. Lemaitre fires away in a prose style
that's like a flurry of short jabs to the solar plexus. His translator,
Frank Wynne, skillfully renders the tough-guy slang, the police jargon,
and the irrepressible zip of a narrative that unfolds, despite the
copious gore, precisely and methodically. It's a metronome set at
allegro furioso . . . Lemaitre pulls some unexpected strings, upending
expectations with a flourish that readers will find either pure genius
or too clever by half--or one and a half. Either way, by novel's end,
Verhoeven needs a new title: meta-meta detective."—William Grimes, The New York Times

"Irène is superior crime fiction, worthy of the international attention it has received . . . Once I accepted the novel's portrayals of violence, I found little to fault in Irène . . . The novel's closing chapters are as suspenseful and ultimately as shocking as the climax of any thriller I can recall; the final pages will leave readers numb. In Irène, violence ups the ante, and tough-minded writing carries the day."—Patrick Anderson, The Washington Post

"French literary sensation Lemaitre earned comparisons to Stieg Larsson (and a 2013 CWA International Dagger Award) with Alex, a gruesome and twisty mashup of police procedural, thriller, and psychological horror. Its newly translated pre­decessor might be even better . . . [Irene is] hardly predictable, as [Lemaitre] pushes the pulse-quickening plot toward an ingenious-and shocking-finale."—Library Journal

"Lemaitre's measured, intelligent approach to a police investigation rings of authenticity . . . But the real genius of this novel are the twists Lemaitre incorporates into the storyline, lifting it above the genre and into a different category entirely. A book that no matter how fast the reader connects the dots still produces a bombshell that's both brilliant and diabolical."—Booklist (Starred Review)

"Irène is compulsive reading . . . The narrative is fast-paced and the suspense unbearably taut."—Thuy On, The Sydney Morning Herald

"Pierre Lemaitre's Alex earned rave reviews last year, not least for the way Lemaitre reworked the tropes of the conventional serial-killer novel to create a clever police procedural that worked as a superb thriller even as it confounded readers' expectations of the genre. The follow-up, Irène, is equally clever, as the diminutive Parisian detective Camille Verhoeven is initially confronted with a murder scene so horrific that it puts him in mind of Goya's Saturn Devouring his Son."—Irish Times

"Last year I raved about Lemaitre's first published crime novel, Alex, but this second--which was, in fact, the first he wrote, as it introduces his detective, Commandant Verhoeven--is even better. Quirky, brutal, and not for the faint-hearted, it is crime fiction of the highest class . . . Superbly constructed and executed, it puts Lemaitre very close to Ellroy's class. If you pick it up, you won't be able to put it down."—Geoffery Wansell, Daily Mail

"Verhoeven is a one-of-a-kind detective . . . Not for the faint of heart, this gritty thriller will appeal to fans of Chelsea Cain, for the grisly details, and Fred Vargas, for the French setting and iconoclastic sleuth."—Kirkus Reviews

"Gripping."—Bookish