Stylish Succulent Designs: & Other Botanical Crafts (Paperback)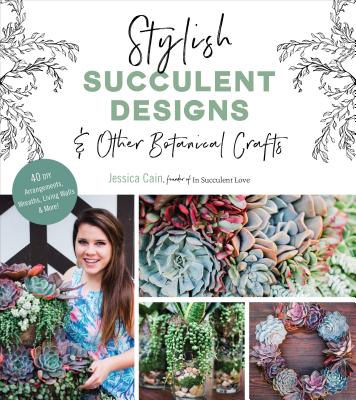 Description
---
Professional-Quality Succulent Arrangements Made Simple!

Add a splash of style to your home or garden with beautiful and lush succulent designs that are simple to make and will last for months. This how-to resource will guide you through 40 unique and creative projects using popular varieties of succulents, air plants and other easy-care botanicals. Learn to make a variety of living centerpieces, transform an old fountain into a succulent-filled garden or add sophisticated charm to your front door with a splashy hand-wired succulent wreath that's easy to adapt to your preferred aesthetic.

Botanical designer Jessica Cain has a project for every occasion or whim, whether you're looking to add a statement piece inside your home, enhance your backyard with outdoor décor or incorporate succulents into a wedding or event. Best of all, because these arrangements are planted in soil or moss and include fail-proof care instructions, you're creating long-lasting living art that will thrive. The possibilities are endless with these step-by-step, simple-to-follow projects that will fill your home with vibrant beauty.
About the Author
---
Jessica Cain is the founder of the e-commerce store In Succulent Love and the popular Instagram account @insucculentlove. She teaches DIY classes on arranging with succulents and has appeared on a number of local TV stations doing live demos. She is a regular at bazaars and craft shows, where she displays her living art arrangements. She lives in San Diego, California, the succulent capital of the world.
Praise For…
---
"This goes beyond the basic succulent-craft book. The photography is beautiful, the projects are inspiring but accessible and the step-by-step guides are easy to follow."
—Wendy Generes, editor, San Diego Home/Garden Lifestyles


"Jessica has a great sense of design and a fun approach, and she presents projects with steps that are easy to follow."
—Debra Lee Baldwin, author of Designing with Succulents


"This is a solid and detailed guide to crafting with succulents. Each inspiring and creative project includes step-by-step direction for the novice as well as the professional designer."
—Laura Eubanks, Design for Serenity


"Page after page of Pinterest-perfect succulent DIYs. Such simple step-by-step guides plus beautiful photo illustrations could make a Pinterest queen out of anyone!"
—Lexi Petelski, @sexysucculents_


"Jessica shows you some of the whimsical and artistic combinations succulents can lend themselves to. Use her ideas, growing tips and 'recipes' as a springboard for your own succulent creativity."
—Jeff Moore, author of Under the Spell of Succulents