The Writing Thief: Using Mentor Texts to Teach the Craft of Writing (Paperback)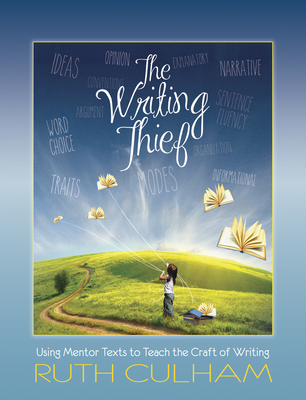 Description
---
"Mediocre writers borrow. Great writers steal."
                                                                 --T.S. Eliot

Writing thieves read widely, dive deeply into texts, and steal bits and pieces from great texts as models for their own writing. Author Ruth Culham admits to being a writing thief—and she wants you and your students to become writing thieves, too!
In The Writing Thief: Using Mentor Texts to Teach the Craft of Writing, Culham demonstrates a major part of good writing instruction is finding the right mentor texts to share with students. Within this book, you'll discover more than 90 excellent mentor texts, along with straight-forward activities that incorporate the traits of writing across informational, narrative, and argument modes.
Chapters also include brief essays from beloved writing thieves such as Lester Laminack, David L. Harrison, Lisa Yee, Nicola Davies, Ralph Fletcher, Toni Buzzeo, Lola Schaefer, and Kate Messner, detailing the reading that has influenced their own writing.
Culham's renowned easy-going style and friendly tone make this a book you'll turn to again and again as you coach your students to reach their full potential as deep, thoughtful readers and great writers. There's a writing thief in each of us when we learn how to read with a writer's eye!
About the Author
---
Ruth Culham, EdD, launched a writing revolution with the publication of her book 6+1 Traits of Writing: The Complete Guide, Grades 3 and Up, followed by 6+1 Traits of Writing: The Complete Guide for the Primary Grades and Traits of Writing: The Complete Guide for Middle School, winner of the 2011 Teacher's Choice award. Her groundbreaking work with the writing traits is the culmination of 40 years of research, practice, and passion. Most recently, Ruth has published the bestselling The Writing Thief: Using Mentor Texts to Teach the Craft of Writing that demonstrates how to read with a writer's eye to lift the best writing techniques from favorite authors. Ruth has also penned What Principals Need to Know About Teaching and Learning Writing for all school leaders and literacy coaches. Ruth's professional books have illuminated both writing and the reading-writing connection for countless educators around the globe.
Her many professional resources include the immensely popular, grade-specific Trait Crates that use beautiful children's literature titles to spotlight and teach each writing trait and drive home the reading-writing connection. And, Ruth's ground-breaking, all-in-one curriculum Traits Writing: The Complete Writing Program for Grades K-8 aligns the traits with writing process and writing workshop—and enhances teachers' professional understanding of writing as it elevates the effectiveness of student writing.
Ruth is currently a contributor and Writing Department Editor for the professional journal Reading Teacher. She's president of the Culham Writing Company and former Unit Manager of the Assessment Program at Education Northwest in Portland, Oregon. She was English Teacher of the Year in Montana, one of the highlights of her 19-year teaching career. Culham holds specialty degrees in Library Science and Elementary, Middle, and Secondary English Education.