The Gig Is Up: Thrive in the Gig Economy, Where Old Jobs Are Obsolete and Freelancing Is the Future (Paperback)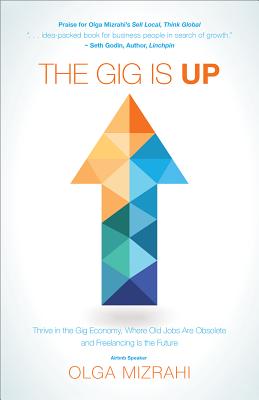 $16.95

Special Order - Subject to Availability
Description
---
Win in a world of increasing choice by becoming the clear, unique fit.

The gig economy is made up of project-based, or on-demand services, that can be provided by anyone. The common denominator in the gig economy is technology, so our modern online-lives provide the perfect marketplace for the ever-diversifying opportunities in the gig economy. By some estimates, 2020 will see half of all workers involved in the gig economy. Are we ready for this seismic shift in our work lives?

​Freelancers need to clearly answer "Why choose you?" so that they stand out in the new economy. Because all workers in the gig economy need to bluntly pose this question to themselves, The Gig Is Up is designed to answer this one key point head-on, giving readers innovative tools like Unique Value Proposition to confidently step up. The Gig Is Up offers the best boots-on-the-ground methods for success, by evolving the reader's perspective and process. Many books on the gig economy focus on letting people live out their dreams, instead of looking at the realities of what it truly takes to win in a world of increasing choice. People need to understand how to compete and how to put the best version of themselves up front and center. The goal in competing today is to not only be chosen, but to move toward becoming the only choice, over and over again.
About the Author
---
Recently featured in Forbes, Fast Company, and Inc. magazine, Olga Mizrahi is an instructor of the Digital Marketing Program for the University of California, Irvine, and the author of Sell Local. Think Global, which Seth Godin hails as ." . . a hands on, idea-packed book for business people in search of growth." She is a national speaker and marketing expert on the gig economy; a local Southern California business owner; a blogger for entrepreneurs and freelancers at ChunkofChange.com; and a small business columnist for The Long Beach Post. Olga's fresh views on the freelance economy, personal branding, and entrepreneurial unique value proposition have been also been featured at Airbnb's Open Conference, Investor's Business Daily, and the AMEX Small Business Open.