Alpha Goddess (Hardcover)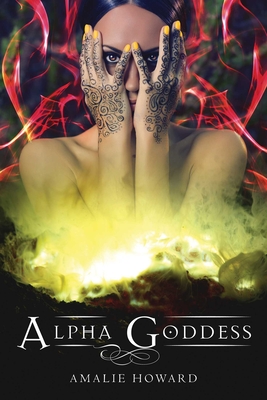 $16.95
Email or call for price.
Description
---
In Serjana Caelum's world, gods exist. So do goddesses. Sera knows this because she is one of them. A secret long concealed by her parents, Sera is Lakshmi reborn, the human avatar of an immortal Indian goddess rumored to control all the planes of existence. Marked by the sigils of both heaven and hell, Sera's avatar is meant to bring balance to the mortal world, but all she creates is chaos. A chaos that Azrath, the Asura Lord of Death, hopes to use to unleash hell on earth.

Torn between reconciling her past and present, Sera must figure out how to stop Azrath before the Mortal Realm is destroyed. But trust doesn't come easy in a world fissured by lies and betrayal. Her best friend Kyle is hiding his own dark secrets, and her mysterious new neighbor, Devendra, seems to know a lot more than he's telling. Struggling between her opposing halves and her attraction to the boys tied to each of them, Sera must become the goddess she was meant to be, or risk failing, which means sacrificing the world she was born to protect.

Sky Pony Press, with our Good Books, Racehorse and Arcade imprints, is proud to publish a broad range of books for young readers—picture books for small children, chapter books, books for middle grade readers, and novels for young adults. Our list includes bestsellers for children who love to play Minecraft; stories told with LEGO bricks; books that teach lessons about tolerance, patience, and the environment, and much more. While not every title we publish becomes a New York Times bestseller or a national bestseller, we are committed to books on subjects that are sometimes overlooked and to authors whose work might not otherwise find a home.
About the Author
---
Amalie Howard, a Seventeen Magazine Summer Club author, grew up on a small Caribbean island where she spent most of her childhood with her nose buried in a book or being a tomboy running around barefoot, shimmying up mango trees, and dreaming of adventure. Twenty-two countries, surfing with sharks, and several tattoos later, she has traded bungee jumping in China for writing the adventures she imagines instead. She isn't sure which one takes more guts. She received a bachelor's degree from Colby College in Maine in international studies and French, and a certificate in French literature from the École Normale Supérieure in Paris, France. Traveling the globe, she has worked as a research assistant, teen speaker, and sales executive. She currently resides with her husband and three children in Larchmont, New York.
Praise For…
---
"A fiery, gripping twist on a timeless love story. The rich mythology and exotic themes were beautifully imagined and unlike anything I've ever read before. Brilliantly dark and powerful. A must read!" —Colleen Houck, New York Times bestselling author of the Tiger's Curse series

"Alpha Goddess is a touching depiction of the strength of family and the importance of love and loyalty. Fans of books blending the modern with the mythical will enjoy Sera's story and the love triangle involving her best friend and her immortal love." —VOYA Magazine

"A fiery, gripping twist on a timeless love story. The rich mythology and exotic themes were beautifully imagined and unlike anything I've ever read before. Brilliantly dark and powerful. A must read!" —Colleen Houck, New York Times bestselling author of the Tiger's Curse series

"Alpha Goddess is a touching depiction of the strength of family and the importance of love and loyalty. Fans of books blending the modern with the mythical will enjoy Sera's story and the love triangle involving her best friend and her immortal love." —VOYA Magazine