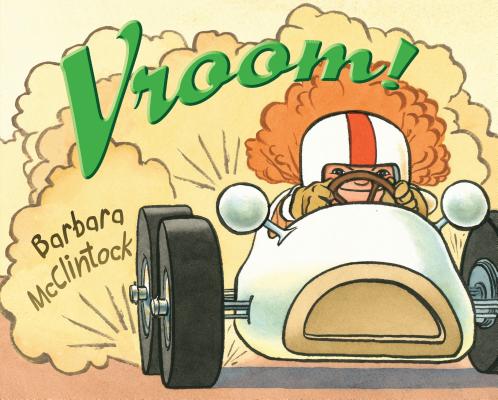 $17.99
Not Available In-Store - Usually Ships from Warehouse in 1-5 Days
Description
---
From beloved author and artist Barbara McClintock comes Vroom!, a playful picture book following a little girl's imaginative journey in a race car.

Join a little girl as she zooms—
past fields and forests,
up mountains,
over rivers,
through deserts,
home again,
and into bed in this playful picture book about the power of imagination, from award-winning author and artist Barbara McClintock.
About the Author
---
Barbara McClintock attended Jamestown College in North Dakota until, at nineteen, she moved to New York City to begin her career as an illustrator and author. She has written and/or illustrated many acclaimed books for young readers, among them Adèle & Simon, an ALA Notable Book and a New York Times Book Review Best Illustrated Book of the Year, and Lost and Found: Adèle and Simon in China. She lives in Windham, Connecticut.
Praise For…
---
A Wall Street Journal Best Book of 2019!
A Publishers Weekly Best Book of 2019!
A Booklist 2019 Editors' Choice!
A Bank Street Best Children's Book of 2020!

"Satisfying . . . gorgeously illustrated . . . the tone is marvelously matter of fact about both the girl's feats of driving and her automotive passion." —The New York Times

"Annie's journey is epic, one that gleefully bypasses all geographical logic . . . readers will be eager to turn the page and see where she's headed next. Hunched down behind the wheel, a determined grin on her face and her thick, curly red hair flying — Annie makes an indelible impression." —Horn Book, starred review

"McClintock's crisp, clean landscape spreads have the precision of architectural drawings, and her economically told story offers all the greatest charms of adventure: being on one's own, seeing new places, and going really, really fast. It's a richly gratifying fantasy." —Publishers Weekly, starred review

"Writing with cadences plucked straight out of Sendak's playbook, McClintock never wastes a syllable . . . The book doesn't just put readers in Annie's shoes. It dares them to find shoes of their own and let their imaginations take the wheel. Max had his wolf suit and Llama Llama his red pajamas; Annie has her racing togs. She fits right in." —Kirkus Reviews, starred review

"The simple, straightforward text immediately draws viewers into Annie's fantasy. Her journey is as real to her as her race car. The artwork has wit, a Sendakian sensibility, dynamic line work, and a strong structural quality. A captivating picture book for the many young children who are fascinated by cars and driven by the need for speed." —Booklist, starred review

"When you are a small child in possession of a favorite toy, the barrier between reality and imagination is gauzy to the point of nonexistent. Barbara McClintock rips right through it, recapitulating the immersive thrill of imaginative play in "Vroom!" . . . As Annie whips along, her wheels churning up fantastic clouds of dust in Ms. McClintock's polished artwork, she passes through changing topography ornamented with details that will entice the eye: bewildered mountain goats, startled raccoons, and a truck driver so surprised that his soda goes flying." —The Washington Post

"The text is crisp, making room for precise landscapes for the specifics of place. This fanciful journey celebrates a small girl with big dreams and moxie too." —The San Francisco Chronicle