The Krampus and the Old, Dark Christmas: Roots and Rebirth of the Folkloric Devil (Paperback)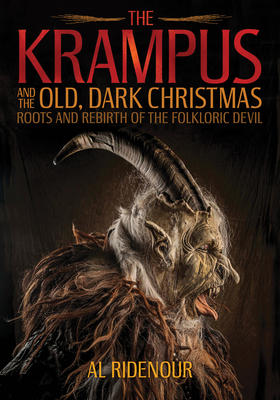 $25.00

Not Available In-Store - Usually Ships from Warehouse in 1-5 Days
Staff Reviews
---
Christmas: It's a bland and soulless holiday. There. I said it. These days, jolly St. Nick swills Coca-Cola and the only sneering devil the church has to offer is Pat Robertson. Whatever happened to the good old days, when our forefathers drank buckets of 'holiday cheer', put on shaggy fur coats and horned masks, and shamed whole families by tearing the tables from their dining rooms and tossing them into the snow? We need to put the spirit back into the season...a spirit like the Krampus: St. Nicholas's grisly servant, who gives beatings to naughty kids instead of coal. This book has everything you need to know about the Krampus: where he came from, what he's about, the spooky Krampus rituals of yesteryear to the troupes of today who keep them alive. It reads like a particularly merry college lecture, with beautifully gruesome photos and illustrations of quasi-pagan folk rites from across the ages. By the last chapter you'll want to organize your own Krampus party. Bonus: this book makes a handsome holiday ornament for your coffee table, to delight your friends and scare their children. Isn't that what the holidays are really about?
—
Nick
Description
---
With the appearance of the demonic Christmas character Krampus in contemporary Hollywood movies, television shows, advertisements, and greeting cards, medieval folklore has now been revisited in American culture. Krampus-related events and parades occur both in North America and Europe, and they are an ever-growing phenomenon.
Though the Krampus figure has once again become iconic, not much can be found about its history and meaning, thus calling for a book like Al Ridenour's The Krampus: Roots and Rebirth of the Folkloric Devil. With Krampus's wild, graphic history, Feral House has hired the awarded designer Sean Tejaratchi to take on Ridenour's book about this ever-so-curious figure.
Al Ridenour has lectured on Krampus at the Goethe Institutes in Los Angeles. He became somewhat of an internet phenomenon himself due to the hilarious hijinks he coordinated with the controversial Cacophony Societies.
About the Author
---
Al Ridenour: A native of Pasadena, California, Al Ridenour holds BA's in German and English literature, has worked as an author, journalist, animator, and artist, and has been a fixture in the West Coast underground art community since the mid-1990s. His Krampus research has taken him to the Austrian Alps and Munich, and brought him in contact with cultural anthropologists working in Salzburg and Vienna as well as dozens of members of contemporary European Krampus groups. In 2013, Ridenour co-founded Krampus Los Angeles, an organization that's made the city ground zero for American Krampusmania. Ridenour has translated and produced the only English-language version of 19th-century Krampus play, written articles, and lectured on the topic at the international Goethe-Institut and elsewhere, and exhibited his Krampus suits at the University of Southern California's Doheny Museum