Consequence: A Memoir (Hardcover)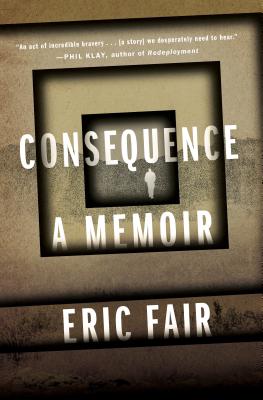 $26.00

Special Order - Subject to Availability
Staff Reviews
---
People turn their backs on God all the time. But does God ever turn his back on us? Eric Fair counts himself among that sorrowful bunch of people who've done something so unforgivable that even God abandons them. He does, however, a damn good job pleading his case for redemption in his new book, Consequence, a visceral, guileless account of his involvement in rampant, dehumanizing torture at a compound in Abu Ghraib in the early 2000s. Remember the photos? Fair makes those look like a storyboard for Sesame Street. Somehow, though, what's harder to read is his acknowledgment of the impossibility of ever reconciling with a God he once felt so close to. This is not American sniper. There is no ill-gotten glory here. This is a contemplative, compassionate accounting of one man's participation in moral baseness and war-justified criminal abuse. It may be about God and war, but it neither preachers nor propagandizes. It does, in fact, the opposite, and does so in sentences that will convince you that Eric Fair may actually be the second coming of Hemingway.
—
Joel
Description
---
A man questions everything--his faith, his morality, his country--as he recounts his experience as an interrogator in Iraq; an unprecedented memoir and "an act of incredible bravery" (Phil Klay)

"Remarkable... Both an agonized confession and a chilling expose of one of the darkest interludes of the War on Terror. Only this kind of courage and honesty can bring America back to the democratic values that we are so rightfully proud of." --Sebastian Junger


Consequence is the story of Eric Fair, a kid who grew up in the shadows of crumbling Bethlehem Steel plants nurturing a strong faith and a belief that he was called to serve his country. It is a story of a man who chases his own demons from Egypt, where he served as an Army translator, to a detention center in Iraq, to seminary at Princeton, and eventually, to a heart transplant ward at the University of Pennsylvania.

In 2004, after several months as an interrogator with a private contractor in Iraq, Eric Fair's nightmares take new forms: first, there had been the shrinking dreams; now the liquid dreams begin. By the time he leaves Iraq after that first deployment (he will return), Fair will have participated in or witnessed a variety of aggressive interrogation techniques including sleep deprivation, stress positions, diet manipulation, exposure, and isolation. Years later, his health and marriage crumbling, haunted by the role he played in what we now know as "enhanced interrogation," it is Fair's desire to speak out that becomes a key to his survival. Spare and haunting, Eric Fair's memoir is both a brave, unrelenting confession and a book that questions the very depths of who he, and we as a country, have become.
About the Author
---
Eric Fair, an Army veteran, worked in Iraq as a contract interrogator in 2004. He won a Pushcart for his 2012 essay "Consequence," which was published first in Ploughshares and then in Harper's Magazine. His op-eds on interrogation have also been published in The Washington Post and The New York Times. He lives in Bethlehem, Pennsylvania.
Praise For…
---
"Important. . .candid and chilling. . .At once an agonized confession of [Fair's] own complicity as an interrogator at Abu Ghraib and an indictment of the system that enabled and tried to justify torture.. . .here the sense of the absurd is infused with real horror and injustice. . .[a] profoundly unsettling book." —Michiko Kakutani, The New York Times

"Essential reading. . .An overdue reckoning. . .[Fair] never shirks responsibility or offers excuses...he gives us simply a record of what happened. . .[CONSEQUENCE's] pages comprise an atrocity measured in maimed Muslim bodies and minds — and the associated moral injuries to U.S. service members. Scars of the soul do not easily heal. Nor perhaps should they. No other book guides readers so honestly and so succinctly through this grim chapter in U.S. history." —Kael Weston, The Washington Post

"Brave, chilling, necessary. No one is absolved." —Atul Gawande, author of Being Mortal

"[Fair's] decision to assemble [his experiences] into a memoir isn't necessarily heroic, but his self-lacerating moral clarity might be. Fair's journey from Pennsylvania to the army, the police, government-contract work, a Christian seminary, and a heart transplant—all narrated in staccato present tense—fills out the picture of a good soldier doing bad work in a terrible war." —Vulture's "8 Books You Need to Read"

"An act of incredible bravery. If we, as a country, are ever to fully account for the past decade of war and what it meant, we need those who participated to have the courage to tell us what was done in our name. Eric Fair does not speak in euphemisms. He does not justify or condemn. He merely tells us what happened. And that is something we desperately need to hear." —Phil Klay

"Harrowing. . . .Fair is a gifted writer, and his capacity for self-examination makes this work both deeply insightful and moving." —Publishers Weekly (starred review)

"Startling...Affecting...Candid and deeply unsettling...Eschewing abstract discussions of torture and the war, the author offers a beguiling personal narrative that forces readers to share his pain and uncertainty over his circumstances....Told against the background of his failing heart (he required a transplant), his failing hometown (Bethlehem Steel went bankrupt), and his war-strained marriage....[Fair's story] points up the larger failures of interrogators like himself to prevent abusive acts and of the country to end its endorsement of torture."
—Kirkus Reviews (starred review)

"It takes a lot of courage to write honestly about one's own mistakes, and even more courage to write about the mistakes of one's country. Eric Fair has done both. This remarkable book is both an agonized confession and a chilling exposé of one of the darkest interludes of the War on Terror. Only this kind of courage and honesty can bring America back to the democratic values that we are so rightfully proud of." —Sebastian Junger

"I don't think Eric Fair writes so we might laud him for courage or artistry. The complex reckoning within these pages mirrors our wars, which have been fought in a similar, gray morality. So this book deserves that singular and highest of compliments: It is honest." —Elliot Ackerman, author of Green on Blue

"A glimpse into the inner workings of someone who has been at the center of some of the most vexing issues of the past decade...Artful, understated, surprising...We have read a lot about war lately, but we have never read anything like this." —Nick Flynn

"Eric Fair writes hauntingly and sparingly...This book is an important step for our country, in coming to terms with the reality of what we did, and what Eric and others did in our name." —Scott Cooper, National Security Outreach Director at Human Rights First

"In Eric Fair's earth-shaking memoir, Consequence, we hear a profoundly courageous, essential voice of personal and national accountability." —Kelle Groom, author of I Wore the Ocean in the Shape of a Girl

"The story of Eric Fair's headlong plunge into this 'nightmare in Iraq' and its aftermath remains with the reader long after the last page, as we consider the ethical consequences not only for Eric's own life but for all citizens with any sort of conscience."—Kelly Denton-Borhaug, Ph.D., author of U.S. War-Culture, Sacrifice and Salvation
Coverage from NPR