The North Water: A Novel (Hardcover)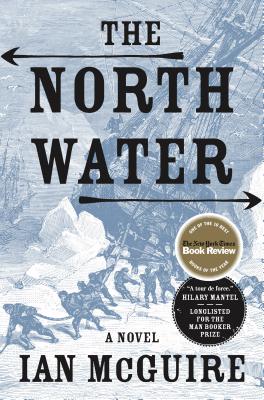 $27.00
Not Available In-Store - Usually Ships from Warehouse in 1-5 Days
Staff Reviews
---
The North Water is part creepy horror story, part stirring adventure tale, and part gripping suspense yarn. ALL of them done very very well. Put a psychopath on a whaling boat with an unscrupulous crew of malcontents , then ship them miles away from the nearest outpost of succor and civilization. Hey, what could go wrong? More than you can possibly imagine, trust me. I cringed throughout but couldn't stop reading. A chilling experience in every sense of the word!
— From
Walt's Picks (page 1)
Description
---
One of The New York Times Book Review's 10 Best Books of the Year

National Bestseller

Longlisted for the Man Booker Prize
Winner of the RSL Encore Award
Finalist for the Los Angeles Book Prize
A New York Times and Wall Street Journal Bestseller
Named a Best Book of the Year by Chicago Tribune, The Wall Street Journal, The Guardian, New Statesman, Publishers Weekly, and Chicago Public Library
Behold the man: stinking, drunk, and brutal. Henry Drax is a harpooner on the Volunteer, a Yorkshire whaler bound for the rich hunting waters of the arctic circle. Also aboard for the first time is Patrick Sumner, an ex-army surgeon with a shattered reputation, no money, and no better option than to sail as the ship's medic on this violent, filthy, and ill-fated voyage.
In India, during the Siege of Delhi, Sumner thought he had experienced the depths to which man can stoop. He had hoped to find temporary respite on the Volunteer, but rest proves impossible with Drax on board. The discovery of something evil in the hold rouses Sumner to action. And as the confrontation between the two men plays out amid the freezing darkness of an arctic winter, the fateful question arises: who will survive until spring?
With savage, unstoppable momentum and the blackest wit, Ian McGuire's The North Water weaves a superlative story of humanity under the most extreme conditions.
About the Author
---
Ian McGuire grew up near Hull, England, and studied at the University of Manchester and the University of Virginia in the United States. He is the cofounder and codirector of the University of Manchester's Centre for New Writing. He writes criticism and fiction, and his stories have been published in Chicago Review, The Paris Review, and elsewhere. The North Water is his second novel.
Praise For…
---
"The North Water, Ian McGuire's savage new novel about a 19th-century Arctic whaling expedition, is a great white shark of a book—swift, terrifying, relentless and unstoppable. [...] Mr. McGuire is such a natural storyteller—and recounts his tale here with such authority and verve—that 'The North Water' swiftly immerses the reader in a fully imagined world. [...] Mr. McGuire nimbly folds all these melodramatic developments into his story as it hurtles toward its conclusion. He has written an allusion-filled novel that still manages to feel original, a violent tale of struggle and survival in a cinematically beautiful landscape."
—Michiko Kakutani, The New York Times
"Riveting and darkly brilliant….The North Water feels like the result of an encounter between Joseph Conrad and Cormac McCarthy in some run-down port as they offer each other a long, sour nod of recognition."
—Colm Toibin, The New York Times Book Review
"[An] audacious work of historical suspense fiction...It's the poetic precision of McGuire's harsh vision of the past that makes his novel such a standout...absolutely transporting."
—Maureen Corrigan, NPR's Fresh Air
"Mesmerizing . . . . Told in grisly language that calls to mind Cormac McCarthy,The North Water begs such ontological questions as: What profit it a man who saves his skin but misplaces his soul?"
—Tom Nolan, Wall Street Journal
"Bold and frightening, The North Water offers many satisfactions and little comfort. . . . Readers of Cormac McCarthy know that beautiful writing and bloody murder go together as well now as they did in Homer, and Ian McGuire proves it."
—Jonathan Arac, Pittsburgh Post-Gazette
"Carries echoes of Melville and Lord Jim . . . engrossing . . . unsparing and utterly convincing."
—Highbrow Magazine
"A dark, brilliant yarn….An amazing journey."
—Publishers Weekly, starred review
"McGuire delivers…moments of fine prose that recall Seamus Heaney's harsh music, as when an iceberg is described as 'an albinistic butte unmoored from the desert floor.'"
—Kirkus Reviews
"Raw and compulsively readable . . . think The Revenant for the Arctic Circle."
—The Millions
"It's one of those ones that you want to wake up at 5.30 in the morning so you can read some more."
—James Daunt, founder of Daunt Books and managing director of Waterstones
"The North Water is a conspiracy thriller stuffed into the skin of a blood-and-guts whaling yarn… The novel is a stunning achievement, by turns great fun and shocking, thrilling and provocative. . . . Behold: one of the finest books of the year."
—Independent
"McGuire delivers one bravura set-piece after another….The North Water has, in places, a Conrad–Melville undercurrent, but for the most part it is Dickens's influence that is most keenly felt….This is a stunning novel, one that snares the reader from the outset and keeps the tightest grip until its bitter end."
—Financial Times
"McGuire's prose is fresh and vivid and his novel as a whole is atmospheric and intellectually fecund. Its surface might be awash with blood; but beneath it flows a current of dark and transporting beauty."
—Spectator
"As a storyteller, McGuire has a sure and unwavering touch, and he has engineered a superbly compelling suspense narrative….As a stylist, too, McGuire is never less than assured. He has produced a fine addition to the maritime canon, but one that revivifies it with a thoroughly modern acuity of style. He has established himself, too, as a writer of exceptional craft and confidence…"
—Irish Times
"Compared with this savage tale of Arctic survival, Leonardo DiCaprio's bear-wrestling ordeal in The Revenant looks like something out of A. A. Milne….McGuire expertly arranges all this mayhem, and the narrative is horrifically gripping. The North Water is smoothly readable despite the horrors it depicts, and that's testament to the quality of McGuire's prose. Such fine writing might have been lifted from the pages of Herman Melville's Moby-Dick."
—Independent on Sunday
"It is a vivid read, full of twists, turns, period detail and strong characters. The setting is original too, and the description of harpooning and flensing of a whale have been forever etched on my memory. This melodramatic blood and urine-stained tale is an enjoyable contrast to most literary fiction."
—The Times
"Uncompromising in its language, relentless in the unfolding of its blood-soaked narrative, this is not a novel for the squeamish, but it has exceptional power and energy."
—Sunday Times
"Terrific, seamed with pitch black humour and possessed of a momentum that's kept up to the final, unexpected but resoundingly satisfying scene….inspired."
—Daily Mail
"The strength of The North Water lies in its well-researched detail and persuasive descriptions of the cold, violence, cruelty, and the raw, bloody business of whale-killing."
—Guardian
"Beware: this book is quite a ride. The violence is ghastly, the queasy sense of moral decay all-pervasive. McGuire makes Quentin Tarantino look like Jane Austen….the language has a harsh, surprising beauty that contrasts the spectacular setting with the greedy bankrupt men who force their way northward, armed with harpoons for slaughter."
—New Statesman
"I utterly believed in the world that McGuire has created….amazingly impressive set-pieces….[The violence] underlines the point that he is trying to make, a Dickensian point, which is that all privilege rests on squalor."
—BBC Radio 4 Saturday Review
"Full of foul deeds in a savagely beautiful setting, The North Water is a gripping, pitch-black yarn."
—Sydney Morning Herald
"This is a novel that takes us to the limits of flesh and blood. Utterly convincing and compelling, remorselessly vivid, and insidiously witty, The North Water is a startling achievement."
—Martin Amis, New York Times bestselling author of Zone of Interest
"It's a fast-paced, gripping story set in a world of gruesome violence and perversity, where 'why?' is not a question and murder happens on a whim: but where a very faint ray of grace and hope lights up the landscape of salt and blood and ice. A tour de force of narrative tension and a masterful reconstruction of a lost world that seems to exist at the limits of the human imagination."
—Hilary Mantel, New York Times bestselling author of Wolf Hall
"The North Water is the rare novel capable of making a past time and place palpable. Ian McGuire writes with a poet's attentiveness to detail, which infuses this dark and violent novel with an unsettling beauty."
—Ron Rash, New York Times bestselling author of Serena and Above the Waterfall
"The North Water is a whaling novel in the same way that Blood Meridian is a western. I enjoyed the brashness and the economy of the writing, the sense of humanity, and the sly, black humor. The novel wasn't afraid to take chances and I was surprised several times. I was always entertained. . . . An exceedingly well-written historical adventure."
—Shannon Burke, author of Into the Savage Country
"If one took Melville's dream journal and compiled the nightmares into one harrowing novel, it would be Ian McGuire's The North Water. The claustrophobic conflict between the flawed humanity of Patrick Sumner and the supernatural evil of Henry Drax examines the brutal depths of the human soul."
—James Scott, author of The Kept

"Enthralling and brutal. A vivisection of hard men in a cold world, and a propulsive, suspenseful adventure into the darkness of mortal existence."
—Dennis Mahoney, author of Bell Weather and Fellow Mortals
Coverage from NPR