Voices from Chernobyl: The Oral History of a Nuclear Disaster (Lannan Selection) (Paperback)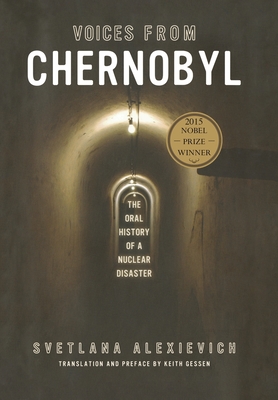 Description
---
Winner of the National Book Critics Circle Award
Winner of the Nobel Prize in Literature A journalist by trade, who now suffers from an immune deficiency developed while researching this book, presents personal accounts of what happened to the people of Belarus after the nuclear reactor accident in 1986, and the fear, anger, and uncertainty that they still live with. Chernobyl, the acclaimed HBO miniseries (winner of ten Emmy Awards and two Golden Globe Awards), is based in large part on the personal recollections from Voices from Chernobyl. On April 26, 1986, the worst nuclear reactor accident in history occurred in Chernobyl and contaminated as much as three quarters of Europe. Voices from Chernobyl is the first book to present personal accounts of the tragedy. Journalist Svetlana Alexievich interviewed hundreds of people affected by the meltdown---from innocent citizens to firefighters to those called in to clean up the disaster---and their stories reveal the fear, anger, and uncertainty with which they still live. Comprised of interviews in monologue form, Voices from Chernobyl is a crucially important work, unforgettable in its emotional power and honesty. The Nobel Prize in Literature was awarded to Svetlana Alexievich "for her polyphonic writings, a monument to suffering and courage in our time.
About the Author
---
Svetlana Alexievich was born in the Ukraine and studied journalism at the University of Minsk. Her books, including Voices from Chernobyl, document the emotional history Soviet and post-Soviet life through interviews. Alexievich has received numerous awards for her writing, including a prize from the Swedish PEN Institute for "courage and dignity as a writer." She was awarded the Nobel Prize for literature in 2015 "for her polyphonic writings, a monument to suffering and courage in our time." Translator Keith Gessen was born in Russia and educated at Harvard. He is a founding editor of n+1 and has written about literature and culture for Dissent, The Nation, The New Yorker, and The New York Review of Books. He is the author of the novel A Terrible Country and a professor at the Columbia University Graduate School of Journalism.