I'm Not Going Anywhere (Macedonian Literature) (Paperback)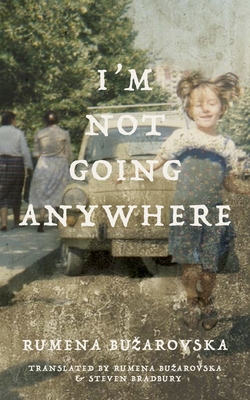 Staff Reviews
---
I have always found it hard to gather the right words to describe the Balkan social mentality especially because it is so ingrained in masculinity and an odd, violent history that passively oozes out of people who seem almost oblivious to what it means. Buzarovska brought me to tears as she, in sharp yet gentle description, brought out things I have witnessed growing up as a queer Balkan woman in the states. From family dynamic, to Balkan male toxicity, the treatment of our elders, the rage in our fidelity and infidelity, the "southern -charm" like passive aggression in female friendships, and so on. These stories felt like they opened a file in my brain where I have stored all these little mental notes on my people. It just made me feel less alone as a woman in a hypermasculine world outside of my own country.
— From
Sejdina's Picks
Description
---
Razor-sharp social commentary, Jane Austen for contemporary feminists unafraid to confront a dark world
In her latest translated volume of collected short fiction, Rumena Buzarovska delivers more of what established her as "one of the most interesting writers working in Europe today." Already a bestseller across her native Macedonia, I'm Not Going Anywhere is an unsentimental and hyperrealist collection in which Macedonians leave their country of origin to escape bleakness--only to find, in other locales, new kinds of desolation in theses dark, biting, and utterly absorbing stories.