Last Night (Croatian Literature) (Paperback)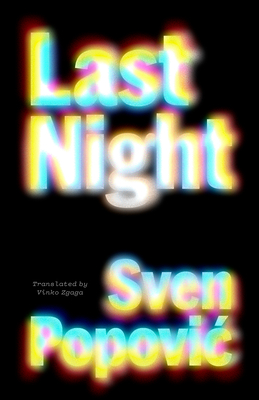 $15.95

Coming Soon - Available for Pre-Order Now
Description
---
Candid and unfettered, Sven Popovic's Last Night is a playfully existential meditation on youth and the search for the self.
Acclaimed in his native Croatia, Popovic's unique blend of intimacy and contemplation has garnered him a following in the alternative literary scene of Zagreb--and beyond. With an intellectualism that never takes itself too seriously, an unaffected fluidity of form, and a keen eye for the smallest, strangest moments that color our lives, his stories weave an offbeat tapestry of urban life.
Last Night is the first short story collection from Sven Popovic, whose writing was previously featured in Dalkey Archive Press's Best European Fiction 2017, and his first full work to be released in English. Slickly translated by Vinko Zgaga, Popovic's sometimes-dreamlike, sometimes-conversational vignettes offer a shrewd, original outlook on life's absurdities.
About the Author
---
Sven Popovic was born on September 19, 1989 in Zagreb, now located in Croatia, but back then in Yugoslavia. His short stories were published in the anthology of young Croatian writers ("Bez vrata, bez kucanja", Sandorf 2012), in a collection of short stories "Record Stories"(Aquarius Records, 2011) and various magazines and webzines like Quorum, Zarez and Arteist. He contributed as a freelance journalist to a number of magazines such as Zarez, Aktual and the Austrian leftist magazine Wespennest, as well as writing literary and album reviews for various webzines. His collection of short stories, "Last Night" (Meandarmedia) came out in 2015 and received excellent reviews. Several of his stories were included in "Best European Fiction 2017" (Dalkey Archive Press). His second book, "Uvjerljivo drugi", was published in 2018 and also received excellent reviews.