Lucky Us (Large Print / Library Binding)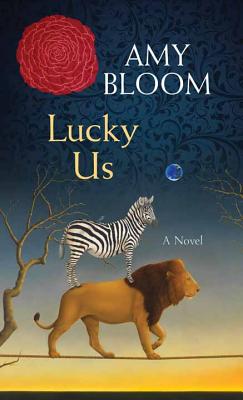 Staff Reviews
---
A crazy romp with a misconstrued family and various hangers on — a Mexican make-up artist, a daughter who learns to read tarot cards, another narcissistic daughter who will stop at nothing to get what she wants, a nightclub singer, and a father who steals from his children, pretends to be a butler and ultimately dies not knowing what he might have done to hold his family together. Bloom's story is told through letters, diary entries and several narrative perspectives, and it is up to readers to form their own opinion of the characters' lives. Fun, heartwarming and poignant.
—
GAYLE'S STAFF PICKS
This engrossing story is about two half sisters, Eva and Iris. It begins when Eva is 12 and Iris is a teenager and they are living in Chicago. They run away from their father so Iris can become a star in Hollywood, and Eva is there to support her. When their luck runs out in Hollywood, they move to Long Island where, over a period of years, they make new friends and eventually reconnect with their father. But, just like in real life, things do not always go as smoothly as one would hope. They do their best to cope with all the good and the bad, and the successes and the failures that are a part of being in a family and are a part of life. I highly recommend it.
—
CINDY'S STAFF PICKS
August 2014 Indie Next List
---
"Vivid and satisfying, Lucky Us is the story of two motherless half-sisters thrown together by fate and determined to make their way in a world where the cards are stacked against them. It is a study about the way that - 'family' is not just something we're born into, but also something we make for ourselves. Bloom gives us lively, unforgettable characters who are so warm, human, and irrepressible that they transcend even the darkest events of their lives. I loved this novel!"
— Carol Schneck Varner, Schuler Books & Music, Okemos, MI
Description
---
Disappointed by their families, Iris, the hopeful star, and Eva, the sidekick, journey through 1940s America in search of fame and fortune. Iris's ambitions take the pair across the America of Reinvention in a stolen station wagon, from small-town Ohio to an unexpected and sensuous Hollywood, and to the jazz clubs and golden mansions of Long Island.