Rick Steves Europe Through the Back Door: The Travel Skills Handbook (Paperback)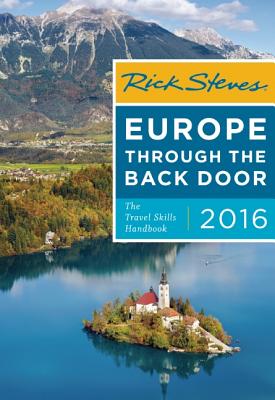 Description
---
You can count on Rick Steves to tell you what you really need to know when traveling through Europe in this full-color guidebook, including how to: Plan your itinerary and maximize your time
Pack light--and right
Find good-value hotels and restaurants
Travel smoothly by train, bus, car, and plane
Avoid crowds and tourist scams
Hurdle the language barrier
Understand cultural differences and connect with localsSave money while enjoying the trip of a lifetime After more than three decades of exploring Europe, Rick considers this travel skills handbook his life's work. He shares his favorite off-the-beaten-path towns, trails, and natural wonders in his multi-page summaries of each country, introducing you to the real treasures of Europe. With this guidebook you'll experience the culture like a local, spend less money, and have more fun.

About the Author
---
Rick Steves has spent 100 days every year since 1973 exploring Europe. Rick produces a public television series (Rick Steves' Europe), a public radio show (Travel with Rick Steves), and an app and podcast (Rick Steves Audio Europe); writes a bestselling series of guidebooks and a nationally syndicated newspaper column; organizes guided tours that take thousands of travelers to Europe annually; and offers an information-packed website (RickSteves.com). With the help of his hardworking staff of 80 at Rick Steves' Europe, Inc.--in Edmonds, Washington, just north of Seattle--Rick's mission is to make European travel fun, affordable, and culturally broadening for Americans.