My Little Pony: Friends Forever Volume 4 (MLP Friends Forever #4) (Paperback)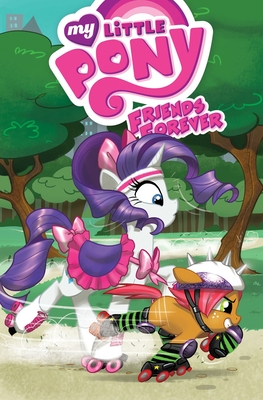 $17.99

Special Order - Subject to Availability
Description
---
The tales of friendship and fun continue!

Rarity visits Babs Seed in Manehattan. Luna and Spike have to work together to fix a dragon problem. Applejack heads to City Hall and gets wrapped up in Mayor Mare's bureaucracy. And, finally, Diamond Tiara and Silver Spoon go up against the Cutie Mark Crusaders! All in the latest volume of Friends Forever!

Collects issues #13-16.
About the Author
---
Jeremy Whitley is a comic book writer and artist, known as the creator of the series Princeless. In 2011 Whitley joined Action Lab Entertainment as their official Director of Marketing and head of PR, where he handles solicitations, reviews, press releases, and interviews. Jeremy has also co-written licensed properties from the publisher including the 2012 digital mini-series "GlobWorld" and the ongoing series "NFL RushZone". In addition to his original creations, he has also been a regular writer for IDW's My Little Pony: Friendship is Magic and My Little Pony: Friends Forever.

Agnes Garbowska was born in Poland and came to Canada when she was four years old. Being an only child she escaped into a world of books, cartoons, and comics. Fueled by all the imaginary worlds her interest in art grew. Agnes has worked with many of the major comic book publishers, most recently illustrating titles for My Little Pony for IDW, Victories for Dark Horse, Li'l Vampi for Dynamite Entertainment. She has worked with Marvel Comics, providing artwork for Girl Comics and Spider-Ham 25th Anniversary Special. She is also the artist on this years Halloween Comic Fest comic, The Adventure of Ernie from Aspen Comics.

Brenda Hickey is a comic artist and writer from Prince Edward Island, Canada. She's had an unhealthy obsession with the comics art form from a very young age, and can't remember a time when she wasn't drawing. In 2007 she graduated from the Holland College Graphic Design program in her home town of Charlottetown, and had a short stint working in layouts in animation. Now she mainly focuses on comics, and her most well known work is on IDW's My Little Pony: Friendship is Magic series. Other works include her self published mini series Tatian in Halls of the Turnip King, her webcomic series In the Air, comic issues for Bayer Medical, as well as contributions to several comic anthologies.