Blood Will Out: The True Story of a Murder, a Mystery, and a Masquerade (Paperback)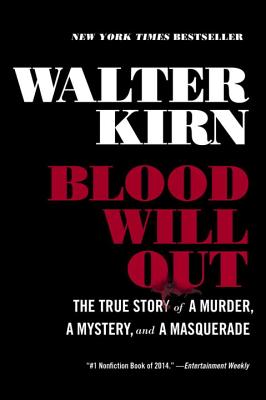 $15.95

Not Available In-Store - Usually Ships from Warehouse in 1-5 Days
Staff Reviews
---
You'd think you're too smart to fall for a con—particularly a con involving a murderous German immigrant, who posed as a member of the high-profile Rockefeller family for nearly two decades. But that's exactly what happened to Ivy-educated author Walter Kirn—he fell for it. In Blood Will Out, Kirn reveals how he was duped by a real-life Mr. Ripley posing as "Clark Rockefeller," a man who preyed on Kirn's vulnerability, his willingness to politely collude in lies rather than create a scene, and his pride in keeping such distinguished company—to literally get away with murder. Blood Will Out is not just a good yarn, but an excellently written one as well. Kirn dissects his own deception with the regret of hindsight and the frustrated rage of a man betrayed by a fiend he thought a friend. You can't help but feel sorry for Kirn, and share the same manic creeping dread as he discovers just how much he aided in his own beguilement. If you loved In Cold Blood, this one is for you. Just don't read it with the lights off.
—
Jennie's Staff Picks
March 2014 Indie Next List
---
"More memoir than true crime tell-all, Blood Will Out parses the convoluted relationship between writer Kirn and his Rockefeller friend, Clark, who turns out not to be a Rockefeller at all; instead, he's a serial impostor, a murderous sociopath, and a con man of the highest order. Kirn unflinchingly reveals his own ambition, desperation, and fixation with wealth and social status that derail his shrewd writer's instinct and allow him to be bamboozled, even as Clark's mask slips. A blistering character study of both murderer and writer, Blood Will Out sounds an alarm about the way our own flaws compel us to see what we most desire to see and the grave danger that might put us in."
— Susan Gusho, Watermark Books, Wichita, KS
Description
---
New York Times Bestseller

Entertainment Weekly's #1 Nonfiction Book of the Year

Named one of the Best Books of the Year by NPR, USA Today, Slate, San Francisco Chronicle, Seattle Times, and BookPage

A New York Times Book Review Editors' Choice Selection

An Amazon Best Book of the Month

A Pacific Northwest Book Award Finalist

A Montana Book Awards Honor Book
"Equals Truman Capote's In Cold Blood as a nonfiction novel of crime." —Gerald Bartell, San Francisco Chronicle
In the summer of 1998, Walter Kirn—then an aspiring novelist struggling with impending fatherhood and a dissolving marriage—set out on a peculiar, fateful errand: to personally deliver a crippled hunting dog from his home in Montana to the New York apartment of one Clark Rockefeller, a secretive young banker and art collector who had adopted the dog over the Internet. Thus began a fifteen-year relationship that drew Kirn deep into the fun-house world of an outlandish, eccentric son of privilege who ultimately would be unmasked as a brazen serial impostor, child kidnapper, and brutal murderer.
Kirn's one-of-a-kind story of being duped by a real-life Mr. Ripley takes us on a bizarre and haunting journey from the posh private clubrooms of Manhattan to the hard-boiled courtrooms and prisons of Los Angeles. As Kirn uncovers the truth about his friend, a psychopath masquerading as a gentleman, he also confronts hard truths about himself. Why, as a writer of fiction, was he susceptible to the deception of a sinister fantasist whose crimes, Kirn learns, were based on books and movies? What are the hidden psychological links between the artist and the con man? To answer these and other questions, Kirn attends his old friend's murder trial and uses it as an occasion to reflect on both their tangled personal relationship and the surprising literary sources of Rockefeller's evil. This investigation of the past climaxes in a tense jailhouse reunion with a man whom Kirn realizes he barely knew—a predatory, sophisticated genius whose life, in some respects, parallels his own and who may have intended to take another victim during his years as a fugitive from justice: Kirn himself.
Combining confessional memoir, true crime reporting, and cultural speculation, Blood Will Out is a Dreiser-esque tale of self-invention, upward mobility, and intellectual arrogance. It exposes the layers of longing and corruption, ambition and self-delusion beneath the Great American con.
About the Author
---
Walter Kirn is the author of Thumbsucker and Up in the Air, both made into major films. His work has appeared in GQ, New York, Esquire, and the New York Times Magazine.
Praise For…
---
[A] tight, gripping book…This bit of noir, from Mr. Kirn about Clark Rockefeller, is just right.
— Janet Maslin - New York Times Book Review

In this smart, real-life psychological thriller, the fake Rockefeller is a zombie Gatsby and Kirn the post-apocalyptic Fitzgerald.
— Nina Burleigh - New York Times Book Review

In this smart, real-life psychological thriller, the fake Rockefeller is a zombie Gatsby and Kirn the post-apocalyptic Fitzgerald.
— Nina Burleigh - The New York Times Book Review

A gripping performance!
— Edmund White

Has the power and insight and raw energy of an instant classic.
— Amy Hempel

There is no finer guide to the American berserk than Walter Kirn.
— Gary Shteyngart

The parallels with Patricia Highsmith's The Talented Mr. Ripley are not lost on Kirn, who spends as much time trying to understand how he and others fell under Gerhartstreiter's spell as he does relating the primary tale of the criminal himself. Kirn's candor, ear for dialogue, and crisp prose make for a masterful true crime narrative that is impossible to put down. The book deserves to become a classic.

— Publishers Weekly, Starred Review

Kirn bravely lays bare his own vanities and follies in this heart-pounding true tale; he examines the hold of fiction on the human imagination—how we live for it and occasionally die for it, too.
— Judith Newman - More Magazine

The story of Blood Will Out is one of cosmic ironies and jaw-dropping reversals… What makes Blood Will Out so absorbing is its teller more than its subject. Kirn's persona is captivating—funny, pissed off, highly literate, and self-searching. He's also an elegant, classic writer… Add the highly readable, intricately told Blood Will Out to the list of great books about the dizzying tensions of the writing life and the maddening difficulty of getting at the truth.

— Amity Gaige - Slate

[A] fascinating account of the imposter he considered his friend for 10 years… Blood Will Out is an exploration of a hoaxer from the point of view of a mark, and of a relationship based on interlocking deceptions and self-deceptions. The result is a moral tale about the dangers of social climbing on a rickety ladder—for both those trying to scramble up the rungs and those trying to hold it steady below.

— Heller McAlpin - The Washington Post

A mélange of memoir, stranger-than-fiction crime reporting and cultural critique. The literary markers run the gamut from James Ellroy's My Dark Places, and Fyodor Doestoevsky's Crime and Punishment to Patricia Highsmith's Ripley trilogy and Strangers on a Train. Kirn's self-lacerating meditations on class, art, vanity, ambition, betrayal and delusion elevate the material beyond its pulpy core… Kirn's belated acceptance of reality provides the most fascinating and frustrating element of this engaging, self-flagellating memoir.

— Larry Lebowitz - Miami Herald

One of the most honest, compelling and strangest books about the relationship between a writer and his subject ever penned by an American scribe… Each new revelation comes subtly, and each adds to the pathetic and creepy portrait of Clark Rockefeller as a vacuous manipulator… The ending of Blood Will Out is at once deeply ambiguous and deeply satisfying. By then, Kirn has looked into the eyes of a cruel, empty man—and learned a lot about himself in the process.

— Hector Tobar - Los Angeles Times

Kirn's account of his friendship with this strange and terrible man cuts through the frippery of Gerhartsreiter's outrageous affectations to reveal the Lovecraftian nightmare hiding beneath the J. Press blazer. Blood Will Out is a wise, deeply frightening, and potentially sleep-disrupting read… In the end, Kirn manages to transform his personal account of one of this century's most aberrant personalities into a vessel bearing universal truths about narrative, evil, and the American Dream itself.

— Eugenia Williamson - Boston Globe

Absorbing… If there's anything rarer than a con man with Clark's gift for the game, it's a writer of Kirn's quicksilver accomplishment… To have someone of Kirn's ability write about the case from the inside promises exceptional insight into the way such tricksters operate and the even greater enigma of what motivates them.
— Laura Miller - Salon.com

One of the most honest, compelling and strangest books about the relationship between a writer and his subject ever penned by an American scribe— Each new revelation comes subtly, and each adds to the pathetic and creepy portrait of Clark Rockefeller as a vacuous manipulator— The ending of Blood Will Out is at once deeply ambiguous and deeply satisfying. By then, Kirn has looked into the eyes of a cruel, empty man—and learned a lot about himself in the process.

— Hector Tobar - Los Angeles Times

Engrossing… A haunting, pained and terrifically engaging self-interrogation.
— Charles Finch - Chicago Tribune

A nod to a different canon of con men and tricksters: the protagonist of Melville's The Confidence-Man, the prep-school clones of Leopold and Loeb of Hitchcock's Rope, and Highsmith's highbrow hucksters—all crossed with the shadows of film noir.

— Eric Banks - Bookforum
Coverage from NPR