Mary Astor's Purple Diary: The Great American Sex Scandal of 1936 (Hardcover)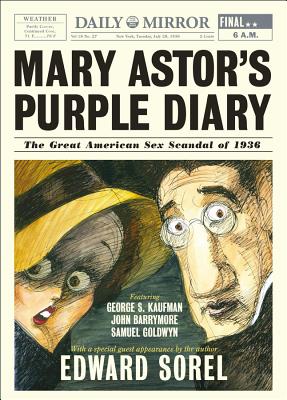 Staff Reviews
---
Everyone loves a hot mess, it's why the Kardashians are a household name. And in 1936 the hottest mess of all was Mary Astor. Largely forgotten today, Astor was a beautiful, talented actress who made the mistake of marrying a complete loser. Said loser didn't take kindly to being divorced and he used the salacious contents of her erotic diary to challenge her custody suit. Every newspaper picked up the story and the entire country devoured sentences like, "It all worked perfectly, and we shared our fourth climax at dawn." How could anyone resist this woman? Edward Sorel couldn't: Mary Astor's Purple Diary isn't just a biography, it's his ode to the woman he loved from the right side of the grave.
—
Lauren
Description
---
A New York Times Book Review Editors' Choice Selection
In a hilarious send-up of sex, scandal, and the Golden Age of Hollywood, legendary cartoonist Edward Sorel brings us a story (literally) ripped from the headlines of a bygone era.
In 1965, a young, up-and-coming illustrator by the name of Edward Sorel was living in a $97-a-month railroad flat on Manhattan's Upper East Side. Resolved to fix up the place, Sorel began pulling up the linoleum on his kitchen floor, tearing away layer after layer until he discovered a hidden treasure: issues of the New York Daily News and Daily Mirror from 1936, each ablaze with a scandalous child custody trial taking place in Hollywood and starring the actress Mary Astor. Sorel forgot about his kitchen and lost himself in the story that had pushed Hitler and Franco off the front pages.
At the time of the trial, Mary Astor was still only a supporting player in movies, but enough of a star to make headlines when it came out that George S. Kaufman, then the most successful playwright on Broadway and a married man to boot, had been her lover. The scandal revolved around Mary's diary, which her ex-husband, Dr. Franklyn Thorpe, had found when they were still together. Its incriminating contents had forced Mary to give up custody of their daughter in order to obtain a divorce. By 1936 she had decided to challenge the arrangement, even though Thorpe planned to use the diary to prove she was an unfit mother. Mary, he claimed, had not only kept a tally of all her extramarital affairs but graded them—and he'd already alerted the press. Enraptured by this sensational case and the actress at the heart of it, Sorel began a life-long obsession that now reaches its apex.
Featuring over sixty original illustrations, Mary Astor's Purple Diary narrates and illustrates the travails of the Oscar-winning actress alongside Sorel's own personal story of discovering an unlikely muse. Throughout, we get his wry take on all the juicy details of this particular slice of Hollywood Babylon, including Mary's life as a child star—her career in silent films began at age fourteen—presided over by her tyrannical father, Otto, who "managed" her full-time and treated his daughter like an ATM machine. Sorel also animates her teenage love affair with probably the biggest star of the silent era, the much older John Barrymore, who seduced her on the set of a movie and convinced her parents to allow her to be alone with him for private "acting lessons."
Sorel imbues Mary Astor's life with the kind of wit and eye for character that his art is famous for, but here he also emerges as a writer, creating a compassionate character study of Astor, a woman who ultimately achieved a life of independence after spending so much of it bullied by others.
Featuring ribald and rapturous art throughout, Mary Astor's Purple Diary is a passion project that becomes the masterpiece of one of America's greatest illustrators.
About the Author
---
Edward Sorel is an illustrator, caricaturist, and cartoonist whose satires and pictorial essays have appeared in Vanity Fair, the Atlantic, the Nation, and The New Yorker, for which he has done forty-six covers. He lives in New York City.
Praise For…
---
Terrific . . . Who would figure that Mary Astor's life would provide such entertaining reading, but in Sorel's colloquial, eccentric style, the tale he tells is juicy, funny and, in the end, touching . . . . Sorel has told Astor's story with great flair and energy. I hope he gets his wish and over time Mary winds up commemorated on a postage stamp.
— Woody Allen - New York Times Book Review

Delightful, colorful, and occasionally cheeky.
— Allison Sadlier - Entertainment Weekly

Rapier-sharp . . . Mr. Sorel has produced a love letter to his unlikely heroine . . . a slender volume with four dozen full-color illustrations that reaniminates a footnote in American popular culture into a ribald romp…With a tip of his pen to Daumier, the artist evokes the quaint, febrile glamour of Astor's Hollywood, and his affectionate, conversational prose gives Mary and her story a kind of valiant dignity never bestowed while she lived.
— Edward Kosner - Wall Street Journal

A fascinating read. . . . Sorel is a riveting storyteller, who populates his prose with striking illustrations that caricature the people and the time of Astor's diary scandal.
— Leroy Douresseaux - ComicBookBin

Sorel's pictures focus on the most dramatic aspects of Astor's story, creating images that are full of action, humor, sex and intrigue. The drawings . . . are beautifully colored and bubbling with life. . . . [A] breezy, unique and well-researched take on one of Hollywood''s most salacious scandals. While it doesn't shy away from the sensational aspects of the story, it is ultimately a respectful tribute to Astor's strength, intelligence and passion.
— KC - A Classic Movie Blog

Sorel's writing is jaunty and affecting, and his jazzily dynamic and keenly expressive drawings masterfully capture the edginess and glamour of Astor's world as he brings the underappreciated actor back into the limelight with verve and empathy.
— Donna Seaman - Booklist (starred)

A charming slice of retro Hollywood tabloid scandal. . . . What was then labeled 'the worst case of dynamite in Hollywood history' seems pretty tame today, but Sorel's command of tone and pen sustains readers' interest.
— Kirkus Reviews

[An] utterly charming, and colorfully illustrated, account of the life of Oscar-winning actor Mary Astor (1906–1987). . . . In this succinct and poignant book, Sorel traces the trajectory of Astor's career as it melds with his own. She emerges as a troubled figure who struggled to navigate the choppy waters of success. The author's lively narrative and vibrant images gives the actor a new role as an artist's muse.
— Publishers Weekly

If a notorious affair involving a rapacious Hollywood starlet . . . is your thing, then this is the sort of thing you'll love.
— Graydon Carter