Always Happy Hour: Stories (Hardcover)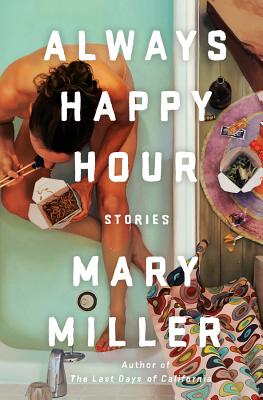 $24.95

Special Order - Subject to Availability
Staff Reviews
---
They drink too much, they love too hard, they don't take very good care of themselves: the women of ALWAYS HAPPY HOUR do not have their sh*t together. But despite this, or maybe because of this, they are utterly compelling. In a sharp contrast to her characters, Miller's writing is neat and contained and the stories are filled with unaffected, strikingly true observations. This is a collection to linger over!
—
Lauren
Description
---
"I adore Mary Miller's stories and you will too. Read this book and then read her others. Like, now." —Tom Franklin, author of Crooked Letter, Crooked Letter
Combining hard-edged prose and savage Southern charm, Mary Miller showcases biting contemporary talent at its best. Fast on the heels of her "terrific" (New York Times Book Review) debut novel, The Last Days of California, she now reaches new heights with this collection of shockingly relatable, ill-fated love stories.
Acerbic and ruefully funny, Always Happy Hour weaves tales of young women—deeply flawed and intensely real—who struggle to get out of their own way. They love to drink and have sex; they make bad decisions with men who either love them too much or too little; and they haunt a Southern terrain of gas stations, public pools, and dive bars. Though each character shoulders the weight of her own baggage—whether it's a string of horrible exes, a boyfriend with an annoying child, or an inability to be genuinely happy for a best friend—they are united in their unrelenting suspicion that they deserve better.
These women seek understanding in the most unlikely places: a dilapidated foster home where love is a liability in "Big Bad Love," a trailer park littered with a string of bad decisions in "Uphill," and the unfamiliar corners of a dream home purchased with the winnings of a bitter divorce settlement in "Charts." Taking a microscope to delicate patterns of love and intimacy, Miller evokes the reticent love among the misunderstood, the gritty comfort in bad habits that can't be broken, and the beat-by-beat minutiae of fated relationships.
Like an evening of drinking, Always Happy Hour is a comforting burn, warm and intoxicating in its brutal honesty. In an unforgettable style that distinguishes her within her generation, Miller once again captures womanhood in "a raw…and heartbreaking way" (Los Angeles Review of Books) and solidifies her essential role in American fiction.
About the Author
---
Mary Miller is the author of three previous books, including the story collection Always Happy Hour and the novel The Last Days of California. She is a former James A. Michener Fellow and John and Renée Grisham Writer-in-Residence. She lives in Oxford, Mississippi.

Praise For…
---
In Miller's new collection, a tipsy glow surrounds her Southern women as they trawl for cocktails, honk-tonk music, and men while nursing an inner ache they can't booze away. In lucid, vivid prose, Miller renders them alive to lust and, however improbably, to love.
— O, The Oprah Magazine

Taken as a whole, this harrowing yet ultimately enjoyable collection is less about the conventions of storytelling—exposition, climax, denouement—and more of a meditation on the stories a person tells herself.
— Hilary Moss - New York Times Book Review

Somewhere between the old trope of the fallen woman and the unctuousness of the likable heroine, the young narrators of Miller's searching stories inhabit the middle space known as reality. . . . Anyone who's faltered on the way to success and contentment might find solace in the do-gooder in "Big Bad Love," or the boozy, boyfriend-enabled composition teacher in the title story.
— Boris Kachka - Vulture

In this stunning (and well-titled) collection of short fiction involving complicated, unprivileged women on the precipice of adulthood, Mississippi author Miller brilliantly explores lives that feel simultaneously destined and precarious.
— Elizabeth Taylor - The National Book Review

Some of the women in this collection of short stories are spiraling; some are simply stuck. But they all have one thing in common: relationships in varying degrees of WTF? We can relate.
— Cosmopolitan magazine

Stellar…Miller's collection feels so true because it never glosses over the desperate or unflattering portrayals of its narrators, but neither does it exploit their faults. These stories acutely explore boyfriends, exes, poor choices, and the sad fallout of so many doomed relationships.
— Publishers Weekly (starred and boxed review)

Readers will find themselves riveted…The 16 stories in this collection…feel both homey and exotic, limning lives at once familiar and distinctly their own. Like a two-for-one drink special or a boxful of beer, this bracingly strong collection may prove intoxicating.
— Kirkus Reviews (starred review)

The stories in Mary Miller's Always Happy Hour are full of wit, bite, and the boundless intelligence of their author. This book is further evidence for what I felt after reading her brilliant debut novel, The Last Days of California, that Mary Miller is an astonishingly gifted writer. Her next one can't come soon enough.

— Kevin Powers, author of The Yellow Birds

The stories have a Southern flavor that deliver on the publisher's promise of a book with savage Southern charm and hard-edged prose…The best literature illuminates the human condition and provokes contemplation. Miller puts readers inside the experiences of these women, has us stand in their socks, make their mistakes, and survive.
— Martha Sheridan - Dallas Morning News

Reading Always Happy Hour is like drinking an Old Fashioned. It's strong with a sweet burn, and after each taste you immediately want more. Reminiscent of Pam Houston's Cowboys Are My Weakness, Mary Miller writes well about sex, drugs and white bikinis.

— Helen Ellis, author of American Housewife

I fell into this book like it was a night of drinking. I sipped, I laughed, I had some more, I got lonely, I danced a little, I downed the rest, I wanted to cry, I stayed up late closing it out and I'm a wreck and I regret nothing.
— Daniel Handler, author of We Are Pirates and Why We Broke Up

Stories of self-defeat and loneliness, of bad decisions or maybe worse, the inability to make decisions. Stories of treading water—where you know you should move towards shore but instead you let yourself drift farther out. Big World introduced us to the power of Mary Miller's short stories, and Always Happy Hour solidifies her as a major voice in Southern Literature.

— Willy Vlautin, author of The Free

Each of these stories has its own pulse. For anyone who's ever looked for love in all the wrong places, this shoebox full of beating hearts is for you.
— Amelia Gray, author of Isadora and Gutshot

Mesmerizing and exactly rendered, and Miller reminds us that for many people, life is defined by hardship, surprise, and just getting by…Excellent reading for fans of the genre.
— Barbara Hoffert - Library Journal