Shirley Jackson: A Rather Haunted Life (Paperback)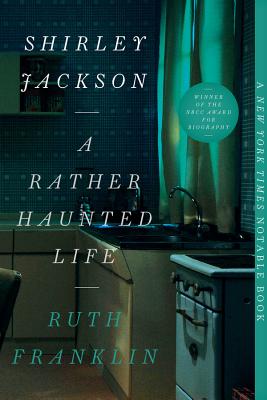 $17.95

Not Available In-Store - Usually Ships from Warehouse in 1-5 Days
Description
---
Winner • National Book Critics Circle Award (Biography)

Winner • Edgar Award (Critical/Biographical)

Winner • Bram Stoker Award (Nonfiction)



A New York Times Notable Book

A Washington Post Notable Nonfiction Pick of the Year

Named one of the Best Books of the Year by Entertainment Weekly, NPR, TIME, Boston Globe, NYLON, San Francisco Chronicle, Seattle Times, Kirkus Reviews, and Booklist
In this "thoughtful and persuasive" biography, award-winning biographer Ruth Franklin establishes Shirley Jackson as a "serious and accomplished literary artist" (Charles McGrath, New York Times Book Review).
Instantly heralded for its "masterful" and "thrilling" portrayal (Boston Globe), Shirley Jackson reveals the tumultuous life and inner darkness of the literary genius behind such classics as "The Lottery" and The Haunting of Hill House. In this "remarkable act of reclamation" (Neil Gaiman), Ruth Franklin envisions Jackson as "belonging to the great tradition of Hawthorne, Poe and James" (New York Times Book Review) and demonstrates how her unique contribution to the canon "so uncannily channeled women's nightmares and contradictions that it is 'nothing less than the secret history of American women of her era' " (Washington Post). Franklin investigates the "interplay between the life, the work, and the times with real skill and insight, making this fine book a real contribution not only to biography, but to mid-20th-century women's history" (Chicago Tribune). "Wisely rescu[ing] Shirley Jackson from any semblance of obscurity" (Lena Dunham), Franklin's invigorating portrait stands as the definitive biography of a generational avatar and an American literary genius.
About the Author
---
Ruth Franklin is a book critic and frequent contributor to The New Yorker, Harper's, and many other publications. A recipient of a New York Public Library Cullman Fellowship and a Guggenheim Fellowship, she lives in Brooklyn, New York.
Praise For…
---
With this welcome new biography Franklin makes a thoughtful and persuasive case for Jackson as a serious and accomplished literary artist. . . . [Franklin] sees Jackson not as an oddball, one-off writer of horror tales and ghost stories but as someone belonging to the great tradition of Hawthorne, Poe and James, writers preoccupied, as she was, with inner evil in the human soul.
— Charles McGrath - New York Times Book Review

Ruth Franklin's sympathetic and masterful biography both uncovers Jackson's secret and haunting life and repositions her as a major artist whose fiction so uncannily channeled women's nightmares and contradictions that it is 'nothing less than the secret history of American women of her era.'
— Elaine Showalter - Washington Post

Franklin is a conscientious, lucid biographer, and her book is never less than engaging.
— Blake Bailey - Wall Street Journal

Franklin's research is wide and deep, drawing on Jackson's published and unpublished writings including correspondence and diaries, as well as interviews….Franklin has shown the interplay between the life, the work, and the times with real skill and insight, making this fine book a real contribution not only to biography, but to mid-20th-century women's history.
— Katherine A. Powers - Chicago Tribune

Masterful…Taut, insightful, and thrilling, in ways that haunt, not quite as ghost story, but as a tale of a woman who strains against the binds of marriage, of domesticity, and suffers for it in a way that is of her time as a 1950s homemaker, and in a way that speaks to what it means to be a writer, an artist, and a woman even now.
— Nina MacLaughlin - Boston Globe

A Shirley Jackson biography seems especially timely today, even though Jackson, as with many of her stories, remains somewhat mythically timeless….Franklin's is both broader in scope and more measured in its analysis….[A] masterful account.
— Jane Hu - New Republic

Comprehensive…Jackson's lifelong interest in rituals, witchcraft, charms and hexes were, Franklin convincingly maintains, metaphors for exploring power and disempowerment…Franklin situates Jackson's conflicted relationship with coercive postwar US domesticity within the context that would give rise in 1963 to Betty Friedan's attack on 'the feminine mystique'…[A] sympathetic and fair-minded biography.
— Sarah Churchwell - The Guardian

[Shirley Jackson] strongly affirms the American author's powerful collection of stories, novels and memoirs…Magisterial and compulsively readable.

— Lauren LeBlanc - Minneapolis Star Tribune

[Shirley Jackson: A Rather Haunted Life] represents the latest and most concerted attempt to reclaim the writer's reputation. It's also a fresh effort to frame her as an artist with extraordinary insight into the lives, the concerns, and—above all—the fears of women…Gender is not the only prejudice that has kept us from acknowledging the brilliance of Shirley Jackson, but Franklin's biography is a giant step toward the truth.

— Laura Miller - Slate

Shirley Jackson: A Rather Haunted Life deftly narrates the influences, experiences and reputation of the author of the famously enduring story 'The Lottery.' As a history of the literary culture of the 1940s and '50s, it teases out the daily lives of people who displayed James Joyce's 'Ulysses,' Wilhelm Reich's 'The Function of the Orgasm' and James George Frazer's 'The Golden Bough' on their coffee tables. And as a chronicle of American life in the Eisenhower era, it reminds us of a time when people with too many books could be considered subversive…Much of Jackson's writing is a weird, rich brew, and Franklin captures its savor.

— Seth Lerer - San Francisco Chronicle

Shirley Jackson: A Rather Haunted Life . . . lifts its subject out of the genre ghetto and makes a convincing case that Jackson was a courageous woman in a male-dominated field whose themes resonate strongly today.

— Jeff Baker - Seattle Times

To truly reclaim a legacy, it generally helps to have a big, penetrating biography, one that takes into consideration everything that's come before and pushes forward a new and improved interpretation. Ruth Franklin's excellent Shirley Jackson: A Rather Haunted Life is all that and more…Franklin proves to be a supple biographer.

— Kate Bolick - Bookforum

This meticulous biography tackles the work of Shirley Jackson with the kind of studied seriousness some might give to a male titan of history like Robert Moses. And thank goddess for that, as Ruth Franklin wisely rescues Shirley Jackson from any semblance of obscurity. Despite her well-documented magnetism (and dalliances in the dark arts) Jackson's work was often dismissed as mere genre nonsense or, worse yet, women's fiction and Franklin's sensitive, witty and rigorous work makes an airtight case for just why this isn't right. The ire Jackson's short stories inspired in New Yorker readers is only a hint of the drama and intensity that characterized her short but beguiling life, with Franklin captures with a hefty dose of wit and suspense. One of the best literary biographies I've ever encountered.

— Lena Dunham

Ruth Franklin is the biographer Jackson needed: she tells the story of the author in a way that made me want to reread every word Jackson ever wrote.
— Neil Gaiman

Ruth Franklin has written the ideal biography of a figure long and unjustly neglected in the history of twentieth-century American literature. By restoring Shirley Jackson to her proper stature as one of our great writers, Franklin has in a stroke revised the canon.
— James Atlas, author of Bellow: A Biography

Franklin's biography takes us beyond the chilling stories that made Shirley Jackson's name into the dilemmas of a woman writer in the 1950s and '60s, struggling to make a career between the pressures of childcare, domesticity, and her own demons. It's a very modern story, and a terrific read.
— Mary Beard, author of SPQR

With her account of an emblematically American literary life, Ruth Franklin reminds us that her subject was far more than the writer of classy ghost stories. On the contrary, Shirley Jackson was the harbinger of profound upheavals both societal and literary. This is a brilliant biography on every level, but it is especially astute on Jackson's ground- and genre-breaking work, which I will now reread immediately.
— Tom Bissell, author of Apostle

A perfect marriage of biographer and subject: Ruth Franklin's portrait of Shirley Jackson restores to her rightful place a writer of considerable significance, and draws a rich intellectual portrait of the age.
— Claire Messud, author of The Woman Upstairs

A biography that is both historically engaging and pressingly relevant, Ruth Franklin's absorbing book not only feelingly creates a portrait of Shirley Jackson the writer but also provides a stirring sense of what it was like to navigate (and sometimes circumvent) the strictures of American society as a wife, mother, artist, and woman.
— Meg Wolitzer, author of The Interestings