Bolshoi Confidential: Secrets of the Russian Ballet from the Rule of the Tsars to Today (Paperback)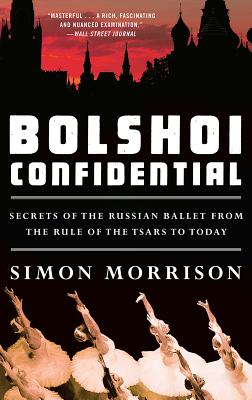 $21.95
Special Order - Subject to Availability
Description
---
In this "incredibly rich" (New York Times) definitive history of the Bolshoi Ballet, visionary performances onstage compete with political machinations backstage.
A critical triumph, Simon Morrison's "sweeping and authoritative" (
Guardian
) work,
Bolshoi Confidential
, details the Bolshoi Ballet's magnificent history from its earliest tumults to recent scandals. On January 17, 2013, a hooded assailant hurled acid into the face of the artistic director, making international headlines. A lead soloist, enraged by institutional power struggles, later confessed to masterminding the crime. Morrison gives the shocking violence context, describing the ballet as a crucible of art and politics beginning with the disreputable inception of the theater in 1776, through the era of imperial rule, the chaos of revolution, the oppressive Soviet years, and the Bolshoi's recent $680 million renovation. With vibrant detail including "sex scandals, double-suicide pacts, bribery, arson, executions, prostitution rings, embezzlement, starving orphans, [and] dead cats in lieu of flowers" (
New Republic
), Morrison makes clear that the history of the Bolshoi Ballet mirrors that of Russia itself.
About the Author
---
Simon Morrison is a professor of music at Princeton University, a contributor to the New York Times and the Times Literary Supplement, and the author of, most recently, Lina and Serge. He lives in Princeton, New Jersey.
Praise For…
---
The title means what it says. There's plenty of scandal here: arson, double suicide, dead cats flung at curtain calls. At the same time, the book is energetically researched, beautifully written — fun, relaxed, sophisticated — and full of serious ideas, boldly stated.
— Joan Acocella, dance critic

The insider look in Bolshoi Confidential is incredibly rich and makes this book a page-turner…Breathtakingly complicated life stories of both people and productions parade through the pages…Its central figures, like Plisetskaya, jump off its pages complex and alive.

— Daria Khitrova

Morrison turns to the past in order to unpack the conundrum of the Bolshoi within the enigma-wrapped, mystery-obscured riddle of the Russian state…All of this makes for good, even great, fodder…Sex scandals, double-suicide pacts, bribery, arson, executions, prostitution rings, embezzlement, starving orphans, dead cats in lieu of flowers, and ballerinas refusing to shave their armpits.
— Madison Mainwaring

Masterful. . . . Bolshoi Confidential . . . is much more than a compendium of ballerinas behaving badly. Rather, it offers a rich, fascinating and nuanced examination of the role of the arts in Russian history, one that highlights their profound importance to the creation of a national identity and their troubled relationship with the country's rulers.

— Douglas Smith

Simon Morrison's Bolshoi Confidential lifts the curtain on Russia's best-known cultural institution. An intoxicating mix of grandeur and gossip, it charts luminous performances on stage and sordid machinations in the wings from the age of Catherine the Great to that of Vladimir Putin…Sweeping and authoritative.

— Lucy Ash

A sweeping, grandly intriguing story at the interface of art and power. . . . Morrison frames his story, always readable and brimming with curious anecdotes, with the recent, newsworthy acid attack on artistic director Sergei Filin, a strange episode that exposed not just clashes of individual personalities, but also competing views of what the Bolshoi should be, some of which may have emanated from inside the walls of the neighboring Kremlin. A must for ballet buffs . . . . [and] a look backstage that is both lively and learned.

Charming and astonishingly detailed…The Bolshoi's dancers, ballets, and composers, its administrators and detractors and supporters—all are tantalizingly depicted here... Balletomanes will drool and sigh, music lovers will be fascinated…A riveting history.

Another marvelously informative book from Simon Morrison, dishing this time on Russia's great musical theater, onstage and off. It is a wonderful read, full of intriguing spectacle and spectacular intrigue.
— Richard Taruskin, author of The Oxford History of Western Music

Simon Morrison has written an engrossing history of one of Russia's most enduring cultural institutions. Bolshoi Confidential deftly shatters the distinctions between high-brow and low-brow, art and politics, authority and violence.

— Amanda Foreman, author of Georgiana and A World on Fire

A colorful and erudite view on Russia through the tumultuous history of the sumptuous Bolshoi.
— Peter Pomeranzev, author of Nothing is True and Everything is Possible

Simon Morrison's Bolshoi Confidential is a magisterial portrait of the art, intrigue, and politics buffeting Russia's great cultural institution, the Bolshoi Ballet.

— Janice Ross, author of Like A Bomb Going Off: Leonid Yakobson and Ballet As Resistance in Soviet Russia

Morrison sweeps readers through the storied company's 240-year history, describing key figures onstage and off, political ties to various regimes, and the births of many famous ballets.