If Then: How the Simulmatics Corporation Invented the Future (Hardcover)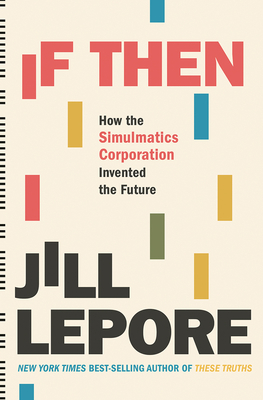 $28.95

Special Order - Subject to Availability
Description
---
Longlisted • National Book Award (Nonfiction)

Best Books of 2020 • Financial Times

Best Books of Fall 2020: O, The Oprah Magazine, The Observer, Boston.com

Most Anticipated Books of Fall 2020: TIME
A revelatory account of the Cold War origins of the data-mad, algorithmic twenty-first century, from the author of the acclaimed international bestseller These Truths.
The Simulmatics Corporation, launched during the Cold War, mined data, targeted voters, manipulated consumers, destabilized politics, and disordered knowledge—decades before Facebook, Google, and Cambridge Analytica. Jill Lepore, best-selling author of These Truths, came across the company's papers in MIT's archives and set out to tell this forgotten history, the long-lost backstory to the methods, and the arrogance, of Silicon Valley.
Founded in 1959 by some of the nation's leading social scientists—"the best and the brightest, fatally brilliant, Icaruses with wings of feathers and wax, flying to the sun"—Simulmatics proposed to predict and manipulate the future by way of the computer simulation of human behavior. In summers, with their wives and children in tow, the company's scientists met on the beach in Long Island under a geodesic, honeycombed dome, where they built a "People Machine" that aimed to model everything from buying a dishwasher to counterinsurgency to casting a vote. Deploying their "People Machine" from New York, Washington, Cambridge, and even Saigon, Simulmatics' clients included the John F. Kennedy presidential campaign, the New York Times, the Department of Defense, and dozens of major manufacturers: Simulmatics had a hand in everything from political races to the Vietnam War to the Johnson administration's ill-fated attempt to predict race riots. The company's collapse was almost as rapid as its ascent, a collapse that involved failed marriages, a suspicious death, and bankruptcy. Exposed for false claims, and even accused of war crimes, it closed its doors in 1970 and all but vanished. Until Lepore came across the records of its remains.
The scientists of Simulmatics believed they had invented "the A-bomb of the social sciences." They did not predict that it would take decades to detonate, like a long-buried grenade. But, in the early years of the twenty-first century, that bomb did detonate, creating a world in which corporations collect data and model behavior and target messages about the most ordinary of decisions, leaving people all over the world, long before the global pandemic, crushed by feelings of helplessness. This history has a past; If Then is its cautionary tale.
About the Author
---
Jill Lepore is the David Kemper '41 Professor of American History at Harvard University and a staff writer at The New Yorker. She's also the host of the podcasts The Last Archive and Elon Musk. A two-time Pulitzer Prize finalist, her many books include the international bestseller These Truths; If Then, longlisted for the National Book Award; and the audiobook Who Killed Truth?
Praise For…
---
Lepore is a brilliant and prolific historian with an eye for unusual and revealing stories, and this one is a remarkable saga, sometimes comical, sometimes ominous: a "shadow history of the 1960s," as she writes.... Lepore finds in it a plausible untold origin story for our current panopticon: a world of constant surveillance, if not by the state then by megacorporations that make vast fortunes by predicting and manipulating our behavior—including, most insidiously, our behavior as voters.... It didn't have to be this way. That is Lepore's final message: history is not inevitable.
— James Gleick - New York Review of Books

Fascinating.... Over the last decade, Lepore, a Harvard history professor and New Yorker staff writer, has repeatedly shown herself to be an uncommonly astute and insightful interpreter of American history, and one of her many strengths is the moral clarity that infuses her writing.... [with] a nimble fluency that can be exhilarating.

— Seth Mnookin - New York Times Book Review

Timely.... Lepore weaves her narrative across continents and through time with engaging, conversational prose. Her characters' personalities, families, affairs, fights and constant gossiping come alive, thanks to extensive troves of family papers and interviews with those closest to them.
— Shannon Bond - NPR

[A] rich account. . . . Lepore's exceptional skill as storyteller and her sharp eye for seemingly quotidian details and small coincidences lend the Simulmatics world an intimate—and at times deliciously gossipy—feeling. . . . As Lepore notes, after the 1960 Kennedy election, the idea that politicians might use advertising, psychological tricks, or even new technology in order to sway elections in their favor was still shocking to the public. But 60 years later, it's such an accepted part of American political life that it takes a historian to excavate the moment in time where such notions began to cohere.
— J.C. Pan - The New Republic

A beautifully written and intellectually rigorous account of the origins of the science of predictive analytics and behavioral data science in the cold war era.
— Financial Times

In If Then, Lepore skillfully argues that their use of technology brought us to this current political climate.

— Lauren LeBlanc - The Observer

[Lepore] pulls no punches in criticizing the folly of trying to understand human behavior via algorithm, and the corrosive consequences of trying to hack democracy. The result is . . . a perceptive work of historically informed dissent.
— Brendan Driscoll, Booklist [starred review]

A staff writer for the New Yorker and Harvard professor, Lepore knows how to spin out a winning historical study. Here, she dives deep into matters that have seldom attracted scholarly attention. . . As Lepore convincingly demonstrates, the work of Simulmatics paved the way for later manipulators of psychology and public opinion such as Facebook. . . . A fascinating, expertly guided exploration of a little-known corner of the recent past.

— Kirkus Reviews

A person can't help but feel inspired by the riveting intelligence and joyful curiosity of Jill Lepore. Knowing that there is a mind like hers in the world is a hope-inducing thing.
— George Saunders

Jill Lepore reveals how this forgotten company invented the data-weapons of the future. If Then is simultaneously gripping and absolutely terrifying.

— Amanda Foreman, author of Georgiana, Duchess of Devonshire and A World on Fire

Everything Jill Lepore writes is distinguished by intelligence, eloquence, and fresh insight. If Then is that, and even more: It's absolutely fascinating, excavating a piece of little-known American corporate history that reveals a huge amount about the way we live today and the companies that define the modern era.

— Susan Orlean, author of The Library Book

Hilarious, scathing and sobering – what you might get if you crossed Mad Men with Theranos.

— David Runciman, author of How Democracy Ends and Where Power Stops

In another fast-paced narrative, Jill Lepore brilliantly uncovers the history of the Simulmatics Corporation, which launched the volatile mix of computing, politics, and personal behavior that now divides our nation, feeds on private information, and weakens the strength of our democratic institutions.
— Julian E. Zelizer, author of Burning Down the House: Newt Gingrich, the Fall of a Speaker, and the Rise of the New Republican Party

In this page-turning, eye-opening history, Jill Lepore reveals the Cold War roots of the tech-saturated present, in a thrilling tale that moves from the campaigns of Eisenhower and Kennedy to ivied think tanks, Madison Avenue ad firms, and the hamlets of Vietnam. Told with verve, grace, and humanity, If Then is an essential, sobering story for understanding our times.

— Margaret O'Mara, author of The Code: Silicon Valley and the Remaking of America

Lepore writes history like a poet. In If Then she yet again binds lyrical storytelling to meticulous archival research to tell a gigantic story from our past.

— Dan Snow, author of The Battle of Waterloo Experience

Data science, Jill Lepore reminds us in this brilliant book, has a past, and she tells it through the engrossing story of Simulmatics, the tiny, long-forgotten company that helped invent our data-obsessed world, in which prediction is seemingly the only knowledge that matters. A captivating, deeply incisive work.
— Fredrik Logevall, Pulitzer Prize–winning author of Embers of War: The Fall of an Empire and the Making of America's Vietnam