My Reading Life: What I Read, How It Felt, and What I Thought (Diary)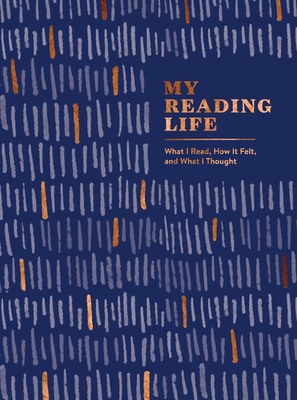 Description
---
Bring mindfulness and intentionality to your reading life with this charming guided journal.

Express yourself—write down how you feel about the books you read!

If you love books, and you want to do more than just make a list of the books you've read, this journal is a perfect opportunity for you to be more mindful about your reading!

Thoughtful prompts invite readers to:

• record what makes each book uniquely meaningful to you
• think about which books you'd like to share with whom—and why
• note the lines that moved you most or the life lessons you learned from reading a particular book
• list which books you'd consider worthy of a re-read (or not!)
• have some fun with your reading life, including deciding which authors you'd most like to meet for coffee, drinks, or dinner
• jot down your genre favorites
• write down your thoughts on the cover
• take a mindful approach to reading, so you can really connect with each book you read

With its elegant hardcover design and stunning copper foil cover, a variety of stimulating prompts, and plenty of space for note-keeping, My Reading Life is a unique, personal keepsake for any reader and a perfect gift for anyone who loves reading!

About the Author
---
Spruce Books creates giftable, design-forward titles that enlighten, entertain, and offer opportunities for self-expresson for readers age 16+ who want to live with intentionality and purpose.

Alison Keefe is an artist, designer, and letterer living in Seattle, Washington. After completing her BFA in printmaking at New York University, she relocated to the West Coast and has never looked back—except for maybe a few weeks during the splendid and colorful Northeast autumn. Her interests include sign-painting for local businesses, foraging blackberries to turn into pies, and going on hikes in old growth forests with her rescue mutt, Bodhi.