The Temple of Doubt (Hardcover)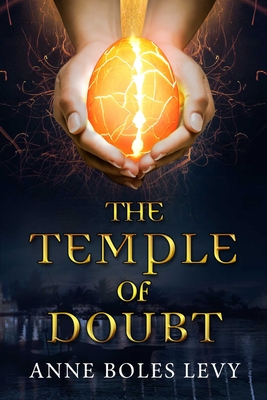 $16.99

Special Order - Subject to Availability
Description
---
"Fiercely original with a capable and plucky heroine, The Temple of Doubt rips open a door to a fresh new fantasy world." —Amalie Howard, author of the Aquarathi series and Alpha Goddess

It's been two six-days since a falling star crashed into the marshes beyond Port Sapphire, putting the wilds of Kuldor off-limits to fifteen-year-old Hadara. She feels this loss deeply and is eager to join her mother beyond the city limits to gather illegal herbs and throw off the yoke of her tedious religious schooling. Medicines of any sort are heresy to the people of Port Sapphire, who must rely on magic provided by the god Nihil for aid. And if people die from that magic, their own lack of faith is surely to blame. At least, that's what Hadara has been taught—and has so far refused to believe.

Hadara and her mother have ignored the priests' many warnings about their herb gathering, secure in knowing their tropical island is far from Nihil's critical gaze. Then two powerful high priests arrive from Nihil's home city to investigate the fallen star, insisting it harbors an unseen demon. This sets off speculation that an evil force is already at work in Port Sapphire and brings one of the holy men to Hadara's doorstep. When he chooses Hadara as a guide into the wilds, she sets off a chain of events that will upend everything she's been taught about the sacred and the profane.

The Temple of Doubt is the first installment in a series that follows a teenager who is given a greater destiny and purpose than she could've ever imagined.

Sky Pony Press, with our Good Books, Racehorse and Arcade imprints, is proud to publish a broad range of books for young readers—picture books for small children, chapter books, books for middle grade readers, and novels for young adults. Our list includes bestsellers for children who love to play Minecraft; stories told with LEGO bricks; books that teach lessons about tolerance, patience, and the environment, and much more. While not every title we publish becomes a New York Times bestseller or a national bestseller, we are committed to books on subjects that are sometimes overlooked and to authors whose work might not otherwise find a home.
About the Author
---
Anne Boles Levy currently teaches English to middle schoolers after more than two decades writing and editing for print, web, and radio. Anne is a graduate of Smith College and studied abroad at University College London, and she has her master's in journalism from Columbia University. She's also an amateur silversmith and the absentminded wife to her long-suffering husband, Brett. They run around after two children and a cat in Scottsdale, Arizona.
Praise For…
---
"The Temple of Doubt launches a powerful new voice in teen fantasy fiction. Anne Boles Levy brings serious game with her first novel. Expect great things!" —Jonathan Maberry, New York Times bestselling author of Rot & Ruin and The Nightsiders

"Levy shines brightest in her potent descriptions of settings and her imaginative scenes." —Kirkus Reviews

"In a society where going against the grain can bring shame, punishment, and even death, being different is dangerous. But Hadara's differences are what make her special and Hadara's struggles to defend her family, her world, and her soul against the Temple's meddling make for a gripping adventure. The Temple of Doubt's inventive and richly realized world will have readers immersed from the start and eager for the sequel." —Sarah Jamila Stevenson, author of The Latte Rebellion, Underneath, and The Truth Against the World

"The Temple of Doubt fascinated me. With a determined heroine who forges her own path, intricate worldbuilding, and a tantalizing plot that hints at more intriguing revelations to come, Anne Boles Levy shows herself to be a promising new writer. I can't wait to see where Hadara's journey takes her next." —Eilis O'Neal, author of The False Princess

"Hadara may think of herself as a bad student and a wavering believer, but in truth, she is brave, strong, and often hilarious as she struggles to protect her family and find a place for herself within a culture that devalues her. Levy has a knack for exposing the ridiculousness of rigid belief while highlighting the real power that doubt has to transform a society." —Sara Holmes, author of Letters from Rapunzel and Operation Yes

"A thrilling fantasy introducing an exceptional new heroine whose fearless challenges to authority and adventurous spirit could make or break her entire world. The Temple of Doubt captivates page after page, twist after twist. Clever Hadara is in danger from all sides, from the invading army, the compelling soldier Valeo who tears her city apart, and the secretive and devious Azwans who sacrifice innocents to serve their powerful god. Yet something more powerful than these has fallen from the sky—something alien and shining that is meant only for her." —Janet Lee Carey, award-winning author of In the Time of Dragon Moon

"Fiercely original with a capable and plucky heroine, The Temple of Doubt rips open a door to a fresh new fantasy world. With a gorgeously written narrative and its intricate world building, fantasy readers are in for a treat. Hadara is a compelling heroine whose misadventures and missteps will only make you love her more." —Amalie Howard, author of the Aquarathi series, the Almost Girl series, and Alpha Goddess

"What a wonderful heroine and wonderful world Anne Boles Levy has given us in this beautiful debut novel—one I certainly wish had been around when my daughters were young. They'd have fallen in love with Hadara as much as I have. Can't wait for Book II!" —Bruce McAllister, author of The Village Sang to the Sea: A Memoir of Magic

"The Temple of Doubt launches a powerful new voice in teen fantasy fiction. Anne Boles Levy brings serious game with her first novel. Expect great things!" —Jonathan Maberry, New York Times bestselling author of Rot & Ruin and The Nightsiders

"Levy shines brightest in her potent descriptions of settings and her imaginative scenes." —Kirkus Reviews

"In a society where going against the grain can bring shame, punishment, and even death, being different is dangerous. But Hadara's differences are what make her special and Hadara's struggles to defend her family, her world, and her soul against the Temple's meddling make for a gripping adventure. The Temple of Doubt's inventive and richly realized world will have readers immersed from the start and eager for the sequel." —Sarah Jamila Stevenson, author of The Latte Rebellion, Underneath, and The Truth Against the World

"The Temple of Doubt fascinated me. With a determined heroine who forges her own path, intricate worldbuilding, and a tantalizing plot that hints at more intriguing revelations to come, Anne Boles Levy shows herself to be a promising new writer. I can't wait to see where Hadara's journey takes her next." —Eilis O'Neal, author of The False Princess

"Hadara may think of herself as a bad student and a wavering believer, but in truth, she is brave, strong, and often hilarious as she struggles to protect her family and find a place for herself within a culture that devalues her. Levy has a knack for exposing the ridiculousness of rigid belief while highlighting the real power that doubt has to transform a society." —Sara Holmes, author of Letters from Rapunzel and Operation Yes

"A thrilling fantasy introducing an exceptional new heroine whose fearless challenges to authority and adventurous spirit could make or break her entire world. The Temple of Doubt captivates page after page, twist after twist. Clever Hadara is in danger from all sides, from the invading army, the compelling soldier Valeo who tears her city apart, and the secretive and devious Azwans who sacrifice innocents to serve their powerful god. Yet something more powerful than these has fallen from the sky—something alien and shining that is meant only for her." —Janet Lee Carey, award-winning author of In the Time of Dragon Moon

"Fiercely original with a capable and plucky heroine, The Temple of Doubt rips open a door to a fresh new fantasy world. With a gorgeously written narrative and its intricate world building, fantasy readers are in for a treat. Hadara is a compelling heroine whose misadventures and missteps will only make you love her more." —Amalie Howard, author of the Aquarathi series, the Almost Girl series, and Alpha Goddess

"What a wonderful heroine and wonderful world Anne Boles Levy has given us in this beautiful debut novel—one I certainly wish had been around when my daughters were young. They'd have fallen in love with Hadara as much as I have. Can't wait for Book II!" —Bruce McAllister, author of The Village Sang to the Sea: A Memoir of Magic