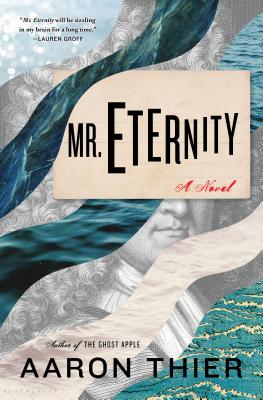 Staff Reviews
---
Think of the inside of Aaron Thier's head like an ocean with one ship on it, and then picture that ship full of literary pirates. Only these pirates aren't your run-of-the-mill swashbuckling recidivists, they're wacko writers like Hunter S. Thompson, Joseph Conrad, and James Fenimore Cooper. And then imagine these three guys on the deck of this ship having a drinking contest where whoever said the least interesting thing had to guzzle flagon atop flagon of ale and then start the next round. And then imagine recording everything they said, slapping it between some cardboard, and shipping it to Changing Hands Bookstore. Here you go. But Thier's modern brilliance, penchant for idiocratic tragicomedy, and general distaste for all things status quo and hegemonic endow Mr. Eternity with the power to stand out even among all the other popular experimental fiction. Five time periods spanning centuries. Dozens of weirdos littered across countries that don't even exist yet. One unkillable man rumored to be not 100, not 500, but 1000 years old. And he's still looking for the same thing that the rest of us are looking for. I won't tell you what it is.
—
Joel
August 2016 Indie Next List
---
"Clever, smart, and brilliantly comic as it deals with our humanity, our resilient spirit, and the tremendous challenges that demand our cooperative attention, Mr. Eternity is a delight. Who can resist the tale of a 560-year-old American man named Daniel Defoe, who has much wisdom to offer the world and its people. This genre-bending page-turner is a blast to read!"
— Ed Conklin (M), Chaucer's Books, Santa Barbara, CA
Description
---
An Indie Next Pick

A Thurber Prize Finalist of exuberance and ambition, spanning one thousand years of high-seas adventure, environmental and cultural catastrophe, and enduring love.

"Mr. Eternity will be sizzling in my brain for a long time." --Lauren Groff

Key West, 2016. Sea levels are rising, coral reefs are dying. In short, everything is going to hell. It's here that two young filmmakers find something to believe in: an old sailor who calls himself Daniel Defoe and claims to be five hundred and sixty years old.

In fact, old Dan is in the prime of his life--an incredible, perhaps eternal American life. The story unfolds over the course of a millennium, picking up in the sixteenth century in the Viceroyalty of New Granada and continuing into the twenty-sixth, where, in the future Democratic Federation of Mississippi States, Dan serves as an advisor to the King of St. Louis. Some things remain constant throughout the centuries, and being on the edge of ruin may be one. In 1560, the Spaniards have destroyed the Aztec and Inca civilizations. In 2500, we've destroyed our own: the cities of the Atlantic coast are underwater, the union has fallen apart, and cars, plastics, and air conditioning are relegated to history. But there are other constants too: love, humor, and old Dan himself, always adapting and inspiring others with dreams of a better life.

An ingenious, hilarious, and genre-bending page-turner, Mr. Eternity is multiple novels in one. Together they form an uncommon work--about our changing planet and its remarkable continuities.
About the Author
---
Aaron Thier is the author of the novels Mr. Eternity, a finalist for the 2017 Thurber Prize for American Humor, and The Ghost Apple, a semifinalist for the 2015 Thurber Prize. A regular contributor to The Nation and a graduate of Yale University and the MFA program at The University of Florida, Thier received a 2016 NEA Fellowship in Creative Writing. He lives in Great Barrington, MA.
Praise For…
---
"[A] sharp, inventive and compassionate novel . . . to be savored and heeded." - San Francisco Chronicle

"Mr. Thier's dizzying time-travels will inevitably call to mind David Mitchell's "Cloud Atlas," and the danger of such books is that they tend to grow solemn and sanctimonious as they peer into the future. Happily, "Mr. Eternity" remains playful even as it relates catastrophe." - The Wall Street Journal

"With symbolism and analogy, surrealism and fantasy, Thier deftly reflects on and explores the human condition through 'the lavender light and sweet scented dust of history.' Erudite. Imaginative. A work to be read slowly and savored." - starred review, Kirkus Reviews

"Thier uses his deathless protagonist to chart the rise and fall of the American empire, and also those certainties--love, trade--that afflict every age . . . The moral imagination behind Defoe's adventures rivals that of his namesake, begging comparison to the best literature has to offer." - Publishers Weekly

"Thier's story lines entwine in Faulknerian brilliance . . . An enchanting, humorous, and visionary experience." - Booklist

"Only a writer as wickedly smart as Aaron Thier would think to write such a twisted and wild story about Florida and climate change and time-battered Daniel Defoe; only Aaron Thier could pull it all off with such aplomb and in such gleeful and spiny language. Mr. Eternity will be sizzling in my brain for a long time." - Lauren Groff, author of FATES AND FURIES

"The end of the world has never been so much fun as in Aaron Thier's brilliant cavalcade of a novel. Careening back- and forward while staying peacefully centered, offering absurdities and heartbreaks in equal measure, Mr. Eternity is a moving exploration of our past, present, and future discombobulations." - Daniel Handler, author of WHY WE BROKE UP and WE ARE PIRATES

"The combination of vivid inventiveness at the sentence level, and wide-ranging vistas across the centuries, makes this novel a joy to read. Daniel Defoe himself would have loved this book." - Kim Stanley Robinson, author of THE MARS TRILOGY

"Aaron Thier's Mr. Eternity is shrewd, smart, and funny." - Elizabeth Kolbert, author of THE SIXTH EXTINCTION

"An absolutely phenomenal book, a comedy of everything. Astonishing." - Michael Hofmann, critic and author of WHERE HAVE YOU BEEN?: SELECTED ESSAYS

"The books reminds me of a modern Candide . . . Read this book, it's awesome." - Ryan Holiday, "Reading Recommendation" Newsletter

"[A]n amazing work of staggering genius . . . Aaron Thier has reinvented the comic novel, reimagined the picaresque, written the Don Quixote for our time -- one that features not a mad idealist but a cynical wit, appropriate for this century and the ones (if any) to follow." - Betsy Burton, "Books & Beats," KUER

"Clever, smart, and brilliantly comic as it deals with our humanity, our resilient spirit, and the tremendous challenges that demand our cooperative attention . . . This genre-bending page-turner is a blast to read!" - Ed Conklin, Chaucer's Books, Santa Barbara, CA

"Thier likes messin' with historicity, as did Faulkner, and he uses crisp precise wit, as did (Donald) Barthelme, to mess with it." - Padgett Powell