Coup de Foudre (Paperback)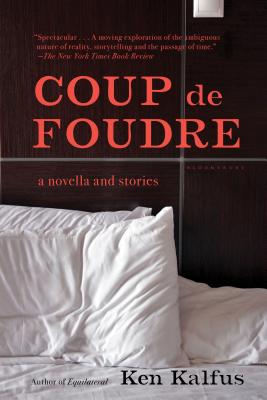 Staff Reviews
---
I don't normally like short stories. They're flighty; less impactful than novels. And they're short. But this collection is different, and ingeniously so, because it begins with a nearly 80 page novella so good I couldn't, for all my aversion to short fiction, keep from reading the appending short stories. They illuminate the lives of ostensibly real people - dentists, writers, teachers, journalists, spies, murderers, racists - struggling with the absurdity of normality and the peculiarity of secret humiliations. I'll be rocketing Kalfus's other titles to the top of my to-be-read list. And yet in all their achievement, the novella is the real winner, a raucous political satire full of sex, crime, blasphemy, and all other sorts of delightfully terrible perversions.
—
Joel
Description
---
The explosive collection by the celebrated author of "Thirst" and PEN/Faulkner Award finalist "Pu-239 and Other Russian Fantasies," "Coup de Foudre" is the kind of groundbreaking work of literary invention Ken Kalfus's fans have come to expect. The book is anchored by the full text of the provocatively topical title novella that appeared in "Harper's," a sometimes farcical, ultimately tragic story about the president of an international lending institution accused of sexually assaulting a housekeeper in a New York hotel. Recalling recent news events with irony and compassion, Kalfus skewers international political gridlock and the hypocrisies of acceptable sexual conduct.
In "The Moment They Were Waiting For," a murderer on death row casts a spell granting the inhabitants of his city the foreknowledge of the dates they will die. In "v. The Large Hadron Collider," a judge distracted by the faint possibility of an adulterous affair must decide whether to throw out a nuisance lawsuit that raises the even fainter possibility that the entire Earth may be destroyed. "The Un-" is a nostalgic story of a young writer's struggles as he tries to surmount the colossal, heavily guarded wall that apparently separates writers who have been published from those who have not.
Varying boldly in theme, setting, and tone, the stories in "Coup de Foudre" share Kalfus's distinctive humor and intellect, inextricably bound with high literary ambition.
About the Author
---
Ken Kalfus is the author of three novels, Equilateral, A Disorder Peculiar to the Country, which was a finalist for the National Book Award, and The Commissariat of Enlightenment. He has also published the story collections Thirst and Pu-239 and Other Russian Fantasies, the latter a finalist for the PEN/Faulkner Award and the basis for the HBO film Pu-239. Kalfus recently received a Pew Fellowships in the Arts award and a Guggenheim fellowship. He lives in Philadelphia.