The Well-Spoken Woman Speaks Out: How to Use Your Voice to Drive Change (Paperback)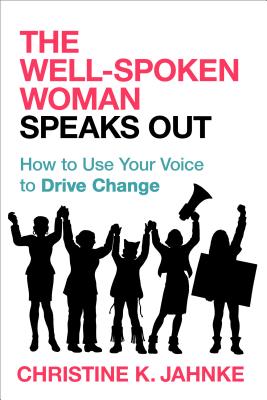 $18.00

Special Order - Subject to Availability
Description
---
Practical and inspiring, this book is a valuable asset for women seeking to drive change with #MeToo, March for our Lives, Time's Up, Black Women Lead, Climate Action, She Should Run, Power to the Polls, and women's marches.

In her successful book The Well-Spoken Woman, top speech coach Christine K. Jahnke shared techniques to help women present their ideas effectively in any setting. This new follow-up is for women who are persisting, resisting, advocating, or running for office--and gives them the tools to be effective, persuasive, and powerful communicators.

The Well-Spoken Woman Speaks Out will guide any woman who wants to state her case in the most compelling way, ensure that she is truly heard and understood, and seeks to impact and inspire others. It takes Jahnke's direct experience working with women like Michelle Obama and the presidential campaign of Hillary Clinton and pairs it with the recent surge of women nationwide who are speaking up to drive social and political change. Jahnke, who has spent twenty-five years helping women leaders, provides guidance and best practices so you can: rally support for a cause, make a persuasive pitch, campaign for public office, be a successful advocate, and motivate people to make positive change. She applies her expertise to many facets of communicating publicly, including using your voice in social media; participating in panels, meetings, and discussions; giving presentations; and speaking to the media.
About the Author
---
Christine K. Jahnke is the author of The Well-Spoken Woman: Your Guide to Looking and Sounding Your Best. She is the president and founder of Positive Communications (www.poscom.com) and has provided speech coaching and media training to leaders in the public and private sectors since 1991. Jahnke has advised women leaders at Amnesty International, Bill and Melinda Gates Foundation, Black Lives Matter, Emily's List, Planned Parenthood, Sierra Club, and Union of Concerned Scientists. As a consultant to the Women's Media Center founded by Jane Fonda, Gloria Steinem, and Robin Morgan, Christine leads the acclaimed Progressive Women's Voices training program. At five Democratic National Conventions, she has been backstage helping party leaders, celebrities, dignitaries, and everyday citizens shine in nationally televised speeches. Her speech and debate coaching have been featured in Politico, NPR, US News, Elle, Washingtonian Magazine, and VICE News.
Praise For…
---
"This is a must-read for any woman who wants to use her voice to lead, to inspire, and to make a difference at a time when we critically need more women's leadership in every community and at every level of government." 

—Stephanie Schriock, president of EMILY's List

"A fantastic guidebook for any woman who is ready to stand up and raise her voice in pursuit of change and progress. Jahnke doesn't deal in vague advice. This book is a practical step-by-step guide for women looking for real answers on the path to success." 

—Gina M. Raimondo, governor of Rhode Island

"At this pivotal moment in our country's history when women are stepping up to the plate to lead, run for office, and basically save our democracy, communicating effectively is not just important, it is essential. This book is a must-read for every woman who wants to successfully navigate the public-speaking pitfalls that she will inevitably face as she charts new territory."

—Andrea Dew Steele, president and founder, Emerge America

"Lays out a proven road map to own your voice with dignity and aplomb. Reading this book is like having a speech coach perched on your shoulder, whispering in your ear, 'Yes, you can.' 'Use your voice.' 'Change the world.'"

—Libby Benedict, director, Leadership Training Academy, Physicians for Reproductive Health

"Provides timely, practical, and sage advice to women who want to communicate powerfully and effectively—in meetings, at public events, or during campaigns. Jahnke deftly catalogues the obstacles and opportunities women face in a sometimes-hostile environment—and lays out clear guidelines to excel in any situation."

—Thea Mei Lee, president, Economic Policy Institute

"Since it was published, I've enthusiastically given away countless copies of Jahnke's first book, The Well-Spoken Woman. Christine K. Jahnke's advice and perspective are invaluable. This new book is a much-needed complement—and exactly what we all need during this unprecedented time. I know her book will inspire countless women the same way she has inspired me. More women than ever are stepping up to claim their power, and The Well-Spoken Woman Speaks Out will help them find their voice!"

—Barbara Lee, president and founder, Barbara Lee Family Foundation

"Jahnke is back, and just in time! Her new book, The Well-Spoken Woman Speaks Out, provides women activists and future political candidates and officeholders the critical and practical tools they need to ensure that their voices are heard and taken seriously. I have had the privilege of working with her for almost two decades as she has led one of the most popular sessions at CAWP's annual nonpartisan campaign boot camps for women. Now she brings her vast national experience training women to be effective communicators to a new audience, giving them the skills and confidence to speak up and speak out."

—Debbie Walsh, director, Center for American Women and Politics
 
"I've taken Jahnke's advice everywhere from MSNBC interviews to street protests. Her expertise and skill in training leaders on the frontline of today's movement for black lives is unparalleled. Now, more than ever, the emerging leaders fighting for our collective liberation need to be prepared to give voice to our communities' most pressing issues. The Well-Spoken Woman Speaks Out is not only timely—as our work faces increasing challenges against racial, gender, and LGBT justice—it is imperative."
 
—Charlene A. Carruthers, political strategist and author of Unapologetic: A Black, Queer, and Feminist Mandate for Radical Movements

"For nearly a decade, Jahnke has helped the Women's Media Center elevate and amplify the voices and leadership of diverse activists at the forefront of the fight for inclusion and equality. She is a gifted teacher who helps activists be effective in the media. At a time of major social, economic, and cultural disruption—a time when the truth itself is under siege—we need this book."

—Julie Burton, president, Women's Media Center

"As the hard-won fight to make the face of leadership in the United States more inclusive continues, The Well-Spoken Woman Speaks Out arms today's leaders with a twenty-first-century approach to storytelling, persuasion, and winning. Whether you're new to public speaking or a seasoned veteran, Jahnke offers a compelling and right-on-time master class on leading with dignity and courage." 

—Shanelle Matthews, social impact communications strategist and professor of resistance studies, the New School