My Friend the Fanatic: Travels with a Radical Islamist (Paperback)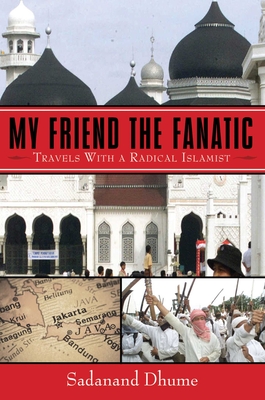 $18.99

Special Order - Subject to Availability
Description
---
A nation once synonymous with tolerance, Indonesia, the fourth-most populated country in the world and its most populous Muslim country, now finds itself in the midst of a profound shift toward radical Islam. Sadanand Dhume, a Princeton-educated Indian atheist with a fondness for literary fiction and an interest in economic development, travels across Indonesia to find out how a society goes from broad inclusiveness to outspoken intolerance in the space of a generation. His traveling companion is Harry Nurdi, a young Islamist who hero-worships the late Osama bin Laden and sympathizes with the Taliban. Their travels span mosques and discotheques, prison cells and dormitories, sacred volcanoes and temple ruins. Over time, they forge an uneasy friendship that offers a firsthand look into the crucible of radical Islam's future.

With a new preface by the author detailing what has happened in Indonesia since the book's initial publication, My Friend the Fanatic is the story of an alternately disturbing, amusing, and poignant journey that illuminates one of the most pressing issues of our time.
About the Author
---
Sadanand Dhume is a Washington, DC–based writer and a nonresident fellow at the Asia Society. His articles have been published in the Wall Street Journal, the Washington Post, Commentary, and Foreign Policy. He has appeared on CNN, PBS, NPR, BBC World, and Al Jazeera. Dhume holds graduate degrees from Princeton and Columbia and a bachelor's from the University of Delhi. My Friend the Fanatic is his first book.
Praise For…
---
"Easily the best account by a journalist writing on Islam in contemporary Indonesia. Sadanand Dhume has really done the stuff, met the believers and extremists, and found out what drives them and what they plan for us all. With humor and style, he draws us into the world of radical preachers, hotheads, and youthful idealists, showing how militant Islamism has won the sympathy of a growing number of ordinary Indonesians. A wonderful book, entertaining and alarming in equal measure." —Andrew Beatty, author of A Shadow Falls: In the Heart of Java

"Guides the reader deftly through the whirlpool these [radical Islamist] currents have created." —Wall Street Journal (Asian Edition)

"At once funny, sad, and unpretentiously intellectual, this fine book tells us much about Indonesia and about Islamism." —Robert W. Hefner, Far Eastern Economic Review

"My Friend the Fanatic should be required reading for anyone interested in the rise of radicalism in Indonesia, or in similar movements in other parts of the Muslim world." —Jamie F. Metzl, senior fellow at the Asia Society and author of Genesis Code

"Easily the best account by a journalist writing on Islam in contemporary Indonesia. Sadanand Dhume has really done the stuff, met the believers and extremists, and found out what drives them and what they plan for us all. With humor and style, he draws us into the world of radical preachers, hotheads, and youthful idealists, showing how militant Islamism has won the sympathy of a growing number of ordinary Indonesians. A wonderful book, entertaining and alarming in equal measure." —Andrew Beatty, author of A Shadow Falls: In the Heart of Java

"Guides the reader deftly through the whirlpool these [radical Islamist] currents have created." —Wall Street Journal (Asian Edition)

"At once funny, sad, and unpretentiously intellectual, this fine book tells us much about Indonesia and about Islamism." —Robert W. Hefner, Far Eastern Economic Review

"My Friend the Fanatic should be required reading for anyone interested in the rise of radicalism in Indonesia, or in similar movements in other parts of the Muslim world." —Jamie F. Metzl, senior fellow at the Asia Society and author of Genesis Code