Antiquity Echoes: A Photographed Tour of Abandoned America (Hardcover)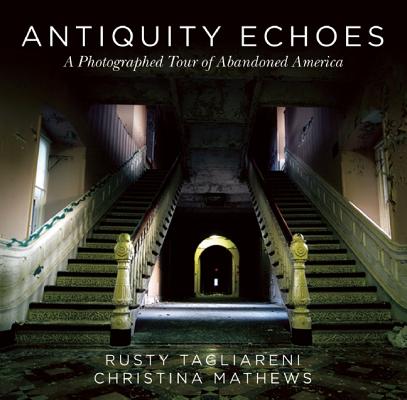 $40.00
Email or call for price.
Staff Reviews
---
When it comes to pictures of abandoned buildings: the creepier, the better, if you ask me. This book is by far one of the creepiest. From insane asylums to old malls (my favorite kind of abandoned building), Antiquity Echoes has some of the most haunting pictures I've seen in a long time. These photos make you feel like you could be standing right along side the photographers as they traverse along and through the landscape of abandoned America. Descriptions of the abandoned areas flank the photographs, giving a general history of the sites photographed and how they came to be abandoned, making this book exceptionally well rounded and worth more than just a casual flip through.
—
Heather H.
This book is beautiful, haunting, and just a little bit creepy. The photographs on their own would be worth buying this book, but the extra special part of this book comes in the text. Tagliareni and Mathews give you the history of the abandoned structures in this book - what these structures used to be, their struggles, and how they came to be abandoned. A unique look at history, architecture, and abandonment, I can't recommend Antiquity Echoes enough.
—
Em
Description
---
An incredible tour through places long forgotten.

Antiquity Echoes is a guided tour of some of our nation's most compelling abandoned locations. With a wide spectrum of places covered, readers will be walking the dark halls of an abandoned mental asylum on one page and lost in the overgrowth of an abandoned theme park on the very next. With a focus on history and first-hand accounts by the authors, Antiquity Echoes is far more than a collection of photography and text; it's an adventure story—one that is enhanced by QR codes linking to videos of these incredible locations.

Rusty Tagliareni and Christina Mathews have spent years traveling the country documenting forlorn locations throughout the United States, sharing their deep passion for history and preservation in an effort that has helped generate alliances with many historic societies and preservation organizations.

What makes a place worth remembering? Antiquity Echoes ventures that this value derives from the lessons a place can teach us, even long after it has been of use. No matter how forgotten a place has come to be, underneath the overgrowth, cracked paint, and filth of ages, lie countless stories awaiting a sympathetic ear.
About the Author
---
Rusty Tagliareni has been documenting abandoned locations for over fifteen years. What had originally begun as a mere high school curiosity slowly transformed throughout the years into a very passionate endeavor. He and his partner, Christina Mathews, who is a videographer, now travel many thousands of miles to document, and thus preserve on film, our nation's most captivating abandoned places. Their work has been featured in many publications, and on television programs such as 60 Minutes.

Christina Mathews has been capturing video footage of abandoned locations since 2009. What at first began as a hobby quickly evolved into a pursuit of passion. Today she travels the country documenting abandoned locations with a small film studio worth of video gear broken down into several backpacks, which she manages to carry in over and through places most people would be afraid to even walk. Her videos have been shown at art exhibits and events, as well as on the news program 60 Minutes.