Carnality: A Novel (Paperback)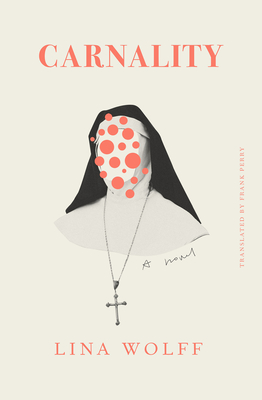 Staff Reviews
---

With a plot like a runaway train, Carnality is a wild thesis on desire and its tendency toward chaos. A Swedish writer with a stipend in Madrid, a man on the run from an evil nun, a shady internet reality show, and a young girl with a plan to do good; Lina Wolff effortlessly weaves these events into a dark messy comedy that questions your own morality. As wild as this book sounds, the succinct writing and compelling characters kept me invested way after reality left the page. A new favorite; a must read! — From Ian's picks
Description
---
In this latest novel from the award-winning author of The Polyglot Lovers, a writer searching for inspiration in Spain goes on a darkly comic, delightfully absurd journey through an underground society.

Awarded a three-month stipend to travel and work, a Swedish writer flies to Madrid, where in a bar she meets a man with an extraordinary story to tell. In exchange for somewhere to sleep and to hide out for a few days, he is willing to tell her the whole astonishing tale. What follows is an account of fantastic proportions and ingredients: the existence of a shadowy Internet TV show with a certain morality clause, a threat to the storyteller's life, a diabolical nun, and the story of a girl with a missing left thumb. The tale is also the precursor to a meeting between the writer and the infernal miracle worker, Lucia—a meeting that ultimately forces the writer to make a fateful decision about her own inner essence.

Carnality is a novel about the universal need for spirituality and truth—not to mention a good story—set in the seemingly unspiritual grimy underbelly of society.
About the Author
---
Lina Wolff was born in Lund, Sweden, and lived for several years in Spain and Italy, where she worked as a translator. She arrived on the literary stage in 2009 with the publication of Många människor dör som du, a collection of novellas set in Spain and in the south of Sweden. In 2012 her debut novel, Bret Easton Ellis and the Other Dogs, won the prestigious Vi Magazine's Literature Award. In 2016 her novel The Polyglot Lovers won Sweden's highest literary award, the August Prize for Fiction, and has been translated into seventeen languages. Carnality was awarded the prestigious Aftonbladet Literature Prize in 2019.

Frank Perry's translations of Sweden's leading writers have won prizes from the Swedish Academy and the Writer's Guild of Sweden. His translation of Lina Wolff's Bret Easton Ellis and the Other Dogs was the 2017 winner of the Oxford-Weidenfeld Prize, and was awarded the triennial Bernard Shaw Prize for best literary translation from Swedish.

Praise For…
---
"When an author succeeds, as Wolff does, it replicates the optimal sensation of intoxication…mind-bending…astonishing…beautiful." —New York Times Daily Arts

"Lina Wolff and translator Frank Perry cast a transfixing spell over readers…It's a wild ride you won't want to end." —Chicago Review of Books, Must-Read Books of the Month
 
"A wild tale…has us hooked." —Nylon, Must-Read Books of the Month

"Spellbinding…Wolff poses fascinating questions about the nature of morality and attachment throughout the propulsive narrative, making for a triumph of ingenuity. Readers won't want this to end." —Publishers Weekly (starred review)

"Wolff simultaneously skewer[s] modern media, explore[s] complex and dynamic relationships, and demonstrate[s] a great deal of formal verve in the process." —Words Without Borders, The Watchlist

"Astonishing…an adventure through underground society." —Book Riot, Must-Read 2022 Books in Translation
 
"Lina Wolff is a literary monster, she has a hundred eyes and senses things that the rest of us can't see. That's how she has been able to write this story that retells the twisted, horrible, funny, sometimes beautiful mysteries contained in the apparent sack of meat that we are." —Yuri Herrera, author of Signs Preceding the End of the World

"Fabulously funny, macabre, and as cerebral as it is sensually accessible…one of the most intelligent and skillful novels I've read in recent years." —Aftonbladet
 
"[Wolff] works with such sharp twists that from time to time I forget to breathe." —Dagens Nyheter
 
"Funny yet profound, hysterical yet thoughtful, intelligent yet humble…an author who is immensely fun to read." —Sydsvenskan

Praise for The Polyglot Lovers:
 
"Wolff's prose has a quality of 'otherness' entirely in keeping with the surreal atmosphere of the novel. This strange, provocative debut sits well alongside the work of Roxane Gay, Katherine Angel, Maggie Nelson, Zoe Pilger, and Miranda July…a cool, clever, and fierce addition to the canon of modern feminist literature." —The Guardian
 
"A quiet rapture—unsparing, startling, mesmeric, and told with the soberest of grins." —Times Literary Supplement
 
"The edifice of male genius is annihilated in this galvanizing novel…Firing on all cylinders from beginning to end, this story pulses with intellect and vitality unmatched by the literary barons it deposes." —Publishers Weekly (starred review)